Stories of hope throughout D.C. neighborhoods.
CHALLENGE
The Community of Hope's (COH) main resource is its website. As COH has grown, its website had become outdated and needed to be updated to showcase who they had become as an organization.
SOLUTION
New Target created a responsive website to serve visitors and highlight all that COH does.
The COH website needed to be flexible enough to grow with the organization. It needed to motivate and engage donors.
Additionally, the COH website needed to energize supporters to volunteer and highlight the services they provide to help the uninsured and underinsured in Washington, D.C. neighborhoods.
Website Design & Creative Vision
The supportive nature of COH can be felt throughout the website. The website needed to tell the COH story through images and other media. The use of white space, bright colors, and a clear visual hierarchy provide easy navigation and a consumable website. The content is digestible and the CTAs (calls-to-action) drive potential donors and volunteers to act.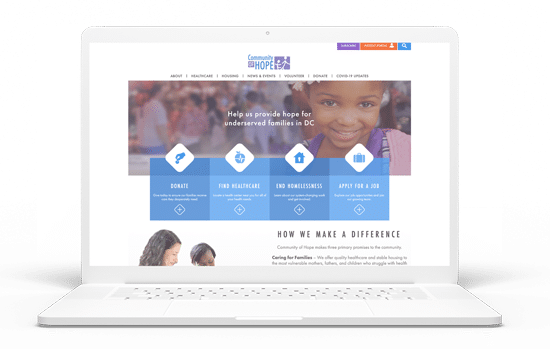 The website is built in Drupal and a number of modules were used for optimal design and functionality. The Sliders module was used along with Entityqueue to allow the staff to choose the content they want to display. The webform module was chosen to facilitate their need for anonymous email forms. Finally, a custom module was implemented that shows a Google Maps address in a pop-up so that users can view all of COH's locations.