It seems as if everyone with a computer and a high-speed internet connection has built their own website and has entered the online retail space. Even if your competition is not equal to you, their mere presence clutters up the playing field and makes it harder for customers to find you.
But there are still a few things that can help you stand out from the competition. Below are 10 of them.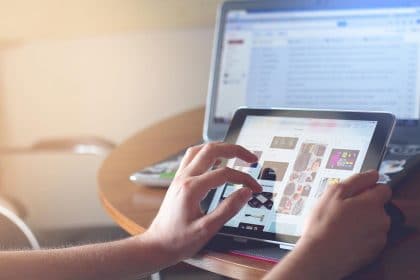 1. Be Really Distinct
Ned Flanders from The Simpsons made a living selling gadgets for just left-handed people. Your best bet to try to avoid competition is by targeting a distinctive niche. By doing so, you'll instantly narrow the field.
This is also helpful if you're making use of search engine optimization (SEO). In SEO, your goal is to increase your webpage's rankings in search engine results, but if you're competing with brands that have been building their online presence for years, you'll find it hard to penetrate powerful keywords like "kitchen tools." Instead, you can target long-tail phrases like "kitchen gadgets for the left hand," which come with less traffic but are much easier to rank for.
2. Start Locally
If you're struggling to generate momentum for your business, you could focus on a specific local market and expand from there. Depending on the nature of your business, that might mean opening a brick-and-mortar retail location or optimizing your website with local-specific keywords. Targeting a local audience will instantly narrow your demographics, giving you more power to tailor your products and services to their needs. More importantly, it will greatly reduce the number of companies directly competing with you. Once you start seeing growth, you can expand to target other areas.
3. Get Customers to Try You
You've got a product at a good price and quality service to match, and you're confident it fills a gap in the market. Now it's time to get it in your customers' hands. The only thing stopping customers from shopping with you will be familiarity. They're probably used to shopping with a bigger, more established retail brand and won't go out of their way to try something new. That's why you need to make the effort to get customers to try you.
· Distribute free samples.
· Reach out to your target demographics and offer amazing deals to get people started.
This strategy works once you're truly confident that you've got a product that stands out in the marketplace. Find opportunities to hook new customers and win loyal fans for your brand by relying on the strength of the product.
4. Focus on Outstanding Customer Service
You can make up for a number of potential shortcomings including online presence, customer familiarity, and price by offering unparalleled customer service. Anytime a customer has an issue, do everything in your power to make it right, even if it means taking a short-term loss. If you go above and beyond, you'll build a loyalty that's practically unbreakable.
5. Get Mobile Right
Do you ever come across ecommerce websites that don't load properly on mobile devices? Have you experienced difficulty in finding the product or page you need? These are common problems that customers encounter on a daily basis. Forecasts say that that m-commerce (online commerce conducted through a mobile device) will reach $284 billion or 45% of the total U.S. ecommerce market by the end of 2020.
6. Increase Brand Awareness
One way to check your brand awareness is to check your brand keywords on Google Ads and organically. If you are getting many brand-related clicks it means that you have some brand recognition already. If not, it would be good idea to promote your brand. There are many ways you can do this, such as through social media campaigns or by creating rich informational or educational content to help your potential customers.
7. Invest in a Marketing Feed
A marketing feed is a file that that includes data about your products so that they can be advertised on Google Shopping. If you are a retailer and you use Google Ads, it is crucial to take advantage of your marketing feed and create Google Shopping Ads. Not all retailers have a feed, so if you invest some time into creating one you will already stand out from the crowd.
If you provide Google with the right information about product price, availability, and category and a product photo, you will be able to display your products on Google as well. The tricky thing about feed is that it needs to be synchronized with your CRM data.
If you want to further stand out, you can spend some time optimizing the elements of your feed such as product photos and descriptions.
8. Find Your Competitors
There is a useful marketing tool on Google called Competitor Insight. It shows your competitors and their impression share. This is very valuable information because if you know who your competitors are on Google you can look them up online and make more informed marketing decisions influenced by their activity. In a very crowded ecommerce space, you need to be on top of what your competitors are doing and watch market trends. A useful tool that you should use to monitor activity on the market is Google Trends. This tool allows you to see how often specific search phrases appear on Google.
If you are advertising on Google Ads, then you will compete with your bids to appear in Google search results. There are two metrics that you should use, which will tell you a lot about you competitors' activities on Google Ads. The first is Impression Share. This is a percentage value that shows you how often your ads are displayed on Google. If yours is low, it doesn't necessarily mean that you are doing something wrong, it means that your competitors are spending more to advertise on Google.
9. Use Your Competition to Inform and Inspire
When you're taking your first steps into a competitive market, seeing all of the polished, established brands in your space can be intimidating. You should never compare your step one to someone else's step 100. But, seeing what is working for them can inform and inspire you to greater heights.
10. Leverage Your Competition
If you can't beat a competitor, find a way to use them in your favor. In the 1970s, Goodrich tires (#4) famously leveraged the name of the #1 tire seller, Goodyear, by a huge campaign that said "We're Goodrich, the Other Guys." Since the names were similar, the product basically the same, Goodrich made customers think of them whenever the name Goodyear came up.
Some ambitious online retail brands have taken to buying pay-per-click ads that utilize their top competitor's brand name; that way, you can capitalize on customers specifically searching for your competitor and persuade them to visit your online store instead.
Competing with well-established powerhouses in your own online retail niche may be challenging, but it's not impossible. If you're not afraid to make adjustments to your business, and if you offer something your competitors can't match, you should have a good chance of rising to prominence. Just make sure you're doing everything with your customers' interests in mind.