The world is now online, and if we are not in front of our computers, we are in front of our phones or tablets. Where the eyes are is where your marketing dollars should be.
There are a lot of different types of digital marketing, these include:
· SEM (Search Engine Marketing)
· SEO (Search Engine Optimization)
· PPC (Pay-Per-Click)
· SMM (Social Media Marketing)
· Content Marketing
· Email Marketing
· Influencer/Affiliate Marketing
· Viral Marketing
· Mobile Advertising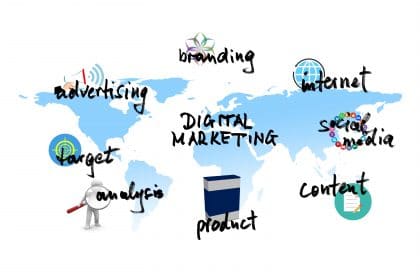 Here are 11 principal advantages to online marketing over more traditional marketing efforts like television, radio, print, and direct mail. While traditional tactics still have their place in an overall strategy, leading with digital is the key to success going forward.
1. It's More Cost effective
When comparing to traditional means of marketing, digital marketing can be much cheaper. Websites and social media accounts can often generate significant traffic for free.
2. It's Better at Targeting and Interactivity
When comparing traditional advertising to social media and search advertising, the level of targeting varies greatly. Platforms such as Facebook allow extremely specific targeting, using metrics such as interests, relationships, age, and location. This increases the efficiency of your advertising as they tend to lead to higher conversion rates.
Users can also choose when to interact with your content and have control over what kind of content they see. This can lead to more engaged and relevant traffic when compared to traditional marketing.
3. It's More Measurable
Unlike traditional advertising, online advertising allows direct measurement of the effectiveness of your efforts. It gives you the ability to view exact numbers of metrics such as impressions, clicks, and conversions which can demonstrate the cost effectiveness for each advertisement. You can obtain detailed information about how customers use your website or respond to your advertising.
4. It Achieves a Global Reach
While traditional marketing is focused on a household or highway or who's watching Brady Bunch reruns, a website allows you to find new markets and trade globally for only a small investment.
5. It's More Personal
If your customer database is linked to your website, then whenever someone visits the website, you can greet them with targeted offers. The more they buy from you, the more you can refine your customer profile and market effectively to them.
6. It Helps You Gain Loyal Customers
By getting involved with social media and managing it carefully, you can build customer loyalty and create a reputation for being easy to engage with.
7. It's Optimized for Immediate Sales
If you have a website, then your customers are only ever a few clicks away from making a purchase. Unlike other media which require people to get up and make a phone call or go to a shop, digital marketing can be seamless and immediate.
8. It Allows for Targeted Campaigns
Before digital was the primary channel for communication between brands and their audiences, some businesses used to send physical newsletters to their clients and prospects. One problem, however, was that all the newsletters were the same, regardless of whether they were sent to a 90-year-old grandmother or a 19-year-old college student.
By contrast, a company today can segment their email list and create 100 different versions of the same marketing email in order to personalize content, offers, wording, images, and more based on factors like demographics, buyer's journey stage, purchasing history, etc.
Targeted emails are far more effective because today's consumers expect brands to personalize marketing messages.
One of the gifts that digital marketing has given us is the ability to dissect huge demographics. Whittle them down into very targeted groups to get super focused on a specific kind of person.
Who's that person? It's the person most likely to purchase what you sell.
9. It's Flexible
Another benefit of adopting a digital-first approach to branding is that it makes you more flexible, which is integral in a world where technology and consumer behavior change at a dizzying pace.
Take a look at how mobile search impacted digital marketing, for example. There was a time not long ago when digital marketers didn't have to worry about how websites looked on mobile devices, because people simply didn't use these devices for search.
Today, however, nearly 60% of web searches are done from smartphones and tablets, and brands have had to change the way they design and develop their online real estate as a result. If you don't have a website that's responsive, then your customers will bounce as soon as they land there from a mobile device, and your website plays a huge role in your brand identity. When you approach your brand's presence from a digital-first strategy, you get used to the rate of change, and this makes you more adaptable, flexible, and able to change as new technologies and patterns emerge.
If something isn't working in your marketing, you don't have to wait for the ad contract to run out. You don't have to start from scratch. You've got the power. Just make that small change and re-launch the ad.
10. It Aligns with How People Today Shop
Eighty-eight percent of people consider online reviews an important part of the buying decision.
Forty-seven percent of Millennials and Gen Xers don't watch traditional TV. And, 22 million people had canceled their cable by the end of last year. Magazine and newspaper sales continue to decline at a rate of about 16% a year.
Most consumers now tend to look for products, services, or anything they want online. If your website is well optimized, then it will be easily discovered by users whenever they search a keyword relevant to your brand.
From restaurants to doctors to bookkeeping software to commodities, the modern sales process starts online.
11. It Helps You Glean More Information about Your Ads and Users
· Whether they actually saw it.
· If they interacted with it.
· If they liked it.
· If they lingered on it.
· If they shared it with a friend.
· If it prompted another action.
· If it led to a sale down the road.
· Who's most interested in your ads?
· What are they like?
· What makes them more likely to take an action?
· Who is easiest to convert?
· Who spends more?
· What do they do online?
· What terms do they use to find you online?
· Which websites do they visit that lead them to yours?
If you don't currently have a digital marketing strategy in place, then you may be losing out on an important opportunity to reach out to more consumers and make a stronger connection with your current customers.