Let's face it. We're not going to be getting together in large groups as much as we used to. Unless it's for Lakers or Dodgers parades. Because . . . Los Angeles! So, webinars are going to continue to be a good way to connect with people around the country and even around the world.
Here are a few ways that you can get the "crowd" you need to make your next webinar highly successful.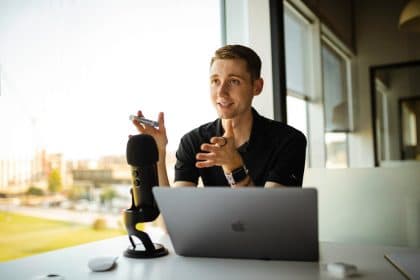 Choose the right day of the week
Don't host your webinar during the weekend. It's best to host your webinars on Tuesday, Wednesday, or Thursday because Monday and Friday always seem to get filled up with "catch-up" and "last-minute" happenings around the office.
Choose the right time of day
A good time for your webinar is 1:00 – 2:00 p.m. Eastern Standard Time because everyone in North America is in their office by then.

2. SEND AN EMAIL INVITE TO YOUR AUDIENCE
Use your existing email list. This audience is probably a mix of customers, vendors, and prospects. Since all these folks are already familiar with you, they are more likely to open your email and sign up for your webinar.
3. SHARE WIDELY ON SOCIAL MEDIA
Be sure to share a link to your webinar sign-up page, along with why the reader should sign up for the webinar.
It's much more difficult to oversaturate your social audience than your email audience. And there's a really, really good chance much of your email audience is connected with you socially, too. That affords you the opportunity to use social media to remind your audience about your webinar.
4. MARKET YOUR WEBINAR THROUGH YOUR SPEAKERS
Of course, you'll be promoting your webinar, but what about the presenters? You know, the ones with a different audience than yours right at their fingertips? They can leverage their personal connections, social accounts, and email lists to make sure you get a large audience.
If the topic and/or speaker are particularly impressive, put out a press release about the webinar and email it to your favorite online industry journalists.
6. RUN PAID SOCIAL MEDIA ADS
Once you share the webinar with people who know your company on social media, share it with a targeted audience. This can be done through paid social media ads. LinkedIn is a great spot to craft a paid ad for a webinar, particularly since LinkedIn users often turn to the platform for professional development.
7. CREATE RETARGETING ADS
Retargeting ads are shown to visitors who have viewed your website and then continued browsing online. As these website visitors are already familiar with your company and the services you offer, a retargeting digital marketing campaign can entice them to sign up for your webinar.
If you're just starting out or have no clue what time works best, you can always ask. Include a field on your registration form that asks attendees to confirm the time slots that work best for them, and schedule your webinar based on that feedback.
8. CREATE AN INFORMATIVE LANDING PAGE
Who?
Introduce presenters on the landing page with brief bios that explain who they are and why they matter.
What?
Include an explanation of what the webinar is about and some of the topics it will cover.
When?
Provide a date and time so people can mark their calendars.
Where?
Clearly explain when and how the webinar will be accessible. Typically, webinars are accessible via links and can be joined 30 minutes prior to the start time.
Why?
Explain the value of your webinar. What will people be able to do after they leave your webinar that they weren't able to prior to attending?
9. BLOG ABOUT YOUR WEBINAR
Use your website's blog to promote your webinar and the topic it covers.
You can also get your audience warmed up to the topic of the webinar by creating blog content that discusses that topic at different angles.
If you start writing posts about the webinar topic far enough in advance, you can use the questions readers ask in the comments section to beef up your presentation.
If you want more people to attend your webinar, you can always consider working with another brand. But while additional attendees is one benefit, it shouldn't be the main focus of partnering up. Relevancy, however, should be.
It's also helpful for your audience if they can hear another perspective once in a while, particularly when that perspective comes from a specialist's point of view.
11. SEND VALUE-BUILDING REMINDER EMAILS
Send these two weeks in advance and one week in advance on your webinar. They not only serve to remind registrants about the webinar's date and time, but also rebuild the value that you established with them on your registration landing page.
12. SEND TWO FINAL REMINDER EMAILS
People forget. Things come up. Last-minute reminder emails—specifically, one the day before and one the day of—give people enough time to finagle attendance around meetings and other items on their to-do list, but also not too much time that they'll forget about the webinar.