Nearly 95% of a visitor's first impression of your organization is determined by web design, and good design can help you increase sales.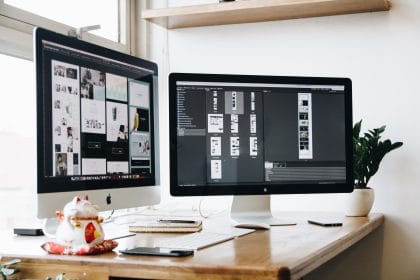 As a result, incorporating modern web design into your marketing approach is more crucial than ever.
But what modern web design trends can you expect in 2022, and how can you apply them to liven up your site?
Keep reading as we discuss five modern web design trends you should consider implementing or improving in the new year.
Mindful Web Design
Lockdown made the world smaller, simpler, and quieter for most people around the world. While the internet is still a chaotic, crowded, stressful place, you can see parts of web design where a sense of restrained tranquility has taken hold.
We're seeing a return to simple design with plenty of white space, which allows our eyes and content to breathe. We call "mindful web design" — a strategy that recognizes that users don't want to be bombarded with too much information or distracting graphics.
This trend aligns with Google's recent algorithm update criteria, which state that making your website load faster helps you rank higher in search engines. After all, the simpler your design, the fewer elements there are to load.
Positivity
Cultural ideas influence design trends. The modern internet is clouded and perplexed by a slew of negative ideas and mindsets right now. Information overload is common, and it interferes with our ability to cope with and understand our experiences.
In 2022 and beyond, successful websites will combat this by building user-friendly experiences that encourage positive thinking and goodwill. With straightforward narrative and compelling imagery, the ideas of recovery and growth are cultivated. In addition, these trends emphasize helping rather than directing your visitors, which will encourage them to think positively about your site and their relationship with you.
Share Don't Tell
To inspire individuals with your message, use visuals and interactions that surprise and engage them. More background videos and animations will be used in 2022 to captivate visitors' thoughts, offer a soothing motion to your page, reduce bounce rate, and help visitors engage with the words and messages.
Micro-interactions and micro-animations are other methods for bringing life and energy to pages. Making them subtle but visible offers a degree of depth that your visitors may not understand, but that helps you stand out.
What is a micro-interaction? Consider short animations that are activated by hovering your cursor over a specific area of the page or scrolling to a specific region of the page. For example, when you move your mouse over a button or a portion of the site, something changes color, or an icon moves slightly, you're visually engaged, and the page has a tactile feel to it.
Animations are very beneficial for conveying complicated concepts and processes in a clear and understandable manner. While basic and precise animations might be overused, they can communicate your idea in a way that words alone cannot.
Accessibility
Accessibility is becoming an increasingly important aspect of web design as our devices provide more accommodations for visitors with visual or auditory impairments. Over time, web design has introduced a number of "do this first" notions – mobile-first, security shift left – however, like security and device agnosticism, accessibility must be included in the design process from the start. Web development is a holistic process in which content and technical needs collide, and accessibility must be treated equally to security, design, and content strategy.
Multimedia and 3D Design
New web design trends have always been spurred by new technologies, and the current era is no different. The fact that today's screens have significantly more detailed resolution than ever before has a big impact right now.
The visual quality benchmark has evolved from HD to 4K (four times the pixel density). We're also witnessing an increase in the number of 4K+ monitors and laptops on the market and some 6K and 8K devices. Higher internet and mobile data speeds are also expected to meet this demand for visual detail.
Many websites are moving away from the traditional website approach of text and a few still images. Instead, to make websites more engaging and interesting, web designers are passionately adopting 3D design, animation, VR, AR, large-scale video, and graphics, as well as interactive features.
We can't wait to see how you design your websites in 2022, but as always, if you need any extra help, our creative and development team at New Target can help you create a website that accomplishes all your goals while keeping up with the most current web design trends.