Hopefully, your year-end fundraising push is in high-gear and is highly successful! What you'll want for Christmas besides that red sweater with the blinking lights is an awesome digital fundraising strategy that you can launch in the new year. Yes, it's already time to think about next year.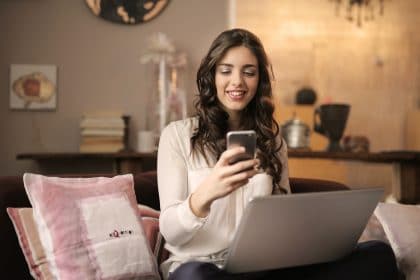 With online fundraising, becoming more and more significant (around 13% of all giving), more nonprofits are giving it the attention it deserves.
Here are seven digital fundraising strategies that are trending for nonprofits in 2022.
7. Hybrid Events
With the world slowly returning to normal there will be opportunities in 2022 for in-person events that we haven't seen in several years. But, because of lingering pandemic issues, fears, and changed patterns of behavior, there will still be a need to provide for those who only want to attend your events digitally. Thus, the hybrid event will become a necessary strategy.
Some of the benefits nonprofits saw from virtual events is that new voices were reached because the costs and time associated with travel were not an issue, and those who would never have come in person—no matter the circumstances—now were able to join the conversation.
But now that we can expect a return to physical events, we'll be able to have the benefits of both the physical and virtual. All you need to do is broadcast the physical event so that it can enjoy it from home. Using a professional streaming service can get you tracking and analytics tools to help you evaluate the digital side of your live event.
6. Peer-to-Peer Fundraising
There are two principal reasons that peer-to-peer fundraising is successful; we tend to like those causes that our friends like, and we tend to want to support those things that are important to our friends.
What we are asking our supporters is for them to collect money on behalf of our cause through personal campaigns. We've all seen friends who use the occasion of their birthday to try and raise some money for an organization dear to their heart.
Where you can get more directly involved is through creating a dedicated web page to help your people set up their campaigns and work out all the details of donating the raised amount and thanking their friends.
5

. Crowdfunding

Used by the for-profit as well as the nonprofit worlds, crowdfunding has become a multi-billion-dollar tool for raising money. GoFundMe, StartEngine and MightyCause are some of the most popular that serve individuals, those seeking investments, and nonprofits.

Your crowdfunding campaign helps raise donations through a website that highlights a specific project or cause. It then does several things at once. Besides giving your current base an exciting opportunity to participate in, it can reach a wider audience than you current possess because this online engagement can be easily shared to social media channels where it can attract new eyes and new donors.

With the ability to answer questions, gather feedback and facilitate discussions, this forum can build on existing relationships or even attract and inspire new donors. Those following the campaign will receive your regular updates, witness how the fundraising is progressing, and be alerted when success has been achieved.
4. Email Marketing
Email marketing is not innovative, but it's also not a dinosaur, in fact about one-third of all online donations are raised through it. That might have something to do with the 3 billion email users out there. Once you build up your email list, future appeals can be swift, personalized, and inexpensive. And remember whether on a payment gateway page, in your CRM, or at an optimized fundraising website with compelling landing pages, you still need a place for your donors to convert.
3. SMS (Text)
Your donors may not check their mailbox today or even their email, but they will have their phone within two feet of them for about 23 hours of the day. Anything that you can push to their phone has a great chance of being discovered. And, because SMS texts need prior permission, their open rate is an insanely high 98% with almost all opens occurring within 15 minutes!
Whether you are sending them a link to new content or alerting them to an urgent fundraising need or reminding them of an upcoming event, the ability to rally the faithful has almost no equal in the digital fundraising world.
2. Local SEO
When some, or all your charitable work takes place in one location, it's logical that your likely donors will be more concentrated in the neighborhoods around you. By focusing on search engine optimization techniques that target your local area, you'll connect with those who share your passion for your community and may want to donate to your good work, attend your events, or even volunteer.
1. Multichannel Targeted Campaigns
The old rule of seven in marketing states that a potential customer must see your advertisement seven times before they buy. That was from the days when billboards, radio, and television ruled the landscape. Now your message is competing with 10 others on every webpage that your prospect visits. They might see thousands of messages a day.
But the principle of saturation still applies.
Nonprofits can be successful by adopting the techniques used in retail. We're used to seeing pop-up messages, banner ads, and specific emails based on our online activity. We can adapt those targeted multichannel campaigns to use for fundraising.
When your donor visits the website a second or third time, they can get a tailored message. If they go to your donation page but don't push "send," you can remind them that they were close to making a difference and try to close them.
It's difficult to make yourself heard in the noise of the internet, no matter how worthy your cause. Using a few techniques like these above can really help your nonprofit find your people to tell your story and to join your cause.