Websites that are well-designed and user-friendly attract visitors and keep them interested. However, if your website fails to meet customer expectations, it may end up negatively impacting your business. When was the last time you embarked on a website redesign? The new year is knocking and if your website design is circa 1990s, then it's time to think about a refresh. It's crucial to remember that websites are fluid and should constantly be evolving to best suit the needs of your business and audience.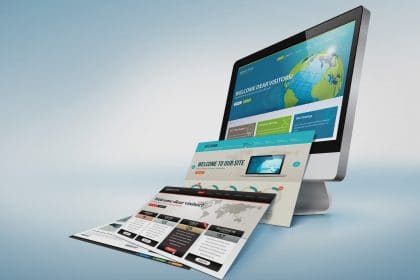 If you've been ignoring the signs telling you that you need a website redesign, here's the reality: People conduct research and Google your business before making a purchase, subscribing to a newsletter, or visiting a restaurant.
In fact, 87 percent of consumers conduct product research before making a purchase.
Another factor to consider is that the average human attention span has been decreased to around eight seconds (that's less than a goldfish), so your website must capture their attention quickly.
Users will leave your website in seconds if:
• Your website does not accurately portray the services you offer.
• Users are unable to locate the information they require.
• Your website is taking an excessive amount of time to load.
As a result, your internet presence is the soul of your company. However, you shouldn't be satisfied with just any website; it should always be three things: easy to navigate, easy to find, and easy on the eyes. If it's not, then a website redesign needs to be at the forefront of your mind.
Here are seven signs that you are probably due for a website redesign:
• Your Website is Visually Outdated
Your website is kind of like scrolling through a dating app; first impressions matter. The truth is that if your website is visually unpleasant, visitors will not click around or go further. So guess what; if your website was built in the 1990s and still looks like it, it's time to update your website.
An outdated website shows users that you are out of date with current trends. But, more significantly, it shows that you don't care. You won't be able to represent yourself as a leader or an authority if you have a website that says otherwise.
Furthermore, you are most likely losing potential consumers because they are confused and have no idea what your business provides.
Your website should be updated in the same way that a storefront is updated with new, innovative, and easy-to-digest items.
• You Have a Text-heavy Website
A text-heavy website falls under the same umbrella as an outdated website, but it is so important to us that we decided to give it its own section.
The problem is that we live in a visual world. It's time to redesign your website if there is more text on it than photos, icons, or graphics. Nobody, and I mean nobody, wants to scroll through a text-heavy website.
It's not only unsettling to look at, but it's also overwhelming. Because of the abundance of text, any message you're trying to send will almost certainly be lost, misinterpreted, or ignored.
A text-heavy website will also make it difficult for visitors to find your call-to-action buttons. So, what exactly do you want them to do? Sign up for a newsletter? Make a donation? Whatever the action you want your visitor to take will take three times as long, or they will leave your website entirely. With an average attention span of eight seconds, you want to make the most of the first eight seconds someone spends on your website.
• Your Website Is Difficult to Navigate
Certain pages on your website should always be easily accessible. For instance, what your company does (About Us), what it offers (Products or Services), and who to contact if something goes wrong (Contact Us) need to be easy to find. If these basic but crucial pages are difficult to locate, it's a sign that your website is in desperate need of an update.
Visitors expect to find what they're looking for immediately. They come to your website for a reason, after all. If people can't find the page, product, or information they're looking for, they'll leave your website and most likely go to a competitor. They'll go back to the search engine results page where they found you and click on the next best link … and you definitely don't want that.
Google will have a difficult time crawling your website if it is difficult to navigate. Google uses the structure and content of a page to analyze how it fits into the larger website's purpose. Therefore, the easier it is for Google to find your website, the more likely it is that it will appear in relevant search queries.
• You Have a Low Search Engine Ranking
When individuals look for specific services or products but are unsure who can provide them, they turn to Google. As a business, you should aspire to appear on the first page of search engine results as one of the top results. Unfortunately, about 95% of individuals who use Google don't go past the first page of results. This means they either locate what they're looking for right away, or they can't be bothered to continue searching.
If your search engine rankings are low, it's time to start thinking about a website overhaul. Previously, web developers would stuff a multitude of keywords into a website and specific web pages in the hopes of getting a high Google rating. However, Google caught on and began punishing those types of websites, as it often does.
On the other hand, Google encourages people to share useful information that is relevant to their search queries. You're less likely to appear in the top search results if your URL structures are broken or don't convey what your content is about. Inbound marketing is completely free, but you must use it correctly.
• You Have Low Conversions and a High Bounce Rate
You've probably observed a low conversion rate if people come to your website but don't take the action you want them to. Whether you run an ecommerce website with the objective of getting customers to buy something or an informational website with the goal of getting people to sign up for exclusive content, you want your visitors to convert. And if they don't you most likely need a website redesign.
• Your Website Loads Slowly
The importance of time cannot be overstated. The human brain has an attention span of roughly eight seconds, as previously stated. That implies you have eight seconds to capture a visitor's attention once they are on your website, regardless of how they arrived. Those few seconds are critical, whether you're displaying a great deal, a clear CTA, or interesting content.
But, how long do you think the visitor will stay if none of your content loads? Not more than eight seconds, at the most. They're more inclined to hit the back button and try a different website next time. In fact, a well-functioning website should take no more than three seconds to load. Which, when you think about it, gives you only five seconds to engage your target audience.
Slow loading times are detrimental to a positive user experience. Slow websites decrease conversions and views and can be the consequence of various faults, ranging from picture size optimization to faulty programming. Websites that aren't fast need to be redesigned for a variety of reasons.
• Your Website Is Not Mobile Responsive
It is no longer a choice to have a mobile responsive website; it is a must. However, some websites are still not responsive and display poorly on mobile devices. Can you imagine what a website like this would be like to use? Unfortunately, it will be brief because any prospect who visits a non-mobile website on their smartphone will leave in a flash.
New Target Can Help with Your Website Redesign!
If this post made you realize that you might need a redesign, don't panic! Our team at New Target is here to help. Our web design philosophy is clear: We create not only to please our clients but also to engage and thrill their consumers, members, and constituencies across the country. We create user-centered websites that put the user first while the design stays out of the way.
Our creative team creates exciting, user-friendly web designs that promote businesses and highlight our clients' distinct personalities, products, and services. We develop websites with a specific goal in mind, one that is determined by a digital strategy.
We create online experiences that captivate the interest of first-time visitors and convert them to repeat customers, subscribers, members, and information consumers by integrating sophisticated interactive web design techniques with a client's unique content.
Contact us today to get started on your website redesign!