Traditional educational tools are becoming a thing of the past. Today, numerous industries are exploring digital solutions for faster and more effective learning. One study among marketing students has shown that augmented reality (AR) is seeing more prominent utilization and seeing that almost 80% of people aged 16 to 24 in the U.S. have a smartphone, augmented reality could be the next big thing in education.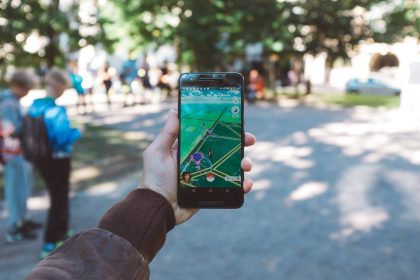 Augmented reality in education has many benefits; it's not limited by age or level of education, and it helps students easily process, acquire, and remember the information. In other words, it makes learning more engaging and fun.
THE BENEFITS OF AUGMENTED REALITY IN EDUCATION
There are several ways augmented reality can be incorporated into education at all levels:
ACCESSIBLE LEARNING MATERIALS
AR has the potential to replace physical models and paper textbooks with portable and less expensive learning materials.
SPECIAL EQUIPMENT IS NOT REQUIRED
Expensive hardware is not required in AR since the technologies are immediately available for use.
STUDENT ENGAGEMENT AND INTEREST
Using augmented reality in the classroom can have a significant and positive impact on students and also make learning fun and engaging.
IMPROVED COLLABORATION CAPABILITIES
Augmented reality apps offer opportunities where all students can be involved in the learning process and it can help improve teamwork skills.
MORE EFFECTIVE LEARNING PROCESS
Augmented reality in education helps students achieve considerable results through visualization and full immersion in the subject matter.
SAFE AND EFFICIENT WORKPLACE TRAINING
Healthcare professionals can use AR to practice medical procedures without risking a patient's health.
APPLICABLE TO ANY LEVEL OF EDUCATION AND TRAINING
Augmented reality is not limited to only one use case or field of application.
REQUIREMENTS FOR AUGMENTED REALITY IN THE CLASSROOM
Setting up augmented reality for almost any class might include:
An Internet connection
Smartphones or tablets
Augmented reality apps
"Markers" that trigger the display of information
HOW AUGMENTED REALITY WORKS IN EDUCATION
Augmented reality is part of a larger extended reality concept that also includes virtual reality and mixed reality technologies. It increases the real-world environment with graphics, sound effects, text, and multimedia. The hardware for AR learning might be basic, like smartphone cameras for playing popular games like PokemonGo, but the hardware in AR glasses like Dream Glass and Vuzix Blade is more convenient for delivering AR to consumers. Augmented reality content is generated with AR software which is still developed for AR hardware vendors and often sold as a hardware kit.
AUGMENTED REALITY IN EDUCATION AND USE CASES
AUGMENTED REALITY APPS FOR KIDS
Some of the most ingenious augmented reality education apps are built for the youngest of users. AR vendors are building apps that change the ways children read books, learn science, look at the art, and conduct classroom lab experiments.
AUGMENTED REALITY IN THE CLASSROOM
The most popular use for augmented reality is the use of AR apps directly in the classroom. They help educators provide a visual representation of the material, explain the subject, and help students test their knowledge in practice.
DISTANCE LEARNING
By using AR, students can learn online, and distance learning can become easier and more efficient with AR education materials.
MARKETING IN EDUCATION
Augmented reality offers a lot of opportunities for schools to market themselves. Many universities use AR to increase enrollment and help new and prospective students find their way around campus.
MUSEUM EXPERIENCES
Augmented reality is used to increase the museum experience for today's audience that craves interactivity. By adding AR content to objects like paintings, statues, documents, architectural monuments, and historical artifacts, museums can boost visitors' interest in cultural and artistic heritage.
HEALTHCARE EDUCATION
Augmented reality in medical education is applied to help students study through interactive visual representations, train medical students, create simulations, and practice surgery or other medical procedures on virtual patients.
HOW TO USE AUGMENTED REALITY IN THE EDUCATION FIELD
With tech giants like Apple and Goggle pushing augmented reality technologies forward, this could be the best time to join the trend. Developer tools including ARCore and ARKit, paired with powerful hardware, such as the iPhone X, make it possible for businesses to build successful augmented reality-based EdTech solutions.
Augmented reality is evolving to become more cost-friendly, accessible, and essential. And, giving schoolchildren access to AR means that they'll have the competencies and knowledge to use it throughout their educational and professional careers.