This year, mobile ecommerce sales are expected to account for 54% of all ecommerce sales. Half! Your customers are doing their research on their phones and tablets and visiting your website before making their final purchase. Then, they'll return to pull the trigger if, if, if, you are providing them an optimized, safe, streamlined, and fast way to make their purchase on their favorite mobile device.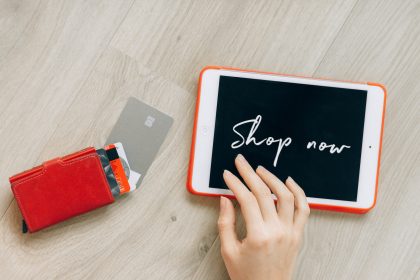 A mobile-friendly design is the minimum strategy you should use to engage your mobile visitors. These websites were designed for desktop users and are typically a slimmed-down format of the desktop version. This smaller version of your current website is functional and fits a smartphone screen but it does not have the function to make for a great user experience. But it's something. And an absolute necessity in today's marketplace.
Google's algorithm now rewards mobile-friendly websites and mobile-friendly is the bare minimum mobile design strategy you should have for your mobile visitors.
Mobile-friendly websites will work for mobile users, but these websites were designed for the desktop users. A smaller version of your desktop website can be functional but may not be as user friendly as it could be.
Responsive Design
A responsive website includes all the same content on any device you access it on, but the site responds to the device it's being displayed on and optimizes its appearance accordingly.
Make Information Easier to Find
Think about what information your mobile visitors are most likely to be looking for when they head to your website, and put that somewhere obvious and easy to find on the mobile homepage.
Improve Your Speed
Most websites take over five seconds to fully load, but few visitors will wait that long before clicking away. You can compress your images, simplify your design, and upgrade your web-hosting plan.
Make Your Design Simple
Clutter is confusing on any screen, but they make it especially hard for visitors to navigate your website on a small screen. Create a minimalist design that makes it easy for people to find what they're looking for.
Use Large Buttons
Small buttons are hard to deal with on a phone. And that's especially true if there are multiple small buttons close to each other.
Use Large Fonts
Use a font size of at least 14 pixels. And use standard fonts so that your visitors' browser won't have to slowly load it.
Allow for a Switch to Desktop View
Some of your mobile visitors may actually prefer to see the desktop version of your website instead of the mobile one because they are very familiar with the layout. Let them do that if it's their preference.
You can make your website usable to mobile customers, but if you want to make your website attractive to mobile customers, consider making it fully optimized.
A mobile-optimized website is designed and built using a mobile-first approach and will reformat itself for mobile users. Instead of a smaller version of your website that works ok on a smartphone, a fully optimized website will create a great user experience for those on smaller screens.
The goal of a mobile-optimized website is to make the website as frictionless as possible. When your visitors are on their mobile devices, they want a quick and efficient interaction with your website whether they are coming for answers or to make a purchase.
The design features of a mobile-optimized website should include:
– A single column layout.
– Navigation that is "thumb friendly." There are three main types of ways to hold a smartphone and the vast majority of people prefer one-handed use of their smartphones and so thumbs are used in 75% of all phone interactions. So, you need to place critical elements in this area to make it comfortable for mobile users.
– Smaller image sizes to allow for faster loading times.
– A minimalist and uncluttered design. Fewer features overall.
– A clean background with more white space.
– Smaller sections. Dividing the content on your website into smaller sections to make it easy for users to scroll through. This allows your users to view different multimedia aspects of your website and to skip to information most relevant to them.
– Only three layers deep. Keeping your content to only three layers deep because it's much easier for shoppers to get lost on a mobile website than on a desktop. Lost and frustrated customers don't make purchases. And the more steps a shopper has to take to get from the page they land on to the checkout page, the more frustrating it is.
– Simple navigation. Simple navigation is key because of the constraints of smaller screens. There should be a clearly visible search box and drop-down menus.
– Home button. Make sure that the visitors can return "Home" easily with just a single tap. The top of the screen on every page should allow for this action.
– Easy checkout. Have a quick and easy checkout. Forcing your customers to create a new account will lose you a quarter of your sales. Offer a guest checkout instead or offer easy-to-use and widely accepted platforms like Google Pay or PayPal.
There are now more ecommerce shoppers on mobile devices than on desktops. And the numbers are only going to shift further toward mobile shopping and away from the traditional desktop.
Using mobile strategies here should ensure your shoppers have a smooth, pleasing experience along the way.
They're then more likely to explore your store and ultimately make a purchase. And then perhaps another purchase after that.