One of the secrets of the marketing world is that when the world leaves one method of customer outreach for the new and exciting, that makes the old ways much less used and therefore effective once again. Direct mail and email are once again really good ways of reaching your audience.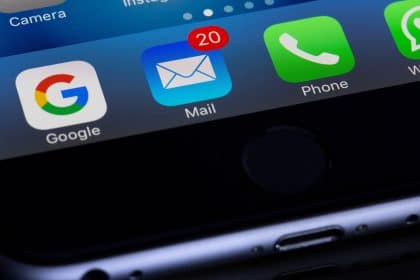 All of your bills are being sent to you online, you've cancelled all your magazine subscriptions because you're reading them on your tablet so when you go to the mailbox and there's only one piece of mail inside, you're quite likely to give it a bit of attention.
It's the same with email. We're getting fewer and fewer thus making the one we get more likely to be opened. And also, we've been stuck inside on quarantine for months and will read anything that comes our way.
Email marketing is one of the most cost-effective marketing strategies for small businesses. According to the Direct Marketing Association, email marketing on average sees a 4,300 percent return on investment (ROI) for businesses in the United States.
This is because email marketing is easy to manage, gives you full control, and allows you to establish a direct contact with your members, donors, and stakeholders.
The value of email marketing software
You can manage your contacts by simply keeping a list of names and email addresses, or you can create a complex database full of subscribers segmented by demographic slices and engagement levels. The method you choose really just depends on how much of your budget you're willing to allocate toward the email marketing software that can give your organization the features it needs.
Some of us have the interest and time to direct separate campaigns to different sub-groups and others of us just want to blast a regular message to all the faithful.
Here are some five great email marketing programs that you should consider using for reaching out to your member and donor base.
Constant Contact is one of the largest email marketing services in the world. It is also the easiest to use. You can easily manage your:
– Email lists
– Contacts
– Email templates
– Marketing calendar
Each account gives you access to easy tracking and reporting, built-in social media sharing tools, a free image library, and list segmentation.
Their Email Plus accounts also come with powerful features like:
– Email automation
– Drip campaigns
– Surveys and polls
– Coupons
– Online donations
– Subject line A/B testing which helps you send targeted emails to maximize your open rate
Constant Contact offers unmatched customer support with live chat, phone calls, email, community support, and a vast library of helpful resources.
Constant Contact has a 60-day free trial (no credit card required).
Their pricing starts as low as $20/month.
SendinBlue is a complete SMS and email marketing software for businesses.
It is an extremely easy-to-use platform with excellent tools for creating beautiful and highly engaging emails. Their simple drag-and-drop email editor is perfect for beginners with no experience in email marketing.
SendinBlue offers a completely free email marketing plan that lets you send up to 300 emails per day, but all your emails will have their branding. You can also include SMS to your account, but the pricing will vary based on your sending requirements.
They have improved their premium plan to include more advanced features like landing page builder, live chat, CRM, and Facebook ads integration. This means users now get more value for the same price.
SendinBlue also offers a separate SMTP bulk email marketing service that you can use to power automated or transactional emails from your WordPress site.
Paid plans start from $25 per month, and they offer a "free test drive."
AWeber is one of oldest and most popular email marketing service providers in the world. They offer a wide range of tools for small and medium-sized businesses to manage their email marketing.
You get access to ready-to-use HTML email templates, list management, autoresponders, and email tracking with detailed insights.
Support options include:
– Live chat
– Phone support
– Email support
– Live webinars
– Vast library of how-tos and tutorials
AWeber offers a 30-day free trial. Their pricing starts at $19/month.
GetResponse is another very popular email marketing solution. It is extremely easy to use and simplifies email marketing for small businesses.
It comes with some amazing marketing automation tools that allow you to create smart, automated campaigns.
With their drag-and-drop builder, you can create campaigns, segment contacts, and send any number of emails designed for specific groups. These tools help you create effective email campaigns to boost your profits.
GetResponse comes with beautiful responsive forms, landing pages, A/B testing, unsubscribe tracking, and autoresponders. It also integrates with third-party lead generation software like OptinMonster, Salesforce, Google Docs, Zendesk, and others.
Support is provided by phone, live chat, and email. Their help section is full of free learning material including videos, webinars, how-tos, guides, etc.
GetResponse offers a 30-day free trial. Their pricing starts at $15/month.
Mailchimp is one of the most popular email marketing service providers in the world primarily because they offer a forever free email marketing service plan.
Mailchimp comes with an easy drag-and-drop email builder, autoresponders, segmenting contacts into groups, and simple tracking for analytics. It also allows you to set up delivery times based on user's time zones, and you can set up segmenting based on geolocation.
When it comes to marketing automation features, the Mailchimp platform is quite limited.
Mailchimp support is offered by email, live chat, and a large tutorials knowledge base. However, their support is often slow and no match to the quality of service that you get from Constant Contact.
Mailchimp offers a forever free plan that allows you to send 12,000 emails for up to 2,000 subscribers. This plan is fairly limited because you don't get features like send-time optimization, advanced segmentation, multi-variate testing, etc. You are also required to display their branding in your email. Last but not least, support is restricted to email-only which is fine if you're a hobbyist but as a serious marketer, you need reliable support that you can count on.
Their paid plans start from $10/month for up to 500 subscribers.
There are a lot of options here and even more out there, and you really just need to find the one that fits your specific needs. It's helpful that you can get a free trial from each of them to "kick the tires" a bit.
The goal though is to be regularly reaching out to your members and donors and staying in touch with them to create that loyalty and long-term relationship that is so vital to your organization.