Blurring the line between entertainment and marketing.
Branded content is all about combating the distrust of conventional advertising. While you want to avoid coming off as too sales-driven, your content should find a way to show people what's great about what you offer without shoving it in their face.
The job of branded content is not to simply get you talking to your audience, but is to get consumers talking about you.
We've all encountered folks like the person at the mall who demonstrates how to properly tie a scarf or a chef doing a cooking demonstration. The items behind them were for sale but the focus was primarily on the expert and their valuable—and often entertaining—teaching.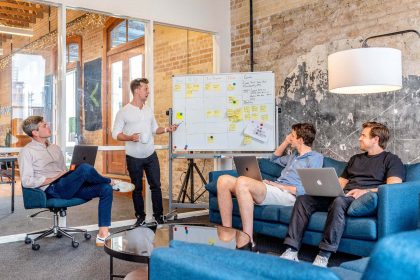 People look for content to either solve a problem or be entertained. If you're not keeping your content centered around your audience's needs, then you're missing opportunities to connect and engage with them in a meaningful way.
Content isn't always just about getting people to your website—it's about finding ways to provide value and keep them there.
American Express OPEN Forum is one of the best examples of branded content that speaks directly to small business customers and their needs. The company created an entire website dedicated to educating small business owners on topics like planning for business growth, managing money, and getting customers.
This content, when done properly, builds your authority on a subject, entertains your audience, and increases your credibility. It raises brand awareness and puts you in front of your target audience in a way that advertising can't, and it gives your audience something to share on their social media channels.
The best branded content strategies include a way to build connections with the community, like American Express OPEN Forum. The experience is entertaining and valuable.
Ultimately, having a branded content strategy will ensure that your content is seen by the right people and improve the perception of your brand. You'll reach new people and provide value to prospective and existing customers.
HOW BRANDED CONTENT CAN HELP YOUR BUSINESS
People are bombarded with ads on a daily basis, whether it be on their Facebook feed, streaming accounts, web browser banner ads, or billboards outdoors. With so much on offer, people have become accustomed to skipping ads or ignoring them completely.
On the other hand, people look for content to either solve a problem or to be entertained. So, branded content advertising is a prime opportunity to connect with your audience while marketing your brand.
Improves brand recall
When a consumer watches branded content, their brand recall is up to 59% higher than with display ads, and viewers are 14% more likely to seek out information about the brand.
Branded content goes hand-in-hand with entertainment, resulting in more attention and stronger brand recognition. This is because it feels more consumer-focused rather than sales-based, which creates trust between both parties.
Improves brand positioning
Unlike traditional ads, branded content firms offer businesses the opportunity to tell a story that represents the values they want to associate with the brand. It's a way of bringing emotion and humanity to your brand and ultimately, forging connections with your audience.
Brand storytelling weaves together the facts and emotions that your brand encapsulates. By offering an insight into your values and why you exist, it gives you a chance to connect with new customers and strengthen relationships with existing ones. No other brand can copy your story, so being authentic and honest will make you stand out among the crowd.
Improves brand trust
Consumers have more choice than ever, and because of this, have become extremely receptive to what brands can offer them. Customers want their needs addressed above the company's own business goals. Branded content gives you the opportunity to show your customers that you're willing to put them first, so rather than wholly focusing on sales and profits, you're able to develop a stronger sense of trust.
HOW TO CREATE BRANDED CONTENT
Understand the role of branded content
It should educate and inform, rather than promote your brand in a blatant way. It shouldn't feel at all "salesy" or you could do harm to your brand.
Pay attention to your audience
Who are they? Where do they meet online? And what information do they consume?
Be true to your brand's voice
Branded content may be different than other forms of marketing, but your company should maintain a consistent voice in all your marketing content.
Be strategic
Understand why you are doing content marketing and try to be consistent with that vision.
Be focused
Begin with a clear idea and a defined area that you will target. What is your niche here? You shouldn't try to cover the entire realm of content possibilities. Instead, focus on a manageable chunk and handle it effectively.
Monitor feedback and respond
Track how well your content is received. And then look for ways to adapt future efforts to build on the most popular or effective content. Try and learn from this experience and adapt.
Be timely and timeless
Some content should be very topical. Make it current, timely, and compelling. The problem with that content, however, is that it might not have a long shelf life. Complement it with items that could be as relevant in three or six months or longer. Create a balance between quick hits and longer-lasting material.
Get optimized for mobile
Fifty-five percent of branded content is now viewed on mobile devices, so ensuring your content is optimized for mobile is essential.
Use social media
Social media is one of the most popular ways for consumers to engage with a brand's content, driving engagement including shares and conversation among friends and followers. Almost a quarter (24%) of people said they engage with a favored brand's content via Facebook every day, with 15% doing so via Instagram and 10% via Twitter.
Tailor for multiple platforms
If the content is going to sit on multiple platforms, the content must be adapted for each. For example, Facebook and YouTube are better equipped for long-form in-depth content that drives an emotional connection, whereas Instagram is better suited to compact messaging.