Content sells; design doesn't. Then why are so many website remodels so focused on the design and aesthetics of the website before content? Website designers and their clients have the tendency to push content creation to the side. When the content is forced onto the client and the web designer neglects this aspect, the content created is usually poor quality, irrelevant, and in a format the website design doesn't support. A content-first and design-second approach are crucial to your website's SEO and outreach to potential customers. You wouldn't start writing a book without having some plan for your characters and storyline, so why would you do the same with your website?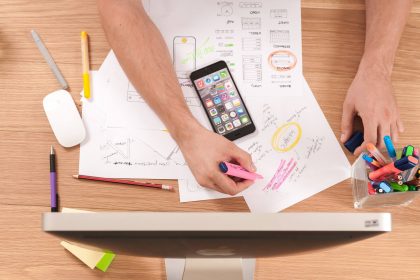 Content is the tangible material on your website that users consume. Content can be pictures, videos, text, or audio. Design, however, is the presentation of these forms of content. The content on your website needs to target, engage, and persuade your audience by providing relevant and keyword-focused messages on a regular basis.
ADVANTAGES OF A COPYWRITER
If website designers were more focused on creating content, they would not be website designers. Although most acknowledge the importance of content creation, they are driven by aesthetics, which can force them to push content creation onto the client, which is usually not successful. Convincing your client to use copywriting services—professionally written content for marketing purposes—proves to be the most efficient way to provide high-quality content that engages and excites your users consistently. Many clients may see hiring a copywriter as an unnecessary cost if they don't fully understand the benefits. Some of the advantages of hiring a copywriter that you should stress to your clients are:
You and your client will have more time to focus on other important aspects of your website redesign
The brand message and identity will be more clear
The design process will be more effective
Overall, hiring a copywriter will result in a better user experience and potentially lead to more conversions.
Content and SEO
Prioritizing SEO during your website design and content creation is critical to your website's success. SEO is used to improve the visibility and ranking of your website on search engines. Search engines love relevant and consistent content, so it's crucial to have a content-rich site if you want people to click on your website. Every new blog post or additional page to your website is a new opportunity for a click. Clients should also utilize social media to generate website traffic through platforms like Twitter, Facebook, and LinkedIn. An SEO-centralized approach will result in maximized optimization if paired with a content-first design.
INTEGRATING YOUR BRAND AND CONTENT
Even if you're posting content to your website regularly, it's virtually pointless if it doesn't align with your brand's identity and message. Users might click on your website and find that your content is irrelevant and confusing, which results in your brand losing credibility and potential customers. Working with your client to form a content strategy that emphasizes and supports their brand's core message will allow the content to support what your client's website is trying to accomplish. When trying to understand the client's brand to integrate it with content, ask them about their customers' perception of them, their competitors, what makes them different, the goal of their project, and why they do what they do. Discussing these types of questions with your client can lead to a clear understanding of what type of content message should be created to create valuable content for users.
The bottom line here is that content is crucial. Content ultimately determines the success of your website; it's what sets your website apart from the millions of others and promotes your brand and message to your customers. Going with a content-first approach during your website design process and taking time to understand the best methods of developing this content for your brand will make all the difference. Here at New Target we can develop a web marketing strategy that is specific to you and your brand that emphasizes content marketing, SEO, and so much more.