A long-term consistent marketing strategy always pays more dividends than short-term scattered tactics. But that doesn't happen as often as we'd like it to. And there are many understandable reasons why short-term thinking is prevalent in a now culture, business or otherwise.
Our industry might be in flux. Our business might be in crisis mode, and we're unable to think much beyond next month's payroll. The national economy might be uncertain.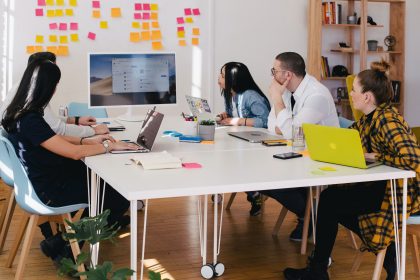 So, we throw some money at the issue and hope it makes a difference in gaining eyes, clicks, and sales. This can be called "crisis communication." There are those who use this as their primary sales tactic like the rug store that has been running a "going out of business" sale for the past two years.
But most businesses engage in it because they hold the funds on-hand to dare to dream of going bigger, of expanding their reach into the next fiscal year. Loss aversion is a powerful psychological factor in decision making.
But, if we're strategic, we can undertake short and long term digital marketing strategies.
We can acknowledge our inability to always think long-term, but while we are acting in the short-term, we can do it a little more strategically so that we can stack a few building blocks together to further our goals.
A short-term marketing strategy is the step you need to take to accomplish goals that you can nearly see with your naked eyes, a month, three months down the road; a seasonal mentality.
If you can somehow plan these short-term business goals to fold into a long-term marketing strategy, you just might gain on both fronts. Micro campaigns are the perfect example – narrow theme, fixed duration, defined reach, etc.
Short-term goals are usually driven by our lack of funds to do the big things, like rebuilding our website or hiring an ad agency or engaging in a years-long multi-faceted advertising campaign.
This shorter process includes efforts that create a temporary boost in website traffic or sales. But detached from a long-term strategy, these short-term marketing successes will be short lived.
A "pay per click" (PPC) campaign can bring targeted traffic to your website's landing pages and social media promotions and giveaways can give you quick wins. We all need to show progress, we get it, but does a "like" pay the bills or fund the mission?
A LONG-TERM MARKETING STRATEGY
Your long-term marketing strategy encompasses the big goals, industry dominance, global name recognition. These long-term marketing goals are accomplished through an extended, consistent marketing strategy. But they include all those short-term "wins" that you've been accumulating along the way. They usually move the financial needle too by building brand or donor advocates that consistently buy or donate.
NO MORE CRISIS COMMUNICATIONS
Here are three ways (Branding, Social Media, SEO) in which thinking and acting in the short-term can help your cash flow today and also lay down tracks in support of tomorrow's long-term success.
BRANDING
1. Develop your own signature language. What is your voice, your perspective? This takes less money than thought.
2. Get customers' feedback. Even if you were ready to launch a huge ad campaign, you would be ill-advised to do so before you were armed with valuable feedback from your customer base, both good and bad.
3. Control your sales channels. When you go global, you don't want to have to then close down communication channels that are confusing your brand. Don't chase easy money by letting your overstock be sold at the discount stores if your ultimate plan is to be perceived as a high-end retailer.
4. Develop style guides. Like with the signature language, establishing a set of well-thought-out guidelines regarding your visual identity will not only support today's efforts but also will get you traction toward tomorrow's.
SOCIAL MEDIA
1. Increase brand awareness. Getting involved in various social media channels (where your potential customers go for several hours a day) is one of the best places to grab consumers' attention.
2. Drive traffic to your website. New eyes, improved SEO, and more data to analyze are all valuable for both today's marketing campaign efforts and tomorrow's grand strategy.
3. Generate new leads. Creating a marketing funnel with social media at the top is setting the stage for success down the road. It's a way of warming up potential customers and getting them on the path to conversion.
4. Build a community. Even wider than your marketing funnel is the community that you'll want to develop. Those who are aware of your company, read about it, engage with posts, and even share them are your community.
SEO
1. Find and redirect dead links. Those 404 errors can really hurt your website's rankings. You can use Google Webmaster Tools to analyze and optimize your web page.
2. Scan your website for misspelled words. Typos make for a bad user experience which leads to people leaving quicker and that hurts your ranking.
3. Add related suggestions. Return visitors really help your search rankings up. When your visitors are done reading one of your articles, you can give them related content recommendations. Adding these increases your click-through rate.
These suggestions are fairly easy and fairly quick to implement. Many of them you can do yourself but you may want to go outside for some professional advice and assistance.
Your friendly neighborhood marketing agency is not unlike your own business, they understand the financial pressures of day-to-day business and your inability to go "all in" on a massive global ad campaign.
What they can help you with is to take those small steps, the ones you can afford today, and make sure that they are the right ones to take. That way, you're building something slowly but surely rather than just reacting, panicking and throwing money at the problem and hoping for the best.