While businesses are shifting their focus to digital, many still lack a thorough digital strategy or the knowledge of what it really is. All organizations that want to flourish in this competitive environment need a digital strategy. A comprehensive digital strategy guarantees that your business goals are aligned with your digital efforts.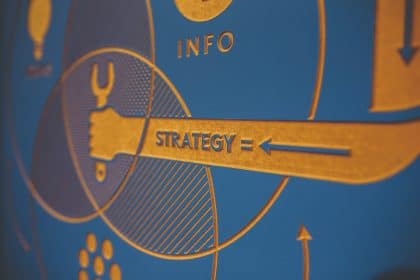 A digital strategy is a strategic plan developed to attain specific objectives via the use of digital technology. The meaning of digital strategy can vary depending on your position in a firm. For example, for marketers, a digital strategy means trying to gain more leads and sales, while IT and operations staff will be looking for cloud-based systems and data analytics. As a result, particular terms linked to the strategy's domain, such as digital marketing strategy, creative strategy, and so on should be used.
A digital marketing strategy is a plan that allows your company to achieve precise objectives by utilizing carefully chosen marketing channels such as paid, earned, and owned media.
At New Target, our team develops and executes marketing initiatives that raise awareness and increase conversions. We'll link you with your audience by starting with a strategy and evolving it through data analysis.
A creative strategy is a long-term approach to developing visual stimuli for your brand, product, or service. It determines the overall theme, appearance, and feel of all of your assets. The creative strategy should be in line with your overall strategy and its goals. This guarantees that all work follows a set of guidelines that aims for a specified reaction and encourages repeat and specific behavior.
Our goal with every technology project or digital campaign is to develop the creative that your audience genuinely wants, not just a memorable and aesthetically pleasing experience.
Digital Development Strategy
The design of your website should allow you to tell your story the way you want it to be told. In addition, it should help your audience find what they're looking for and give them clear guidance on what they should do next. At New Target, we use a development strategy to create websites and digital ecosystems that are appealing to both administrators and end-users.
Our team has expertise in building technically sound websites that fit your goals and scale into the future, from selecting the correct tech stack to connecting with your existing one.
What Should a Digital Strategy Include?
People: The success of a digital strategy is contingent on the abilities of the entire team. It doesn't start in the cloud; rather, it is intricately bound to the work of developers, designers, marketers, strategists, content writers, and others.
Process: The next step is to define exactly what a company's human capital will perform and how they'll connect their work to create a completely integrated strategy.
Platform: We examine the platforms they'll need only when the goals, people, and processes are in place. Again, technology is merely a tool, not a driving force. Platforms can include cloud servers, content management systems, data analysis systems, mixed reality, artificial intelligence, geo-based apps, and more, depending on the firm's objectives.
Products: Based on the platforms, the specific goods that make up your digital strategy are identified. Apps, wearables, responsive web pages, IoT smart devices, augmented reality experiences, and more are examples of these.
Channels: Once you've created your digital products, the next step is to figure out how to link them to consumers. In your approach, which channels function best as delivery channels? In-person shopping, email, social media, workplace networking, intranets, websites, IoT distant connections, and so on are examples of these.
Experience: It's critical to pursue and maintain a strong understanding of your user experience. Are the visual cues for your brand consistent and compelling? Is the tone of your firm genuine? When consumers interact with your company, do they feel at ease and delighted?
Customers: It's all about people at the pinnacle of the digital strategy framework and not just the ones that buy your products or services – though they're crucial, too. A successful digital transformation improves the experience of your employees, vendors and suppliers, partners, and stakeholders.
Defining Digital Strategy Goals
To form an effective digital strategy, you need a clearly defined vision or objective because the strategy involves defining the means (paid, earned, content marketing, a website, etc.) and how to utilize them to reach the ends (channel, volume, frequency, etc.).
The main business objective should always be the starting point for any marketing plan. Business goals give direction and clarify what you want to do, laying the groundwork for you to attain that goal.
Some objectives could be:
Increase market share: Being aware of the competition and what has to be done to keep ahead of them in order to gain market share.
Business expansion: Increased revenue, more clients, or even specific products or services.
Market expansion: This can entail internationalization or just new regions in order to reach new audiences.
It's critical to match your digital strategy objectives to your company's objectives if you want to succeed. This ensures that your digital efforts contribute to the company's goals and are coordinated with other business processes like sales and product development. Each department of the company should collaborate to develop a digital strategy that will help the company achieve its objectives.
There will be a variety of objectives that make up your digital strategy as a whole. These should have a symbiotic relationship with one another and act holistically. Your goals will be determined by the channel you select.
For example, your website will determine the types of messages you wish to convey. Your demographic, on the other hand, may possibly determine the appearance and feel of your website. You may need to express some things in your content based on the qualities and benefits of your product, but you must also be conscious of how your target audience wants it displayed.
It's also crucial to understand which measures or KPIs are best for measuring the success of your overall strategy, as well as the various channels that make it up.
For example:
When used as conversion channels,

PPC

and SEO can be measured in sales or leads generated.

Customer retention

, repeat use, engagement, leads, and sales may all be assessed using email and mobile apps as customer retention channels.

When used as awareness channels, display and social media can measure reach and engagement.

When you know what a channel's measurement and aim are, you may use diagnostic metrics to assess its success even more thoroughly. The following are some examples of success metrics:




For conversion channels, CPA and CPL are used.

For customer engagement channels, sentiment and awareness.
Using the services of a digital agency can help you define your digital goals and keep on track by focusing on what will make the most difference to your company. An excellent agency will create a high-performing digital strategy that will deliver based on these aims and objectives.
Our digital team can collaborate with you to develop a clearly defined digital strategy for your online goals – a strategy that aligns with your brand vision and the human, technological, and financial resources available to carry it out.