Nowadays, when a consumer wants to buy something, they turn to the internet to research before making the purchase. In fact, even in brick and mortar stores, 82 percent of smartphone users search for reviews or details about the product they are about to buy. Therefore, your business must have a digital presence in order for your marketing messages to reach consumers.
But digital marketing still isn't everything.
While digital marketing tactics should be a part of all stages in the buyer's journey, it is important not to neglect traditional marketing strategies. Digital and traditional marketing must support each other so your marketing strategy can reach its fullest potential.
The perfect mix of digital and traditional marketing presented to the right people at the right time will have incomparable impacts on the way consumers find and engage with your brand. And an added bonus is that since digital marketing has been taking over, traditional marketing channels have become cheaper, making them more accessible for businesses with limited budgets.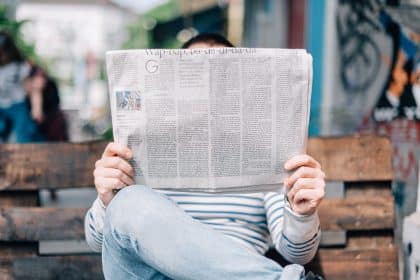 What is traditional marketing?
Any form of marketing that isn't online is referred to as traditional marketing. Print, radio, direct mail, telephone, and outdoor advertising like billboards are all parts of traditional marketing. Traditional marketing is a tried and true strategy to help reach specific audiences.
Combining digital and traditional marketing
Billboards and Geotargeting
Billboards, reaching 90 percent of the population, are still one of the best ways to advertise in certain markets. In the past, the high price of billboards prevented smaller businesses from using them. But now, thanks to the new digital billboard styles, the rate is much lower, sometimes even as little as one-third of the cost. These digital billboards can also be paired with geo-targeted ads that can ping the driver's smartphone with an ad after they pass the billboard. This makes for an extra strong marketing message that will be hard for the driver to forget.
Digital content and magazines
Print is not dead; the magazine industry is holding on tight to its loyal customers, and because magazine companies are typically aimed at niche audiences, they are the perfect channel for reaching a more specific target audience. For example, magazines focused on special interests like travel, business, and beauty are perfect for hyper-focused consumer segments.
Consumers also tend to trust magazines that support their niche interests, so brands that partner with magazines will also benefit from a boost in trust. When considering native advertising, sponsored content, or event sponsorships, it is important to understand the methods for reaching the magazine's digital audience as well, which can be through their website, social media, or digital magazine editions.
Online ads and newspapers
Unfortunately, local publications are becoming more and more outdated. But, depending on the audience, there are definitely still some people who find joy in their morning cup of coffee while reading the paper. In addition, while the advertising sections of newspapers were traditionally competitive, expensive, and jam-packed, papers now typically have just a couple of advertisements and go for a less expensive price.
This can be a great option for businesses with smaller advertising budgets. And all newspapers today have online components, so there is always room to negotiate banner ads on their website or social media posts on their channels.
Video ads and TV
While more and more people cut their cable cords in favor of streaming services, in the world of marketing, you can still take advantage of both for great results. Not only has TV advertising become a lot cheaper and accessible, but there is still a good chunk of the population that watches TV, especially the news.
You can find out what your target audience likes to see and run a commercial that tells your brand's store. For $5,000 a month, you can run a decent schedule, and while producing a TV spot could cost anywhere from $10,000 to $25,000, it is a great investment because you will reuse the content for other digital channels.
Cable TV isn't for everyone; whether it is still a bit too expensive or just not where you want to be, most stations have apps, video channels, or youtube channels you can buy ads on, usually at a lower price. Video ads placed here can also be repurposed for social media and your website.
Radio and streaming ads
Even with the emergence of music streaming services, people still rely on their favorite radio stations. And to maximize your exposure, you can buy broadcast and online ads. This way you can reach people on their morning commutes while they are listening to traffic reports and local news and purchase additional spots on services like Spotify and Youtube. Podcast advertising is also becoming more relevant and is something you should consider.
Conclusion
As more businesses go fully digital, there is now more room to succeed in the traditional realm. Advertising is all about telling your story and coming up with unique ways to use your content. As long as you can do that, you will get the most value out of your advertising budget. Let's end the stigma against traditional advertising and combine digital opportunities with traditional strategies to make the most effective overall marketing strategy.
At New Target, we know digital and traditional marketing. Our marketing experts will work with you to create the best marketing strategy uniquely tailored to your business and its needs. Contact us today!