Almost two years ago, we saw organizations of all sizes abruptly change from on-site offices to remote work, leaving leadership, managers, and employees scrambling to digitize their workflows. Unfortunately, while employees successfully used digital tools to work from home, this did not necessarily transfer into the most efficient or seamless organizational processes.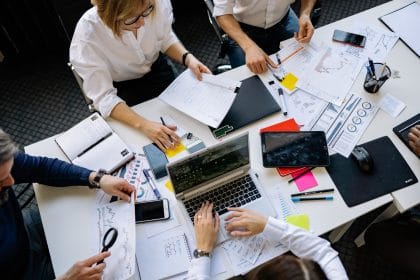 Chat, for example, does not replicate the pace and fluidity of in-person brainstorming sessions or strategic conversations. No one with relevant information can overhear and contribute to a meeting they weren't invited to over Zoom like they could if they were in the office.
Instead, success is dependent on a culture of successful collaboration that begins with leadership and spreads throughout the organization. Therefore, organizations must provide the necessary tools, processes, and guidelines so that everyone in the organization can work collaboratively, seamlessly, and engagingly.
Hybrid offices are the future, so here are some ways we can ensure successful collaboration in our new hybrid office world.
Hybrid Office Doesn't Equal Hybrid IT
For a real hybrid workplace, employees should have complementary tools and methods to complete their work, whether they are at home or in the office. It's hardly a true hybrid workplace if individuals are excited to return to the office since they'll have more access to tools and files than when working from home. Everyone in the hybrid workplace should have equal footing to collaborate.
Moving files and systems to the cloud helps provide a single location where employees can access what they need to complete their tasks no matter where they are.
By implementing collaboration-enhancing solutions like Microsoft Teams and SharePoint, IT becomes a crucial enabler of productivity. This is necessary in order to foster a work-from-anywhere culture that empowers all employees to succeed.
Encourage Asynchronous Collaboration
Organizations have to set clear expectations for workplace collaboration around asynchronous and synchronous workflows as employee demands and preferences change and work environments evolve.
Asynchronous workflows will become more common in the hybrid office, and your collaborative environment should be designed to handle and encourage this transformation. Intranets and business social networks, for example, can make everyone feel involved and able to contribute their voices, regardless of where they are located or when they are contributing.
Encourage Collaboration Between Teams
You want to increase the amount of creativity in your hybrid workforce, which you can do by improving inter-team communication and collaboration. For example, holding company-wide or multi-team meetings can help teams communicate better.
The primary challenge will be finding a time when everyone is available. If possible, schedule these sessions on a regular basis, so that team members know when to anticipate them. Allow time for small conversation during meetings so that coworkers can mingle freely with one another.
When you do call everyone to the office, attempt to mix teams so that everyone in the hybrid workforce gets more exposure to one another.
Listen to Your Employees
The hybrid workplace is a first-of-its-kind concept. As a result, leadership teams need to assess and monitor company morale more frequently.
Surveys are a great method to get a pulse on the employee experience and get real-time feedback. To increase productivity, organizational alignment, and culture, it will be vital to focus on employee engagement.
If done correctly, the hybrid workplace has the potential to produce happier employees, more innovation, lower risk, and a competitive advantage.
Conclusion
Because hybrid work is still so new, teams and leaders are continually learning as they go. Teams will improve, and executives will become more adept at maximizing hybrid work environments and cooperation for their organizations.
When first starting out, the most important thing leaders can do is demonstrate to their staff that they are fully dedicated to making the hybrid workforce effective and meaningful for everyone.