Drupal is a free, open source, content management system (CMS) used to make great websites and applications. It is both powerful and scalable. There is a new upgrade coming in November 2020, and this means there is a great migration underway because older versions will see their end of life this year and next.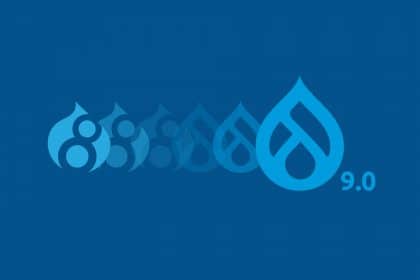 WHAT EXACTLY IS DRUPAL 9?
Drupal's version 9 was released in June of 2020 and the big announcement was, "The big deal about Drupal 9 is . . . that it shouldn't be a big deal."
Drupal 9 is simply the absence of deprecated code in the Drupal 8.9 version. The Drupal website states that 9 includes "Updates of dependencies to versions that stay supported and the removal of our own code that we deprecated with removal before Drupal 9's release."
The key benefit of Drupal 9 over Drupal 8 is that the platform will be supported with security fixes after November 2021, and it's an easy upgrade as possible from Drupal 8.
There are two paths for Drupal 7 users: Go via Drupal 8 or straight to 9. Some good news is that because of Covid disruptions across the world, community support for 7 will be made available until November 2022, a year longer than for Drupal 8. You need to plan a start date based on the complexity, integration points, and other dependencies of your website.
The final version of Drupal 8 will receive bug fixes and security coverage only until November 2021. That's coming up fast. You need to act now.
One of the consequences of not making this platform migration is the security issues you'll have to face because of the end-of-official Drupal security support due to its underlying Symfony framework's end of life.
It can be frustrating to be prompted to upgrade a website that you love and that is working well. But there are a few good reasons besides the security issue mentioned that make it a very good idea to move forward. At the end of life, Drupal 7 and 8 releases on all project pages will be labeled as "not supported" and may be thought insecure in third-party scans thus making the integration with third-party tools and systems more challenging. Some of the top Drupal hosting providers like Pantheon will withdraw their support of 7 leaving you without many options but to assume hosting responsibility for maintaining your application and server-level configurations.
ENSURE A SMOOTH UPGRADE TO 9
Make sure your website is compatible with Drupal 9: PHP 7.3, MySQL 5.7.8, Drush 10.
Keep your Drupal 8 website up-to-date with the latest versions.
Drupal 8.8. or Drupal 8.9 is where you'll want to be before migrating.
Be sure that your contributed modules run on their latest versions.
Remove all deprecated API from the Drupal site that you're using.
Keep your Drupal core updated to Drupal 9.
Give us a shout and we'll help you with all of the above.
What's new in Drupal 9.1.0?
It includes the new "Olivero" front-end theme (it should replace Bartik as the default Drupal theme) and additions to the Claro administration theme.
Drupal 9.1 is fully compatible with Composer 2.
The memory and performance requirements are reduced to improve your experience.
PHP 8 is also supported in Drupal 9.1, including all of Drupal's dependencies.
Installer performance is improved by 20%, ensuring a faster Drupal site set-up.