An editorial calendar is a plan for your content that organizes your outbound communication in a clear, shareable manner. It also map out ideas, strategic plans, and anything that fits into your brand's content strategy.
While editorial calendars are typically created during a strategic planning meeting, they are living documents. Your calendar should be flexible and keep up with the changing needs of your brand.
The calendar outlines specific content ideas by channel on a daily, weekly, or monthly basis. When the content calendar is completed, it will look like the content for each day and for each channel is scheduled or planned.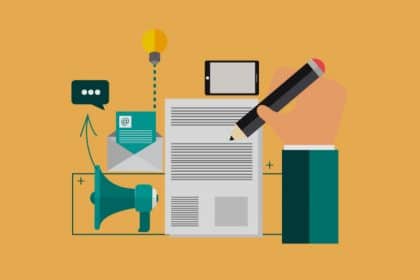 Having a plan written down won't guarantee success but it's a whole lot closer to success than just winging it.
Without a mutually agreed-upon system for planning, writing, and scheduling content every week, you can find yourself in a pile of missed deadlines, unedited blog posts, and a fair amount of team tension.
There are lots of resources that you can use to host your editorial calendar from a simple spreadsheet to more sophisticated offerings. That's step two. Step one is figuring out what to put into this calendar and how to have it serve your goals of producing regular and engaging content.
First, Fill Your Content Buckets
Your content buckets are a menu of all your brand's offerings, whether that's services or industry know-how. What do you have to share with the world; what's your area of expertise?
Brainstorm 10 to 12 ideas for each bucket to create a well-rounded content plan.
Entertainment: Posts that are entertaining capture viewers who are on the platform to enjoy themselves.
Inspiration: Inspirational posts can be quotes, trivia, or personal stories from client achievements.
Conversation: If your post idea lends itself to a conversation, then start one. Tell your audience what you think about the topic and ask that your audience do the same.
Education: Build the trust factor and position yourself as an industry leader with pieces of your wisdom.
Connection: You can share behind-the-scenes moments, appreciation for employees, customers and complementary business alike, and the community you work in.
Promotion: Only about 20% of your social media content should be promotional. Social media is all about providing value and if you're constantly posting sales pitches, your audience will lose interest—fast.
Who, When, How Much?
Quantity
Determine how much content you will need during your content cycle. For example, if you are crafting a quarterly editorial calendar, how many blog posts will you need during the period? It's good practice to have three months' worth of content in advance.
Production
Who will be responsible for producing the content? Will your small business blogging team handle the content or will you outsource creation to an outside agency? Who will edit it, who will post it?
Frequency
How frequently will you be delivering content to your audience? Daily? Weekly? Be realistic. Before you set a publishing schedule, think about your audience and upcoming events that may affect or influence their actions, your business, or your content choices. For example, if holidays, major conferences, or special events fall in your editorial content schedule, make sure the content you schedule for the period will be relevant.
– What upcoming occasions could your content focus on?
– Do traditional holidays resonate with your product offering?
– Will there be an industry-specific hot topic coming up such as a major new product release, trade show, or buying season?
– Don't overlook anniversaries, special business days, and local celebrations. All these can guide you on creating relevant content that can encourage more content sharing and lead generating.
Include the Whole Team
An editorial calendar should be a resource for your whole team, not just content creators. It should be something anyone can easily access to see what's coming up and also suggest content ideas. Sometimes the best content suggestions will come from people outside of your marketing team.
Ensuring Success
Share content regularly
A successful calendar will help you stick to a schedule so platforms are regularly updated and users know the lights are on. If you're sharing content sporadically or seeing little engagement on certain days, move your content buckets around in the calendar so you're only posting on days when your audience is online.
Update your calendar
As new ideas come in, great content should come out. With a flexible calendar, businesses can keep up with the quick pace of today's online world. Since you can't predict the future, staying up-to-date on your audience's needs and your brand's industry is vital to creating relevant, useful content.
Check your progress
Are people commenting on your posts, sharing your blog, or clicking through to your newsletter? Take a look at your analytics to see what is performing well and what you could improve and update the calendar accordingly.