Convincing a donor to give to your nonprofit is a tricky business. We work tirelessly with nonprofits to maximize donations and awareness online. Through this work, we've amassed a mountain of data (yes, compliant) on donor behavior. What works, how much effort is needed, and most important to this article, how to get more.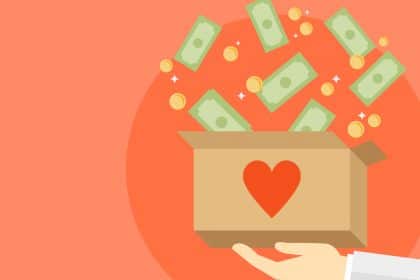 "Growing competition and decreasing available dollars" seems to be the recurring theme in all our conversations with the donation-driven community. So, what is the best method for maximum return on investment (ROI)? From a macro view, we've used our data to help answer two major questions (and lean toward one approach):
Is it better to focus on creating new donors? Or, is it better to attract primed and ready donors?
We don't only work with nonprofits. We design, build, and market for some great corporate brands. So, we took this question and thought about donations as a product.
Where do businesses go when they have a product to sell? Well, they go to one or a mix of three:
1. Existing customers
– (Know they like this charity. This is a safe decision and easy to make.)
2. Customers who have purchased similar products
– Giving to a different charity in the same category is like switching to a new brand. It's something you've already decided you value. You don't have to be sold on the cause, just the service delivery model.
3. Or, first-time buyers (new prospects)
– Making a first-time donation: Mass marketing usually doesn't work well to stimulate this purchase, because it's hard to know who to target.
Each type of sale here involves a variety of strategies, with new prospects being undeniably the hardest. In fact, renowned author and digital strategist, Seth Godin suggests that until quite recently, buying something for the first time was a very rare and almost revolutionary act. The standard has been to purchase what/how our parents, grandparents, and even great-grandparents did.
Which isn't revolutionary. As a kid, my parents always used Tide for laundry detergent, and without any of my own research or, rather interest, I continue down the historical path my ancestors placed before me. Goes to show, my parents always donated to the Animal Defense League, and I continue to do the same.
So here comes our (already evident) bias. Most of those on your team responsible for development are busy. Even the best are bogged down with multiple organizational tasks (returning calls and e-mails, attending virtual conferences, to name a few). We certainly know when it comes to your line of work that it's all hands on deck, no bench players. Your employees wear many hats, and just keeping existing donors happy can be a stretch. And, given the amount of time involved in prospecting for new donors (let alone landing a good prospect), many responsible for development already question whether the effort provides a reasonable return.
Therefore, we move into the crux of it. If creating new donors is so tough, where do we find existing donors, how do we persuade them to switch up their donation game, and the question that's on everybody's mind—where does New Target fit into all of this?
That data I spoke of earlier? Well, it guides us to a few assumptions or key takeaways that can help your team help themselves:
1. People can be motivated to give to different nonprofits when you assert a compelling need. While compelling can certainly be in the eye of the beholder, we can increase your chances of connecting by using data-driven messaging with clear and concise content. Your organization has probably been around the block, and you know what moves the needle. Use that to your advantage, everywhere. Using social, email, direct mail, and ads and consistently being concise about why you need donors to give and why you need donors to give now will result in more effective copy—and more donations.
New Target Tip: With a large agricultural nonprofit, we utilized text fundraising, like text messaging, it's all the rage. We do this for its geolocating capabilities and getting the word out as urgently as possible. By doing that, we increased donations tenfold.
2. Not all channels are equal, but email is powerful. Whether good or bad (from a security standpoint) email is trustworthy and familiar to all demographics regardless of age (to a degree). Email can have a good balance of images and narrative and with that, we can help build a narrative. A story around your cause. Something that stirs, excites, and drives emotion. Because if there's one thing we know, it's how to create emotion to incite the click (donation).
When our copywriters help nonprofits, they focus on the story of your organization or the needs you're meeting in a community by connecting with your donors on a human level. This has led to more donations, volunteers, and action.
And when I say not all channels are equal, I mean employing a healthy, but data-driven approach to all, like Facebook, LinkedIn, message boards, Twitter, Instagram, and Snapchat. While they can all be great avenues for reaching out, they can also drastically miss the mark with some segments of your audience.
3. Don't over think it. Go back to the beginning and deconstruct the data. When you know how your most active donors found you, you'll know where to put your energy when it comes time to finding new donors. Go back there and build on that outlet. And, if you don't know, create a messaging campaign to ask.
Use a quick survey in email newsletters or ask followers on social media. Then, focus on bringing in current donors to help you reach a new audience with similar taste. Our team likes to create shareable content that inspires donors to retweet, repost, and forward messages to other people in their network with whom the cause will resonate.
In this environment, it's not a time to struggle with converting new donors. It's time to work smarter with the data you already have. Almost everyone wants to make a difference, including New Target. We love being a part of change organizations like yours that contribute to the world daily. We have over 22 years of lessons learned by doing so. But, this is a blog post and like I said, not all outlets are created equally. If you're interested in learning more, bouncing strategy, or just need some guidance, our consulting team, having worked with hundreds of organizations, can help guide your strategy.