The live music industry along with many others, has been hit hard this year by the impacts of Covid-19. Tours were canceled and live events postponed. The music just stopped. The fans were deprived of their favorite music and the artists lost outlets for their talent.
But as with any crisis, there is always a remedy, and the internet brought about some alternative solutions for musicians through virtual and live streaming events.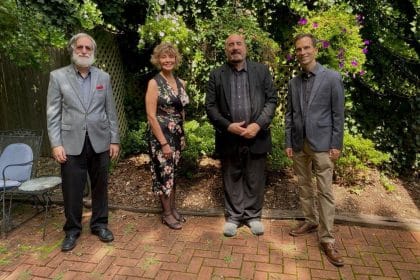 ABOUT THE NIGHT & DAY BAND
The Night & Day band is a jazz quartet that has been playing in the metro Washington, DC area for over 30 years. They initially started off as a variety band playing Top 40 hits, rock, and contemporary music, but realized it wasn't their true calling. With a passion for jazz, swing, and the big band era, it soon became their specialty. Their love of music hasn't faded and they continue to play their favorite classics together even though the pandemic has put a halt to live performances.
When the pandemic hit, live events and most of the working gigs for musicians dried up. This really put a damper on the rest of the year as the Night & Day band had regularly scheduled gigs every month and were looking forward to the summer and fall wedding season as well as the corporate holiday parties that happen every year.
Working with New Target, the Night & Day Band came up with an idea to keep the music alive and bring a little joy to people during Covid-19. Additionally, this idea would help the band record some of their music so that it could be shared outside of live events.
The "Great American Songbook Series" came to life. The idea was to play music from the Songbook, which consists of classic jazz standards from the 1920s through the 1970s using Facebook live.
Each week, the session is focused on a particular artist from the book, the artist's most popular songs, and historical tidbits. Some examples of past performances include the musical stylings of George Gershwin, Duke Ellington, Irvine Berlin, and Cole Porter—some of jazz's legendary musicians.
Michael Suser, the pianist and band leader of Night & Day, talks about his love for the music within the Songbook and how he wanted to find a way to keep live music going even after the pandemic abruptly put a halt to live gigs. "I had always wanted to do a series on the Great American Songbook, since I've always loved that music and performed it whenever possible. So, I thought that doing a long-term live stream would keep the band working and would also give me a chance to talk about the songs I love."
What gives this series a little extra something is the fact that every member of the ensemble gets dressed up wearing black and white suits with bow ties and for vocalist Charlene, a classic cocktail dress. This small touch really brings it all together and makes you feel like you're there in person enjoying a private performance for you and your friends.
OBSTACLES OF PRODUCING A LIVE SHOW
It turns out that organizing a weekly virtual live show isn't as easy as one may think. The virtual events are hosted from Michael Suser's home in Maryland where he and his dog Mo have created a makeshift studio. "I might not have done the series had I known how much work it would be! I'm not very technical, so I had to learn about Zoom and live streaming as best I could. Luckily, I found a great partner who is a genius with this stuff, and we've worked well together. I also didn't realize how much special equipment, both musical and visual, would be needed to even get started. There are wires on top of wires everywhere."
The process of putting on a live virtual show was a learning experience for all of the band members. They had to learn and are still practicing almost 125 new songs for the series and only got to practice together as a band twice prior to the first show in September. After the series commenced, they held practice runs about an hour before each show to review the basics of each song. But obviously, even with limited practices, they all synchronize well together and sound great!
ZOOM WEBINARS
The main platform used to host the weekly series is through Zoom webinars, which allows streaming live onto Facebook. The Zoom webinar link was distributed on Facebook through event listings and organic posts as well as email blasts to current contact lists. The same link can be used for every performance for easy accessibility. In order to simultaneously live stream on Facebook, you need a paid account on the Zoom platform, but it's definitely worth it as the sound quality for the shows has been excellent. Additionally, it comes with the ability to record shows, which was something that the Night & Day band wanted to utilize for later use.
FACEBOOK LIVE
While Zoom allows for the shows to be recorded, Facebook Live makes it easy for users to tune in, like, comment, and share the live stream. Live streaming on Facebook is great because users can comment in real-time and engage with each other or ask questions, which the host can answer during the live session or go back and type the answer for those who are viewing the recording later. But, the best benefit of live streaming on Facebook is the unlimited number of users who can tune in at once.
PAYPAL FOR VIRTUAL TIP JARS
Because the show is free, the Night & Day band set up a virtual tip jar through PayPal to give their audience the option to tip or give a donation for the show. PayPal was a no brainer option as it's a very popular platform and simple to use. There is also brand recognition, so when it comes to clicking on the link, there is less hesitation from users as it is a widely trusted source.
MORE THAN JUST PRODUCING A SHOW
We utilize boosted posts and events, paid advertising, organic posts, and Facebook groups to drive viewers to the live weekly event.
For the paid advertising efforts, the ad copy focused on the band members and the announcement of the Facebook Live series, the "Great American Songbook." The campaign launched about a month before their very first virtual performance so that they could start creating some buzz around the event.
We created Facebook events to help raise awareness and boost to additional Facebook users based on similar targeting criteria as our Facebook ads.
We created multiple boosted events with slightly different audience parameters to target various audience groups. We incorporated boosted events as part of our strategy because they are essentially reach-based ads and that's exactly what we wanted to do, reach more people.
Aside from paid efforts, we also created organic posts to share with the band's followers to keep them up-to-date on upcoming performances. Each performance is posted on their Facebook page when it goes live which also reminds followers when the show has started.
Because of the Zoom/Facebook integration, the videos do not expire, so if someone missed a live performance, they could easily find events on the Night & Day Facebook page to watch or share with friends and family.
Through our paid marketing efforts on Facebook, we've reached over 90,000 people in the Washington, DC metro area, generating over 269,000 impressions and 428 event responses to date.
Paid advertising on Facebook was one of the main methods to raise awareness, but we also knew that we had to engage with the band's current followers and find other non-paid ways to boost organic reach. By joining and posting in jazz-related groups on Facebook, we were able to tap into a wider jazz community, not only in the DC area, but also across the country.
With our organic efforts combined with additional sharing on groups and with friends, the Night & Day Facebook page activity doubled within the last month:
Post engagement increased by 99%
Page likes increased by 125%
Page followers increased by 108%
Video views increased by 344%
Page views increased by 50%
Awareness for these events and the band continues to grow. They have since been featured on the National Review website in an article titled, "Bringing the Great American Songbook to Zoom."
Covid-19 has presented challenges for everyone, but it has also introduced new ways to connect with people. And while live shows are still on pause, the Night & Day band is enjoying bringing live music to fellow music lovers in the comfort of their own homes.
As a full-service agency, New Target works with clients of all sizes within a variety of industries to help them drive additional leads online. As Facebook continues to shift their advertising regulations, it's important to work with a digital agency that is knowledgeable about how the platform works and which campaigns are best for your goals. If you're interested in chatting with one of our team members about how we can help you surpass your benchmarks, reach out to us with your project details.