Within your organization and around the world, an enormous amount of data is being produced each day. A report by Cisco Systems shows that by 2019, an additional 10.4 trillion gigabytes of data will be produced globally each year. So, it's no surprise that a big concern of both public and private sector organizations is that they have a lot of data and they don't know what to do with it. That can be taken two ways. One, meaning that they need a storage solution to archive, maintain, and secure the data. The second, which we'll discuss here, is that they use the data they've collected in a meaningful way to serve their organizations and constituencies positively. That's where data integration comes in to make excellent use of the money that your organization has put into its content management system, association management system, cloud solution, collaboration tools, and marketing platforms. The path to a successful data integration strategy includes identifying goals and then assigning the right people to work with the appropriate systems.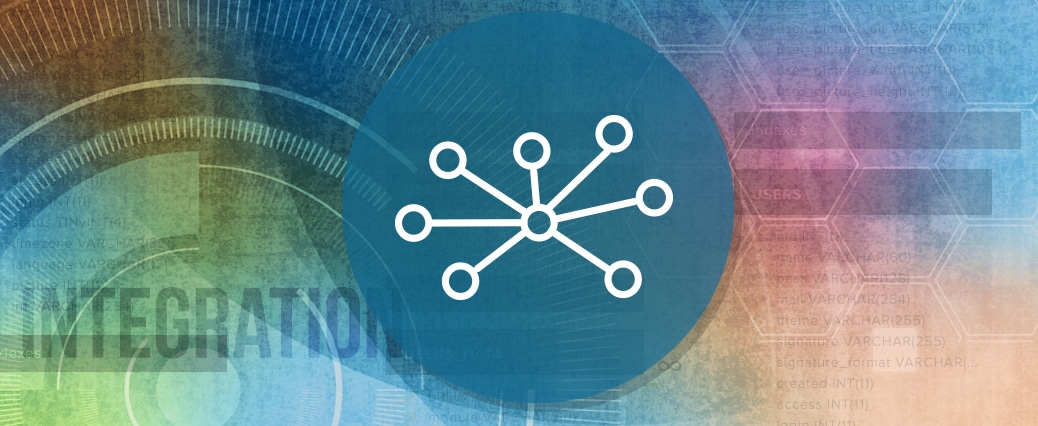 Data integration is a framework that retrieves data from various systems and pulls it into a central hub for the purpose, in most cases, of building a comprehensive and historical view of your clients or members. The ultimate goal of data integration varies by organization and can be overarching, such as increasing membership through various objectives, providing more personalized experiences, realizing quicker sales cycles, or developing more robust buyer personas. In order to meet those objectives through data integration, organizations have to think about a few things like, 1) what data do they need, 2) which systems house that data, and 3) how will the data be collected and presented in a usable way? Once these questions have been answered, a data integration strategy can commence. The first, and certainly most important, step in this process is to identify someone from your organization who will be the data ambassador. This individual should be very familiar with data analytics and have a vested interest in collecting and interpreting relevant information. The ambassador should work with each department to formulate a comprehensive plan for data collection and then manage the integration processes by working closely with management and the IT department in defining and attaining goals. 
Data integration is widely considered to be a business function, not necessarily an IT responsibility. However, an organization's IT staff will be instrumental in choosing, implementing, and maintaining the system so that the data collected is always accurate and clean. It will be necessary to involve the IT staff early in the process so that critical questions can be answered that will direct the integration plan such as, Who are the end users? What are their needs? Who will own the data? What is the quality of the data? What are the security and back-up policies? Once that information has been collected, it's important to select an integration system that is right for your organization. Larger organizations tend to have analytics systems in place, so they will want a solution that works well with the existing system. Smaller organizations will need to set a budget, take staff size into consideration, and then decide on exactly which tools they need and how flexible and scalable they want the system to be.
Before your data integration system is set up, you will need to determine how the data is going to be retrieved and integrated. Integration systems combine data from different sources and then provide a unified view in one central location. That doesn't mean they will, on their own, present all of the data in a usable form automatically. For most organizations, the goal is to make the system as easy to use as possible, so setting up a data warehouse is going to be the best solution. A data warehouse is different from a database in that the latter is typically used for only one application and is not optimal for analytics. The data warehouse, on the other hand, sits independently of the integration solution and uses a copy of the original system to manage and present the data automatically. Depending on the budget, organizations may have to opt for a system that requires the staff to do a bit more work. The first option is manual integration which means you would have to look for the data, retrieve it, and do some manipulation to make the data usable. There are systems that use a common user interface that make that process a bit easier by collecting the data, but you still have to do some manipulation. There are also applications that will retrieve and manipulate the data for you, however they can require complex programming depending on the number of data sources that the system is accessing. As you can see, analyzing data is just one part of the process and selecting the right system is critical to a successful data integration plan.
The three components of a solid data analytics program mean having the right people working from a comprehensive plan using the appropriate system. Good data is invaluable and provides you with insights that can advise next steps in making organizationally-critical decisions, informing the sales process, or provide data to adjust communication, marketing or other business tactics. Your clients and members are telling you a lot about themselves, so don't miss the opportunity to use the data you have available to improve their experience and increase the ability to reach your organization's goals.   
Please contact us if you are interested in working with us on a data integration project requiring our digital strategists, data architects, database administrators and data analysts.