The first website was created in an iconic moment that happened a little over 26 years ago, and it changed the course of history. A relatively simple website, no doubt, but one on which creator Tim Berners-Lee provided evergreen content on how to fully embrace the internet with information on hypertext, technical details for creating a web page, and an explanation of how to search the web. The way in which we use this information, surprisingly, hasn't changed that much. What has changed are the tools that enable us to build a great website relatively quickly and easily, and one of those tools is the front-end framework. A front-end web framework is comprised of predefined HTML, CSS, and JavaScript code which can be used to start new web projects without needing to build them from scratch. Here are a few of the front-end web frameworks we love and some highlights on why we love them.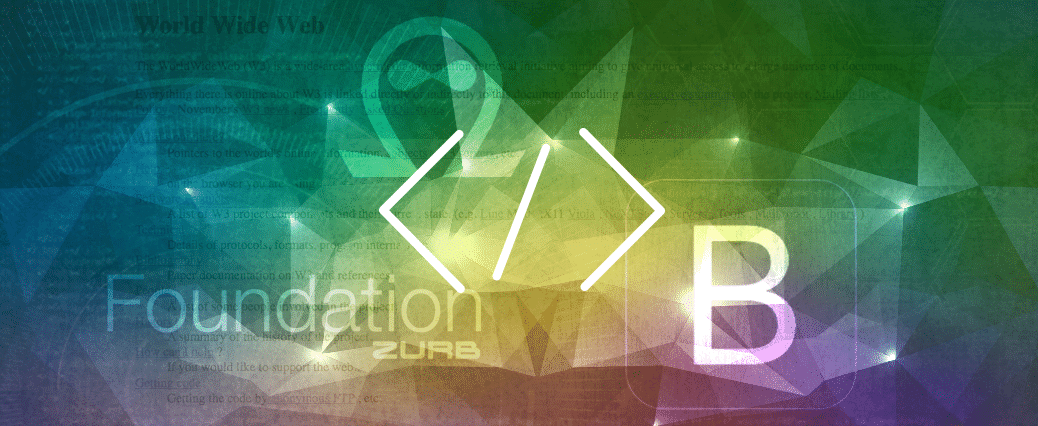 BOOTSTRAP
Bootstrap is an open-source front-end framework that was built by Twitter and released in 2011. It is a combination of HTML, CSS, and JavaScript code designed to create websites and web applications faster and easier. The goal of Bootstrap (originally called Twitter Blueprint), was to improve consistency across tools and to lessen the upkeep. Bootstrap is mobile first and supports HTML5 and CSS3. The team at New Target routinely uses it for the WordPress sites that we build.
Why We Love It
– Grid system
– Good documentation
– Huge support community
– Base styling for most HTML elements
– Prebuilt components
– Packaged JavaScript components
– Browser support
FOUNDATION
While Bootstrap touts that it is the most popular framework in the world, Foundation claims that it is the most advanced responsive front-end framework. Foundation, as its name implies, is a foundation on which to build websites, and HTML can be structured in anyway developers want. We agree with Zurb's description of it as "an easy to use, powerful, and flexible framework for building prototypes and production code on any kind of device." Foundation is MIT Licensed and free to use and adapt upon.
Both Bootstrap 4 and Foundation 6 share almost all the same characteristics.
Why We Love It
– Grid system
– Good documentation
– Base styling for most HTML elements
– Prebuilt components
– Packaged JavaScript components
– Browser support
– Accessibility: All of the components in Foundation come with ARIA attributes which adhere to A11Y
– Customization
OMEGA
Omega is one of the most popular themes in Drupal as it currently has over 79,000 installs. It is an HTML5 base theme that is responsive. Versions 3 and 4 are compatible with Drupal 7 and only version 5 is compatible with Drupal 8.
Why We Love It
– Provides extensive integration with Drush and makes it easier and faster to generate sub-themes
– Omega 3 allows developers to make configurations through the interface, rather than code. This version is minimally maintained currently.
– Omega 4 allows developers to gain full control over the theme through code, rather than a user interface. With this version, you have full control over the front-end code. It has Sass integration through RUBY or LibSass which can be chosen while creating a new sub-theme.
The frameworks we love obviously have many advantages, and we use them routinely in our development work. However, there are circumstances where building from scratch might be a better idea. Developing outside of a framework can give you more control, allow for a design that is unique, and give you more time upfront to jump right in instead of learning a new framework. We always say to choose the tools that are right for the job, so if your project calls for a front-end framework, give these a try, or let us know how we can help.