Communication has become an essential part of our everyday lives, and we all rely on our devices to stay in touch with one another. The same thing happens in business. Our customers are connected to us through our messaging platforms, which are managed by chatbots.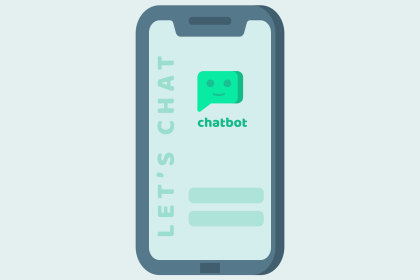 This is the most effective approach for us to stay in touch with our customers. Bot texting is also more cost-effective than any other type of communication. These platforms are shaping the connection between the service provider and the clients.
While chatbots aren't a new business tool, their use has increased rapidly in recent years. According to Google Trends, search volume for "chatbots" has increased 19x in the last five years as more people and organizations recognize their worth.
Despite chatbot's popularity, many users prefer to switch to a human agent, even when their request is urgent. The problem is that users don't necessarily trust or feel comfortable with bots.
In this article, we'll go over some helpful hints for building trust with your users and customers, so they feel comfortable using your chatbot.
But first…
What Is a Chatbot?
Chatbots are computer programs that respond to messages automatically. Chatbots can be programmed to answer in the same way every time, respond differently to messages containing specific keywords, and even use machine learning to modify their responses to the situation.
Chatbots use SMS text, website chat windows, and social messaging services on platforms like Facebook and Twitter to receive and respond to messages.
While chatbots aren't a new business tool, their use has increased rapidly in recent years. According to Google Trends, search volume for "chatbots" has grown 19x in the last five years as more people and organizations recognize their worth.
What are some ways companies are using chatbots?
Getting an answer quickly during an emergency
Resolving complaints/problems
Getting answers or explanations
Finding a human customer service agent
Making a reservation (hotel, restaurant, etc.)

Paying a bill
Adding yourself to a mailing list
Here are some ways that will help your customer to feel more comfortable with using your chatbot.
Give Your Bot an Identity
Agents can greatly improve customer service with pleasant, compassionate personalities; the same can be said for chatbots. Give your chatbot a personality that matches your brand, and make sure it's intelligent enough to hold its own during interactions when you're designing it. Chatbots that appear robotic or continuously say "I don't understand" will fall short of consumer expectations and may discourage them from using your chatbot again, defeating the purpose of your application. Consider how your best human agent would respond and strive to replicate that.
You may even increase personalization by providing your chatbot with more humanizing features, such as a name or even an avatar — just don't pretend your bot is human – customers hate that. Instead, make it clear right away that they're speaking with a chatbot.
Let the Bots Do What They Are Good At
Though artificial intelligence and deep learning are helping chatbots to become smarter every day, they are still best suited for completing repetitive tasks and answering simple inquiries that might get tedious for human agents. Allowing chatbots to handle things like inventory checks, order status, account balance, flight information, and so on gives customers a quick, self-service experience while freeing up your agents to focus on more complex client journeys.
Chatbots are also unmatched when it comes to data retrieval and can retrieve information and responses considerably faster than human agents. Allow chatbots to operate behind the scenes to assist your agents in locating the information they require to respond to consumer questions rapidly.
Use Sentiment Analysis to Detect Emotion
Human agents can sense when a customer is upset and respond properly and immediately; your chatbot should be able to do the same. "I understand," "I am here to help," and "Let me obtain that information for you" are conversational and human phrases, and they demonstrate that you care about the consumer.
You should also use sentiment analysis to assess the intensity of client emotions so that your chatbot knows when to transfer them to a person. Keywords like 'manager' or 'human' can be used as triggers, as can sentences like 'I already tried that!!' When your chatbot transfers a customer to a human agent, make sure it transfers the entire conversation history, so the customer isn't inconvenienced by having to restart their journey.
Don't Trap Your Customers
Customers are becoming more comfortable with technology, but it doesn't mean you should trap them in chatbot interactions. Instead, design your customer journeys so that chatbots can handle a conversation, but customers can easily connect with a human agent if they aren't getting the answers they need. Also, keep track of where escalations occurred so you can figure out if there's a way to improve the journey, so it doesn't happen again.
It's critical to take adequate security precautions and to inform users that you've taken them – to reassure your consumers that their data is safe with you. Also, be open and honest with clients about how you plan to utilize their data and whether or not it will be shared with third parties.
End-to-End Encryption: Use only a chatbot that supports encryption and encrypts messages between your users and your company. Nobody but you and your consumer will be able to see the entire dialogue in your chatbot this way.
MultiFactor Identification: If you're going to use your chatbot for sensitive personal information, make sure people can only access it on your website after confirming their identity with multi-factor authentication, which requires customers to provide a secure code sent to their phone or email in addition to their sign-in credentials.
At the end of the day, users need to trust a company's website chatbot to trust the company. Customers will feel comfortable using your chatbot if you can successfully create trust from them by following the appropriate measures.