Your business is your baby, so it only makes sense that shifting control over to someone new can be scary. Switching from in-house marketing to a digital agency is a big step that many businesses try to avoid. Although there are concerns about working with a digital agency, the benefits heavily outweigh the risk, and almost every business will benefit from hiring a top digital agency like New Target.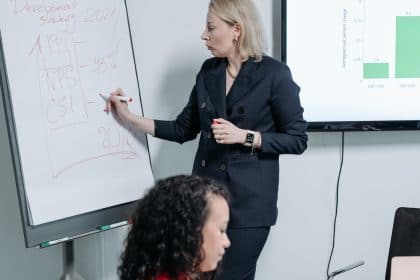 7 Signs You Should Hire a Top Digital Agency
1.
There is too much on your plate.
When you're juggling web updates, social media, and email marketing on top of all your many other business priorities, you are probably stretching yourself too thin. Although you may be the expert on your company and all its products and services, that doesn't necessarily mean you're equally versed in online marketing or web design, and that's okay!
As platforms expand and integrations become more robust, it becomes increasingly difficult to manage changes while also focusing on your business's other needs and, not to mention, exhausting. When you switch your complete focus to your strengths and reach out to an agency to help with your shortcomings, you will experience increased productivity and better marketing results.
2. You don't know where to start.
Digital marketing has a lot of components, from SEO and keyword research to social media and beautifully designed landing pages. If you aren't well familiarized with all of these digital elements, it can be intimidating and overwhelming to figure out where to start your marketing efforts. Digital agencies like New Target have specialists in each field that can assess your company's unique needs and work with you to build a customized marketing strategy to capitalize on your biggest growth opportunities.
3. You are experiencing a lack of sales or leads.
Have you seen a decline in sales? If so, it may be time to work with a digital marketing agency to create an inbound marketing plan that will connect with your target audience where they are (online) and provide them with the content they want when they want it.
Driving traffic and generating leads is the largest content difficulty, according to 61% of marketers. A lack of a return on investment can be disappointing for your staff. You can develop a strategy that incorporates your sales process into marketing tactics that send qualified leads to your sales team by working with a top digital agency like New Target. Finding quality leads in this way saves time and improves the effectiveness of your sales team.
4. You haven't updated your website in years.
If you haven't updated your website in a couple of months, let alone years, you definitely need a new website if you want to be competitive. Google gives higher rankings to websites that are mobile-friendly and responsive, and if your website hasn't been updated in years, it probably isn't up to Google's standards.
Your website should scale to fit desktops, tablets, and smartphones to provide a seamless and enjoyable viewing experience across devices. If it doesn't, you risk a good chunk of users abandoning your website. Lucky for you, New Target is experienced with building beautifully designed responsive websites that Google and your digitally savvy customer base will love.
5. Your competitor works with an agency.
If your competitor is working with a digital agency, they are already in the lead. A digital agency has the power to transform a business entirely. Working with a marketing agency provides your business with a team that has a new perspective on your business and a variety of ideas and talents. Your brand message will be improved by an agency, which will increase sales revenue. Working with an agency is essential for staying one step ahead of your rivals.
6. You aren't tracking the right metrics.
As a business owner, you are probably tracking important numbers like sales, but you may be missing out on key metrics that give your tremendous insight on opportunities to further improve your business. Measuring website analytics and social engagement allow you to gather important intel from your customers.
Good marketers test, track, and analyze results to figure out what is working and what isn't. If you aren't regularly tracking key marketing metrics and you are losing out on leads and sales. Hiring a top digital agency has all the analytics resources and experience to help you. New Target evaluates all important metrics to develop a digital strategy unique to your company's needs.
7. Your content is outdated or sparse.
Incomplete or unsuccessful marketing campaigns might cause low website traffic. The obligations of being a business owner are far more than what a single person can manage. Business owners frequently struggle to find enough time to keep an eye on operations, finances, and other areas. Outdated or infrequent content can hurt you, whether it is your website's ranking on Google or engagement on social media.
You should create fresh content for your website once a week and post on social media every day. A digital agency will help you avoid the frustrating cycle of declining traffic and restarting marketing campaigns by dedicating themselves to marketing, optimization, and growth for your business.
It's a big decision to transition from internal marketing to working with a digital agency. Although giving up control can be difficult, you'll be more than glad you hired us to help you out. Our team at New Target are digital experts here to help you. Contact us today.