Between self-driving cars and Amazon Alexa, our lives are being made easier thanks to the continuous development of artificial intelligence (AI) technology. And now, AI is dipping its toes into the nonprofit water. But, you may be wondering, how does AI fit in with the nonprofit world? Well, many nonprofits are taking advantage of AI in the form of chatbots, and you should be too!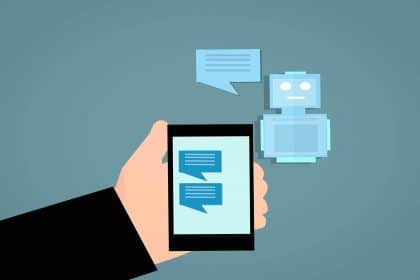 As nonprofit organizations continue to explore chatbots as part of their digital strategy, many find it to be successful in terms of content delivery, customer service, fundraising, and customer satisfaction for various reasons. Today, we will dive deeper into why your nonprofit should be utilizing chatbots and other ways AI can support your nonprofit organization.
Chatbots are AI software programs that can stimulate interactions with users in a natural language. Chatbots understand language and commands outside of preprogrammed demands and learn from consuming data, applying algorithms, and using these results to create a response.
Here are the top reasons why your nonprofit organization should highly consider implementing chatbots.
1. Chatbots Can Answer FAQs Directly and Quickly
As more companies and organizations develop their online presence, users expect timely responses to their inquiries or concerns; in fact, nearly 40% of users expect a response on social media within an hour. However, an hour can seem very unrealistic, especially for large organizations getting hundreds of questions a day or smaller organizations with few employees to handle this task.
But, thanks to chatbots, your nonprofit can efficiently respond to frequently asked questions through automation to satisfy your users' desire for quick response times. For your nonprofits, this will help your organization reduce user frustration and make them feel more confident about your website and organization as a whole. As a result, you could experience increased donor and member retention. The faster and better your nonprofit organization can respond to user questions or concerns, the better!
2. Reduce Overhead Administrative Costs
Having a chatbot that can automatically respond to users' questions saves tons of time, money, and effort exerted by your staff. Implementing a chatbot can allow your team to move to more complex tasks for your organization that can help with donor outreach, funding, and other important duties that can help your mission more directly.
In addition, as your nonprofit grows in size and starts to require a call-center type of function, a chatbot can be a great solution. For example, organizations that run telefundraisers as part of their fundraising campaigns can utilize chatbots for a more efficient experience.
A chatbot can do a lot for your organization, and they can do it faster than your staff. Over 30% of tasks can be automated through chatbots, and as AI technology continues to develop, that number will only increase. So, hop on the chatbot train to save your nonprofit time and money so you and your staff can focus on your mission.
Telefundraisers aren't the only events that can benefit from the use of chatbots; your nonprofit organization can actually expand and automate the entire fundraising process with the assistance of chatbots. In addition, chatbot technology makes it possible for your organization to connect with the millions of people who are already on messaging platforms like Facebook Messenger and WhatsApp.
Your donors and potential donors can make requests, complete donations, and track their activity through chatbots. Providing an efficient, seamless user experience for a nonprofit organization is key to securing donations. By automating these processes, you are making the donation process more appealing to your users.
4. Supplementary Support for Your Website
Despite your best efforts or intentions, websites can always be confusing or not as informative as people would like. Instead of living it at that, chatbots give you the ability to provide supplementary support to your users.
For example, if someone can't find the information they are looking for on your website, a chatbot can quickly direct them to the correct information or location. This could be either via redirect to another page on your website or via human assistance. Based on what questions your users are asking your chatbot, your organization can gain insight on what information your website is missing, what parts of your website are difficult to navigate, or what information may be unclear to the user. In this instance, chatbots not only help your users access the information they desire but also help you gather insights to make improvements to your website and content down the line.
5. Ongoing User Experience Research Within Your Organization
Enjoyable user experience is the goal for any website, but it is essential to build user trust and confidence to encourage support and donations from users for your nonprofit website. UX research is key to aligning your mission with what people need. Most nonprofit organizations don't have the resources to conduct UX research, but now, thanks to chatbots, your nonprofit can collect data about constituents or potential donors at a low cost. Chatbots can allow your organization to analyze the performance of your interface and take that information to adjust it based on your user needs.
Chatbots for your nonprofit organization is an excellent way for your organization to jump into the AI world, but AI uses for nonprofits don't stop there. Here are a couple of other ways AI can help streamline your fundraising process.
Automate Routine Admin Tasks
Your nonprofit organization probably has dedicated staff who spend hours working through communication records or conducting donor database screenings to generate accurate insights. AI software can handle these types of processes to give your team more time to develop your fundraising strategy, external supporter communication, and internal operations.
Sift Through Data for Potential Donors
As a nonprofit organization, you have tons of data to analyze, including donors' personal info, previous donation patterns and amounts, event attendance, and wealth indicators. Nonprofits typically conduct screenings on their donor base to identify potential major donators. Fundraising AI software can make insights based on your data and constantly learn and evolve from it to find the best prospects for large donations.
Adopting artificial intelligence into your nonprofit organization's digital strategy is a huge step in the direction of success, but you must remember not to rely on it solely. Combining AI efforts with your fundraising team is key to improving the user experience you are aiming for. AI software should do the heavy lifting for you in terms of manual data tasks, while your staff should apply human judgment and context to this data to form the most effective fundraising strategy.
AI for nonprofit organizations is a growing trend, especially in the form of chatbots. There are tons of benefits, and it is definitely something your organization should consider taking advantage of.