For over 50 years, Moore's law has been holding steady with a doubling of transistors on a chip every two years. On the other side, the needs of consumers are also continually evolving. The metrics that were commonplace a couple of years ago may not be sufficient when making decisions about your long-term plans.
However, where there are variables there ought to be constants. When you are comparing various hosting providers, you might inadvertently end up comparing apples to oranges, which is the case more often than not. What to do then? Well, anchor yourself to the constants. When you are inundated with quantitative data, look for quality.
A simple Google search on choosing a web host will yield recommendations to compare between shared hosting, virtual private hosting, and dedicated hosting. Or, compare how much RAM and CPU is offered. Maybe the bandwidth. Perhaps they will focus on security or performance. While all these recommendations are still valid, one common issue is that there is no straightforward way to integrate those metrics with your website's specific needs until you build your website.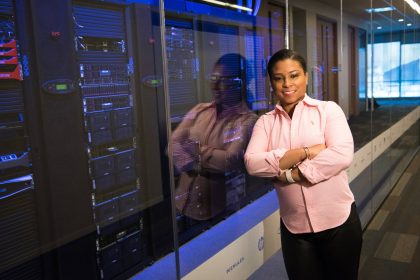 Furthermore, website hosting companies—like New Target—that have been in the business for a very long time, have already streamlined and optimized the components that can be objectively measured and updated such as cost, resource capacity, etc. and continue to do so every day to remain competitive. So, change direction.
Ask, "How can this hosting company best cater to our website's needs?" Quality is the constant.
ANALYZE YOUR WEBSITE NEEDS
A website bridges communication from you to your audience. Whether it is a plea for an action for your nonprofit or an announcement of a new product from your ecommerce brand, it is an ongoing conversation. So, how does your website deliver that? More importantly, can your hosting company collaborate with you to deliver that in terms of time-to-business, scalability, and performance? Or, are you limited to a do-it-yourself kit to figure out as you go?
WEBSITE HOSTING IS TIGHTLY COUPLED WITH WEBSITE BUILDING
In olden days, websites were built and then shipped off to a hosting company and there were huge walls between these processes with gates labeled "FTP." In today's world of continuous integration and continuous development, you may not want silos between these operations. If you choose to keep them separate, factor additional time and resources to facilitate that collaboration. If you choose a bundle, ensure that your web hosting company fully understands your vision and mission and is going to support continuously to deliver the goals.
The questions to ask here are:
What is the complexity of the website and frequency of updates?
Are there external integrations such as payment gateways, shipping handlers, mail campaign providers that require special attention?
Are appropriate access controls managed for such integrations? Does your hosting team provide those tools to you or do that for you?
Where is the code maintained and how is it deployed when changes are made?
Who do you call when you have an issue with the website? The development company, the hosting provider, or do you prefer to have a single point of contact for "all-things-web?"
WHAT ARE YOUR SECURITY AND COMPLIANCE NEEDS?
We have seen companies with static web pages but that use NIST compliance, as they should, because they are in a specific subset of the financial industry. We have seen organizations handling personal information and set-up on regular hosting (of course, we moved them to HIPAA compliant hosting as soon as we started working with them).
So, the questions to ask here are:
What are your security needs?
Do you have clear requirements?
Can your hosting company help you identify both practical and regulatory requirements?
What is the ongoing plan for maintenance and security updates both at the infrastructure-level and application-level?
How does the hosting company monitor and scan threats?
If this is a "do-it-yourself" model, do you have internal team that handles this?
WHAT ARE YOUR PERFORMANCE NEEDS?
The speed of a website is dependent on many factors. If you were to benchmark a plain vanilla WordPress or Drupal installation on any decent hosting provider, you will get more or less similar results. The trick is to optimize the website and CMS after it has been built, tailored for your needs. We have seen websites with simple pages take forever to load because the blog images uploaded did not have an automated image optimization to compress the images on-the-fly. So, is image optimization part of your website building or part of your hosting or both? Or, it can be as simple as asking your editorial team to crop and resize before uploading.
But the question is, can your hosting company proactively and continuously help you make these decisions like these?
Is the website image rich or have dynamic integration points?
Do you have a cache strategy to serve various parts of the website efficiently? Can your hosting company manage this for you?
Are you able to leverage a CDN or edge server to serve cached content optimally?
Do you have a global audience or a national audience?
Can your hosting company help you meet the ever-changing requirements from Google to meet its guidelines for performance and SEO?
How we long to see that change to 100%! Unfortunately, even today that uptime number still lingers between three to four nines. That is because the internet is literally an internet and is supported by in numerous bits of infrastructure across the globe, and in space, managed by various providers.
Your line of inquiry should be:
If the website does have an outage, how is it going to be handled?
How soon can we expect someone to respond?
Is it an automated bot response or is it support personnel?
Is the support in-house or outsourced? That is, do they know your application in-depth or is it a generic diagnostic exercise?
What are the back-up processes?
How soon can a website be restored if there was some data loss?
While you still want to get good hardware and software specifications for your website hosting, we recommend you also conduct qualitative inquiry to ensure that your hosting company is going to work hand-in-hand to meet your goals.