Have you ever flipped through channels and gotten caught up in a home shopping show? I'm talking about losing a solid 20 minutes watching a segment about a product you didn't know you needed. You go from snickering at the product (A piece of slime to remove dust from your car's cup holder??) to asking questions about it (Is it reusable? Does it come in different colors?) to buying it (We'll need one for each car and for in between the sofa cushions, and for… is there a discount for multiple orders?). It's like some type of digital voodoo. Maybe it's the host or the uniqueness of the products and the fear that you may not be able to buy them elsewhere. Whatever it is, it works and now livestreaming ecommerce is set to do what home shopping has, but on a bigger scale and mostly on the seller's terms.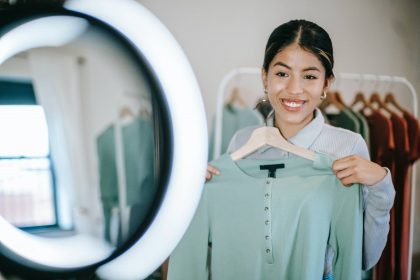 Livestreaming ecommerce (aka, live ecommerce, live shopping, shoppable video) accounted for about $60 billion last year and is on course to surpass that number in 2021. China has been a leader in livestream shopping for a number of years with the creation of super apps that integrate social functions right along with the live shopping experience. Brands large and small have taken advantage of platforms that enable them to bring the viewers right into their stores, homes, and well, lives for that matter. Live ecommerce can be the perfect complement to your other marketing efforts and can drive more traffic to all of your digital properties.
Live ecommerce is just that: A platform where someone (the company founder, representative, influencer, etc.) promotes a product via a live video and viewers can purchase the product right in the content. Several platforms support this type of ecommerce including Amazon, YouTube, Facebook, and Instagram. Others are mobile-focused and available through apps including Popshop Live, NTWRK, and Flip Fit. Each platform offers a variety of options for both the video itself and for functionality within the video. Though the magic of livestreaming is the "live" component, you can choose to let people view the video at a later time.
Live ecommerce has a number of benefits for both the seller and buyer. 1) It's portable. Depending on the platform, viewers can watch a video from almost anywhere on any device. 2) It's convenient. You can purchase products right from the video. Some brands make offers available only during the live stream, so they create a sense of urgency and tap into the power of impulse buying. 3) It's interactive. There is often a chat feature where viewers can comment and ask questions in real time and that feature helps them make buying decisions right away. 4) It's personal. Many hosts do videos from their homes, and viewers are treated like friends. It's not uncommon to see a host make comments like, "How is the sound?" or "Sorry, my cat decided to jump on the chair with me." The great thing is, hosts can make adjustments during the relatively short sales window, and since it's live, that's important.
WHAT YOU NEED TO KNOW TO CREATE A VIDEO
During the pandemic, we got used to seeing celebrities, news anchors, etc. broadcasting from home. The unwitting child running in front of a camera or random technical glitches became part of the experience which actually made these people seem more relatable. While most things can't be controlled, some things can. When choosing your platform, make sure you fully understand how the platform works and read the terms carefully. Look for tips or enlist the help of a video production specialist who can give you advice on things like lighting, sound, and even what you should wear. There are plenty of resources out there for you to research, so take the time to do your homework. Remember, you want to appear friendly and approachable, but you also need to be prepared and professional so that yours is seen as a legitimate business.
Once you have the basics down, determine which product(s) you are going to feature and which benefits you want to emphasize. If you've been selling on social or other ecommerce platforms like Woo or Magento, gather a list of the most frequently asked questions and be sure to address them in the video. The stream is live and you can't edit what you've said, so you want to adequately fill the time with compelling sales information that will get viewers to buy during the video. If you're hiring an influencer to do the work for you, check out their videos and before you send them to record, make sure they are very familiar with your product and its benefits. Also, prepare for viewer comments. You can pick and choose which to answer, and you may glance over and notice someone mentioning one of your competitors. This is a great opportunity to talk about how your product is better, different, or less expensive without calling them out by name.
The Amazon Livestream page is a good place to check out videos on what to do and what not to do. You can see how studios are set up, which graphics they use, how and when they address comments, etc. If you haven't perused it, you can access it from the top menu of your Amazon homepage. This area of the website looks like a YouTube page and is arranged by subject like "Live Now," "Health & Fitness," "Food," etc. The minimum length video Amazon accepts is 20 minutes, and some videos on the page run over over 2 hours. Each video shows the topic, time/date the video will go live or has aired but is still available. It also shows upcoming live steams.
The best path to live ecommerce is to have an established following on social media and a respectable amount of traffic regularly coming to your website. That will give you a built-in audience to whom you can promote your video. If you're not quite comfortable with the format, try practicing on TikTok. The videos are much shorter, they don't have to be live, and you can gauge how interested your audience is. Being proficient at live ecommerce requires a lot of research and practice. So, as you prepare, don't plan to be as good as others who are livestreaming, plan to be better and it could be a great marketing opportunity for your brand.