"I do."
"Did everyone hear that?"
"No."
"Uncle Leo, please stop playing with the windshield wipers and turn around!"
In a time of deadly viruses, life has taken a few detours. The wedding you planned for 300 at the cathedral became a cozy assembly of 11 family members held in the back of a VW mini-bus.
Sometimes we need to change course.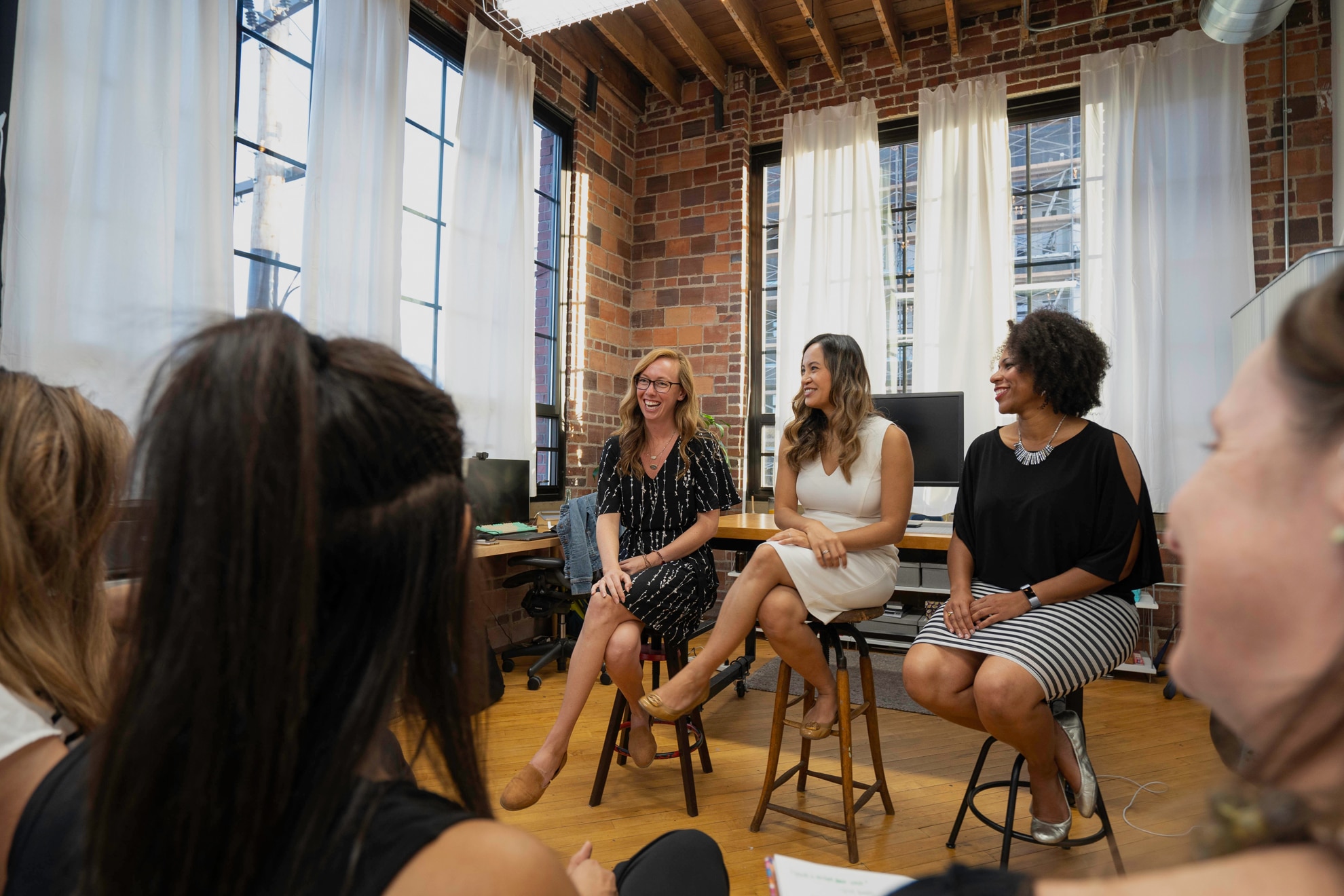 The correlation of technological advancements and events outside our control have conspired to make it often necessary but also easily doable to hold our events online.
And, at the same time, it has become both easier and more acceptable to attend an event in the virtual space.
It's certainly something to consider for your next event.
Upsides to a Virtual Event
– It might be that it's doing a virtual event or nothing
– It's much less expensive to host
– Those who couldn't afford to attend in person, now can
– Sessions that would normally have been held simultaneously, forcing participants to choose one over the other, can all be heard as there are no physical space limitations
– Being forced to rethink the event just might create a few serendipitous moments
As we've seen since the country began quarantine in March, we can get creative when it comes to making our events virtual. Late night talks shows continued with the hosts recording from their homes. Office meetings and entire classrooms of children got together on Zoom. Movies that once required you to visit a theatre were launched exclusively online.
With the equipment inexpensive, the broadcasting almost always free, there are few barriers to hosting your event online.
What Platform to Use?
Facebook Live (free): Facebook is the easiest platform for live stream beginners. In a matter of minutes, any individual or organization with a Facebook account can log in and start streaming.
YouTube (free): YouTube Live is very similar to Facebook Live, however no account is required to view its content.
Zoom (free and paid): Zoom has taken the world by storm with its high-quality video conferencing, webinar, and event streaming software. You can stream Zoom directly to YouTube Live and Facebook Live without any additional technology, fees, or overhead required. In terms of functionality, flexibility, reliability, and affordability, Zoom provides by far the best experience for live streaming.
Vimeo (paid): Experienced digital event organizers turn to Vimeo for their state-of-the-art live event broadcasting software. Vimeo users can send live video broadcasts to many different streaming platforms simultaneously and take advantage of their state-of-the-art, studio-like experience built for more advanced use cases.
Twitch (free): Does your event involve video gaming or e-sports? Twitch is a massive live streaming platform for games of all kinds. While Twitch is a relatively niche platform for nonprofit virtual events, it's certainly one you should keep on your radar.
Five Good Ideas to Try
Achieving engagement from your "attendees" online, takes practice and experience. You can make your online events interesting and memorable with a few fresh ideas.
Make It Highly Relevant
To earn people's attention, make sure the content you're delivering is useful. How do you learn exactly what your audience wants out of your webinar or online workshop? Ask them beforehand.
Conduct some research with your target attendees to shape your content and send a pre-event survey so they can pinpoint problems or topics they'd like to hear about.
Use Different Formats, Not Just Lectures
People learn in different ways. Some of us are visual learners who prefer pictures, videos, and diagrams, while others respond to spoken and written word, music, logic, or even physical activities.
Try to combine traditional teaching methods with audio and visual presentations, PDFs, interactive tasks, and group breakout sessions.
Train Your Speakers
If your event involves talks, then don't think that just picking speakers and topics is all you need to do. You still have to brief those speakers carefully; in fact, even more so than you would for a physical event. Just because people are good at speaking at physical events, don't assume those skills are instantly translatable.
Anyone new to speaking at a virtual event needs to rehearse. Any distracting gestures or other mannerisms may detract from the delivery when the camera brings everyone in really close.
Make It Interactive
Research shows that 47% of people are more likely to ask a question at a virtual event and 37% are more likely to speak to a person in a virtual booth than a real one.
Create natural pause points for people to chime in. Attendees can only give their full attention for so long. Working moments of pause into the rhythm of your event, where viewers can comment, vote, or ask questions about the content, can help you keep interest high.
Live polls, live chat, and live Q&A during or at the end of an online event all help break down the barriers between audience and host.
Keep It short
One of the best ways to keep your audience engaged is to avoid overloading them with information. Give them too much and their brains will shut off. If it's taking place over the course of a day, allow short breaks.
Marketing the Event
Remind, remind, remind
With a virtual event, you don't buy anything. You don't buy tickets, you don't buy a hotel. That makes it easier to forget. Once the event draws close, keep in regular contact with your sponsors and attendees.
Send one reminder a week prior to the event, a second reminder a day prior to the event, and a reminder the morning of the event, and then during the day of the event.
Conclusion
Even though virtual events are typically less of a hassle to host than in-person ones, they still require a lot of planning. Give yourself enough time to make it great.
Virtual events will continue to become more prevalent in 2020 as organizations reconcile with the impact of COVID-19 on events.
Plan your virtual event as far in advance as you can and know the tools, marketing strategy, and interactive ideas you'll need to make your online get-together a success. If you need assistance, contact us.