TikTok is the leading destination for short-form mobile video.
Their mission is "to inspire creativity and bring joy."
TikTok has 800 million active users worldwide and the app has been downloaded over 2 billion times on the App Store and Google Play.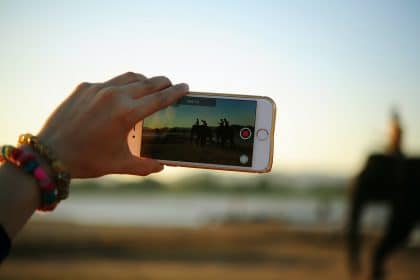 41 percent of TikTok users are aged between 16 and 24.
When it comes to the daily time spent on TikTok, users spend an average of 52 minutes per day on the app.
TikTok is available in 155 countries, and in 75 languages.
90 percent of all TikTok users access the app on a daily basis.
That's a lot of eyes. Are they the eyes you want to market to? Their users do skew younger than other platforms, with the largest demographic being Generation Z (ages 8-23).
Tapping into a Younger Audience
"Many businesses still ignore TikTok, thinking it's a fad or only for kids," says Mihovill Grguric of mobile marketing agency Udonis. "However, if we have learned anything from the past, we should know that platforms people deem as "fads" (Facebook, Instagram, even the internet itself) often become an integral part of our lives."
As use of video continues to rise in all aspects of life, from entertainment to instruction to news, it is becoming a bigger marketing influence.
Part of the reason for the rising investment is that consumers now watch an average of 16 hours of online video per week, a 52 percent increase since 2018.
What is TikTok?
TikTok encourages its users to upload short videos. Most of its former Musical.ly users simply uploaded videos of themselves lip-synching to music videos.
The more talented, enthusiastic, and technically proficient members uploaded videos of original content, and it is these people who became the influencers on the platform.
Most TikTok videos are up to 15-seconds long, although you can create and share 60-second Stories-type videos.
One thing that did change with the platform's growth in popularity is that there is now more variety in the types of videos people share. They are no longer just music. Up and coming comedians performing stand-up routines, skateboarders showcasing their skills, pranksters, dancers, fashion buffs, budding beauticians, and craft fans, all take the chance to share videos demonstrating their talent.
And now we are even seeing people sharing videos featuring them using their favorite products.
TikTok Do's and Don'ts
Keep it light and fun. TikTok is an opportunity to show a more creative and humorous side of your brand.
Be brief. Videos that jump directly to the point and are about 15 seconds long are preferred.
Be humorous and candid.
Use music to make videos more interesting and engaging.
Shoot vertical video, not horizontal.
Use a challenge. Create a campaign that challenges users to create and upload TikTok videos related to the challenge.
Respond to other brand challenges. In addition to kicking off your own challenge, also participate in challenges established by other companies.
Collaborate with influencers and partners. Tapping into the established following that a TikTok influencer has built can boost engagement and awareness quickly.
Using TikTok to Drive business
Where TikTok shines is in generating brand awareness and engagement. Users that can combine entertaining or informative content in a 15- or 60-second video clip have the potential to see almost immediate results.
Companies willing to be humorous and entertaining, or to make fun of themselves, have the potential to gain quick traction on TikTok. At the moment, it appears to be some brands' best-kept marketing secret.
Traditional Influencer Marketing
All the influence marketing techniques you see on other video-based platforms, such as YouTube, work on TikTok too. If your product suits an influencer's audience, your TikTok influencer campaign should succeed. In most cases, you should leave it to the influencers to create the content as they know what their followers like.
As always, the key to influencer marketing success is setting appropriate goals, targeting a specific part of the purchase funnel. The young broadcasters of TikTok need to remain authentic to their followers for influencer marketing to succeed.
Often all a brand needs to do is to encourage influencers to make videos depicting them wearing or using the sponsor's product. Again, this will only work if the influencer is the sort of person who would typically use the product.
Another side effect of TikTok's young clientele is that they are far less interested in flash camerawork and high video production values. You need to trust your influencers enough to produce their videos their way – even if they look amateurish to a marketer's eye. TikTokers are interested in originality and fun, rather than the quality of your videos.
KIND is a food company that produces KIND Bars, KIND Fruit & Nut, and KIND Nuts & Spices. Aside from having their own TikTok channel (@kindsnacks), KIND also started a hashtag challenge, #KINDSimpleCrunchContest. When you click on the hashtag, you will find @zachking to have one of the top videos to be displayed. Zachary King (@zachking) is TikTok star (41 million followers) who is known for his videos of humorous magic tricks.
To promote the challenge, KIND partnered with King to create posts that include the #ad hashtag to indicate they're sponsored. By partnering with relevant influencers such as Zach King, KIND is extending the reach of the campaign and aims to reach younger consumers.
Make the Most of TikTok
There are currently three key options for brands looking to utilize TikTok for promotion:
Create your own channel and upload videos relevant to your business.
Utilize influencers to open your content to a much broader (but well-targeted) audience.
Pay to advertise utilizing TikTok's new campaign options.
In a world where consumers are becoming increasingly skeptical of ads, the raw, unedited videos on TikTok can be a great way to showcase people using your brand in their everyday lives.