Your current website took a lot of time, effort, and energy to build and launch and there was all the money you spent. And then you read a blog that suggested you should consider a redesign. What?! How can this be necessary?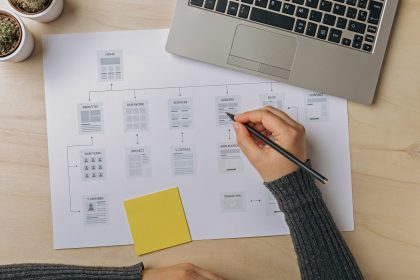 Well the internet just won't stop changing. And the billions of people using that internet keep wanting new and exciting tools to use and they getting pickier about where they spend their time and money.
So, here are a few things to consider about the internet world. And, if you find that your website lacks some or all of them, it might be time for a website redesign.
After all, if this tool of yours isn't doing what it's supposed to, what good is the tool?
IS YOUR WEBSITE OPTIMIZED FOR MOBILE DEVICES?
Almost everyone who has a mobile device is using it to search the internet and it's fast becoming the preferred way to shop online.
At least half of your competitors have made their websites responsive for mobile devises and so the public's expectation is growing that they will be able to get the same experience on their phones that they get on their laptops.
It's easy to see that the world is going this way and if you can't offer the same experience as your competitor then you lose out on those customers.
IS YOUR WEBSITE FAST ENOUGH?
The public expects really fast loading times and has little patience if you don't give it to them. There are just too many options for them, just a click away. If you don't cater to your visitors, they will simply go somewhere else.
Your website needs to load in two seconds and, if it takes longer than three seconds, you'll lose 40 % of your visitors.
And when it comes to their mobile devices, 85% of internet users expect a mobile website to load as quickly as on their desktop.
A slow website hurts your visits and conversions and also, because of algorithm tweaks by Google, it will also affect your Google search ranking. They will reduce the number of "crawlers" it sends to your website if your page is slower than that coveted two seconds.
HOW ARE YOUR GOOGLE RANKINGS?
In addition to its preference for fast loading times and mobile-first websites, Google is also searching the internet for relevant keywords and links to and from other websites within your content. Search engine optimization behavior like correct titles, page labelling, and descriptions are absolutely necessary to achieving the page wone rankings you want from Google.
HOW LONG ARE VISITOR STAYING ON YOUR WEBSITE?
Google Analytics or other tracking programs can check your bounce rate which is the percentage of times that visitors will leave your website after visiting only one page. A bounce rate of under 40% is great, above 70% means that you aren't enticing visitors to look around for more information. This is a great metric to help you see your website's effectiveness.
You can help your bounce rate by improving the navigation, limiting how many clicks a visitor has to use to find what they want, improving your overall look and feel, and by adding more compelling features that pique their interest.
IS YOUR WEBSITE HELPING YOUR CONVERSIONS?
It's great to have lots of visitors, but are your website hits converting into sales? You might be in need of better calls-to-action, a more robust ecommerce platform, or a less confusing navigation. Your problem might be as simple as abandoned shopping carts caused by unexpected fees or expensive shipping rates.
ARE YOU KEEPING UP WITH THE COMPETITION?
Check out the competition and see if your website is as informative, as fast, as compelling. Chances are, your customers are looking around there as well as on your website. It's far cheaper to keep the customers you have than to have to find new ones.
CAN YOU UPDATE YOUR WEBSITE EASILY?
You want your website fresh and compelling, and you have the material to do so, but if you encounter a problem with your back-end every time you want to tweak your website then it will be impossible for you to keep up with your customers' needs.
You must have the ability to make timely changes to your website like adding a blog post, updating products, or deleting outdated information.
IS YOUR WEBSITE ADA COMPLIANT?
ADA website compliance means ensuring that your website can be accessed by people with permanent or temporary disabilities.
A blind person may use a screen reader but if your website is not coded properly, their screen reading device is useless.
The Web Content Accessibility Guidelines (WCAG) have set standards for making websites accessible to users with disabilities. The current standard is WCAG 2.0 AA.
Federally funded organizations are required to meet WCAG 2.0 AA standards. Private businesses aren't, but you they run the risk of being the target of a lawsuit. But more positively, those who cannot as easily maneuver in the physical world are much more inclined to give their business to those online retailers who can serve them well.
It's an absolute necessity to have the digital front of your business operating at peak performance every minute of every day. And even if you've created the perfect website for your business, the speed of change around you will make redesigning your website a regular necessity. And you don't want to just keep up with the competition, you want to lap them.