Unless you opened the doors to your organization within the last few years, it's probably time for you to conduct a brand audit. What you thought was working back then has probably lost its luster and isn't really speaking to your audience. A brand audit involves looking at all of the digital properties and platforms that you use and ensuring they are still connecting with audiences, driving sales, and most importantly expressing your value proposition.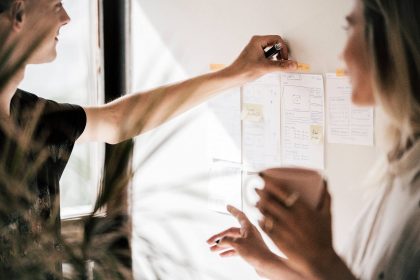 When you put money into a professionally designed brand package and website, you may think those efforts were time and money well spent because it's forever, right? The heart and soul of your brand may well be evergreen, but that doesn't mean the hairstyle and clothing are still appealing to people you are trying to impress. Think of it like this: Clothing trends that are being shown on runways this year, won't be in stores until mid-2022. By the time you've embraced the trend, it's yesterday's news and style makers have moved on. The point is, you need to keep up with proven marketing and design trends and try to stay ahead of the game and your competition. By the way, if you're still wearing skinny jeans, you need to put those babies in the back of the closet until further notice.
So, where to start. A good place to start is with your logo and associated branding elements. You probably see your logo so often, that you don't really think about the job it needs to do. If yours is an organization that is a few decades old, you need to take a good hard look at your design choices. What you thought was "awesome" around 2000 (Remember the Y2K scare? Yeah, that's about the time you created your logo) probably isn't anymore. Slight logo tweaks in design and color won't scare off your customers, and a logo refresh shows that your organization isn't static, but is keeping pace with a changing business environment. A refreshed logo can also give you some content to let your audience know about the change and reason for it.
If at any time during your organization's history, you created a messaging architecture, we applaud you. The time it saves and value it brings is enormous, especially during an audit. When you review your key messages and proof points during an audit, it will probably become immediately clear that some of your messaging needs to change. It may have outdated information or content that needs to be added. If it has stayed the same, that may be an issue as well. Have you not added or enhanced any products or services? Do you not have any additional proof points or testimonials? Also, if you've added any channels to your marketing mix, this is a good time to pair them with new messaging.
This task will be a bit time consuming but it's another critical component to a brand audit. The easiest way to tackle this chore is to break it down by your website and marketing channels. Depending on how long you've been in business, it's best to break it down by chunks of five years and then compare from there. Like they say, data tells a story, so look for good and bad trends. Do you see a sales slump each year around the same time? There may be a good reason for it (e.g., you own an accounting firm and business dips precipitously after the federal tax deadline each year), but now is a good time to brainstorm some ideas for how to make additional gains during other times of the year through new or enhanced products or services.
Your website is probably the main resource that you want people to use to learn about your organization. But what does it say about you? When is the last time it was redesigned? Do you have an updated version of the CMS you are using? A website redesign is a big job, but you don't have to do it every year and it's well worth the effort. You can even plan to do it during those unavoidable slow times you have each year. A fresh design with updated functionality can vastly improve not only your sales, but also your search rankings (URL here). If you need inspiration, visit big brand websites or even those of your competitors, then write down the features your favorites websites have. Even if you don't want a complete redesign, adding a few new graphics and changing the content can give the website an updated look and feel.
When you started your business, social media may not have been around or you may not have had much experience with any of the platforms, so you probably don't even remember what's been posted on your page. Do a review of the content and gauge the quantity and quality of the engagements and see if they coincide with sales spikes. If you don't have one already, now is a good time to create a social media content calendar that can be populated based on your short- and long-term sales goals. Also, there's a good chance that your profile photos probably need to be updated as well. Again, making slight changes like these will help you get attention from your audience.
Before the digital space gave us data to prove our assumptions, there were a lot of "I think" statements about what our audience wants. Now that we have data to back up our assertions, we still have to answer the question of "why." Data can't tell you that, but your customers can. Look at the issues you're seeing in your data to inform survey questions (e.g., data may show people spend very little time on certain pages you think are important to the sales process). You can determine, for example, that you don't have as many payment options as people want or that a recent price increase exceeded what many customers are willing to pay for that item. Surveys give you insight into what you need to change in order to provide a better customer experience which can include the design of the website, new content, more obvious journeys, etc. Before developing your survey, it's important to note that people are busy, and providing an incentive for them to complete the survey is key, so a product/service discount is always appreciated.
An audit should be completed every few years and within the span of a month or two. That way, you will have a pretty good baseline of what's going on around the same time. Once all of audit facts are documented, go through them to see what you need to change and then make a plan for making them. Items can be prioritized in order of time, price, resources, etc. Simply having a list of what needs to change can help empower you and your staff and give you a sense of control over what needs to be done.