In the old days, when Beanie Babies roamed the earth, if you wanted the latest television, you got in your car and drove down to Sears or Kmart and asked a guy named Timmy (by his brand new name tag) which one he thought was the best out of the three choices you had.
He would lean in and read the same product information you just read and then shrug and say, "Sony is pretty good."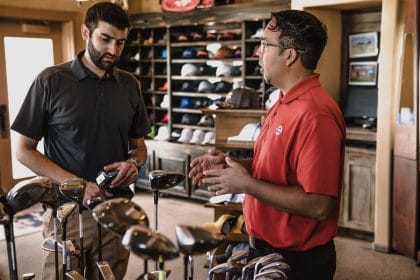 These days, customers don't make major purchases unless they have the opinion of a trusted friend or many, many people who have already purchased the product or service and enjoyed it
And Timmy? He got fired. His weak advice eventually hauled off and bit him.
WE DON'T SHOP IN A VACUUM
The average customer wants the recommendation of someone they trust, and failing that, they'll take the word of the masses. And as most shopping is done on the internet or at least the research is done there, online reviews are a quick and easy way for us to help the customer make their decision.
First, they check out your product's average star review. Most products are rated one to five stars and so the customers are conditioned now to look for three or more stars. But then those stars are basically meaningless unless there are a lot of them. One five-star review isn't going to make them whip out their Visa card. They need more. And those reviews also need to be timely—not last year—preferably within the past few weeks. No one cares if the osso buco was spectacular back in 2016.
The consulting firm Pattern found that an increase of one star on Amazon gave a product a 26% increase in sales. That same platform allows shoppers to shop just by star ratings. And so, the people are becoming very comfortable looking for those stars and responding when they see a lot of them.
If there are no reviews at all, almost all customers will hesitate to purchase that product or service. Isn't it natural to assume that if there are lots of ratings out there and your business or product has none that you don't do much business?
Interestingly, most customers look at the poor reviews first. Basically, what they want to know is "what's the worst thing anyone has said about this product or service." If it's not too bad and there aren't many of them then they can discount these and then research the best features of the product under the four and five-star reviews.
Even if there are several negative reviews, these can be turned into a positive if the business takes the time to respond, explain, and seek to make the customer happy. It also alleviates any suspicions about too many positive reviews if a business actually has missed the mark a time or two. That just seems normal. But will they make it right if I'm the one customer who is not satisfied with my purchase? A negative can be turned into a foundation of trust to build a relationship on.
Interestingly, having nothing but five-star reviews yields below-average sales. The ideal place to be is between 3.5 and 4.5 stars. So, a few bad reviews can actually help your sales by bringing you off that (potentially suspect) five-star level.
Google's goal is to match seekers with what they are looking for and at lightning speed. Its algorithm has millions of website pages to choose from. And when determining to show one business over another, it relies on their respective customer opinions.
Today, there's a subset of search called "local search" that is based on a user's location. If you operate locally, it's a great idea to work on a subset of SEO called "local SEO."
Your business can rank higher locally because of the number of reviews, their frequency, and the diversity within those reviews (you want a variety of star ratings). This can all combine to provide a higher local search ranking.
Contrary to popular thought, most people are likely to leave a review when they are happy with their experience. And now that leaving reviews has become easier, more want to share and support the business they are so pleased with. One good review attracts a second one and so on.
Many reviews are left simply because the business asked for it. Soliciting reviews and responding to them (even the positive ones) should be a regular part of your marketing day.
MOST TRUSTED REVIEW SITES
If you are going to have reviews out there, you might as well have them where the people are looking for them. They are guided principally by Facebook, Yelp, Google, the Better Business Bureau, and TripAdvisor. It can be a bit of a daily chore to monitor too many review sites, but find a few that work for you and keep up with them.
A good rating is a great start as a heartfelt testimonial takes "social proof" to the next level. More than just a product review, "I liked it," or the star rating, a customer testimonial is authentic, passionate, and highly believable. Usually they are written, but audio and video are starting to become popular formats and that adds another layer of trust.
You can simply ask your customers for testimonials or find content from any correspondence you've received. You can also glean testimonials from your social media channels like Facebook or Twitter. You should seek permission before using your customers' words.
A good testimonial is only about 25 to 40 words. Ideally, they would include the person's name and affiliation. A photo increases credibility, and, if they look happy, this can increase conversion rates by over 100%. You can place your testimonials on your website and/or place them next to the product or service being praised.
Gaining product reviews and testimonials is not only an inexpensive and effective way to advertise and get new customers, but also it can strengthen your relationships with current ones, especially when their kind words are acknowledged in a grateful and timely manner.