People love to listen. It may be Apple Music, Spotify, Pandora, Amazon Music, or others, but everyone has their favorite podcast and music streaming platform. At the end of 2020, around 72 million consumers in the U.S. paid for a music streaming service, and another 116 million use the ad-supported versions. These numbers are only going to rise and clearly show that music and podcast streaming services lead the audio industry and will probably continue to do so.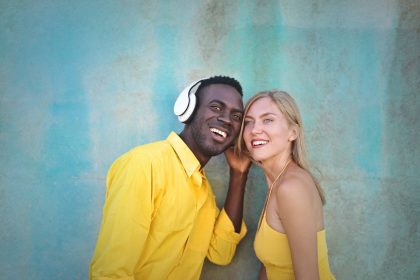 Digital audio is now the second most popular digital activity behind video, with 204 million listeners in the U.S. Every consumer prefers one listening method over the other, from podcasts to music streaming services to digital radio; there are advertising advantages to each one; let's take a look.
Podcasts have become increasingly popular, and listenership has seen a 10% year-over-year growth. Taking over Apple Podcasts' number one podcast streaming spot, Spotify, a platform where users can switch between podcast and music streaming, has now reached more than 28 million podcast listeners. In addition, 2/3 of podcast users tune in from a mobile device. Podcasts are great for multitasking, so whether listeners are cleaning their house or in the middle of a long commute, advertisers have great opportunities. People also claim to trust ads on podcasts more than any other audio platform.
MUSIC STREAMING
Over half of the U.S. population listens to music on a daily basis, so there's no doubt that music is a valued part of our society. Now, music streaming accounts for around 80% of this music consumption. In addition, each platform gives listeners a different way to discover and enjoy music. With 250 million listeners, Spotify is one of the most popular music streaming services, so there's no question why advertisers are drawn to this platform.
DIGITAL RADIO
Radio is not as outdated as people may think and is still one of the top ways to advertise across different platforms. Between over-the-air stations, online radio streams, and radio streaming apps and websites, AM/FM radio reaches a whopping 228.5 million adults, more than any other medium in the U.S.
Audio is unique in the sense that you can listen almost anywhere while doing almost anything. In addition, headphones allow a personal listening experience without interrupting other people's thoughts, and the absence of visuals makes it a great media option for multitasking. So, where are most people tuning in?
– Mobile: Mobile is definitely the preferred platform for digital audio, with one study finding that 65% of podcast listeners in the U.S. listen through mobile.
– Desktop: Desktop is still a widely used platform for digital audio, with 25% of podcast listeners say they use desktops or laptops to tune in.
– Smart Speakers: Over 60 million people in the U.S. own a smart speaker, and whether it's an Amazon Echo or Google Home, 31% of digital audio listeners tune into desired content through them. Their popularity is expected to grow along with their advertising potential.
It's clear that digital audio is widely prevalent—so why is it important to integrate digital audio into your digital advertising strategy?
Digital audio advertising provides a great platform to reach your desired audience. You no longer just have to send out your ad to a radio station and hope for the best. Reaching your audience through strategic audience targeting features like genre relevance, device, geographical, and behavior is now possible thanks to programmatic audio.
With the emergence of digital audio platforms, you no longer are just reaching radio listeners in their car. Instead, you can follow them to the gym, the classroom, their home office, and wherever else they might be streaming. Digital audio allows advertisers to reach consumers wherever they are without them even having to pick up their device.
Good for Your Budget
Advertisers know the benefits of digital advertising, but video advertising can be very costly. If your budget doesn't allow for effective video advertising, considering its less expensive alternative, audio advertising. There are still many benefits your business can gain from audio advertising without blowing your budget.
There is massive advertising potential in the digital audio realm, and the potential will only grow as people continue to spend more time listening. Your brand needs to take advantage of these advertising platforms, and here at New Target, we can help you integrate digital audio into your digital advertising strategy. Contact our digital team today!