The entire world has gone online; and jobs are too. Pen and paper, whiteboards and dry erase markers, sticky notes, and your cubicle walls are all things of the past.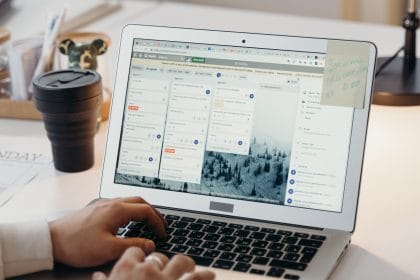 According to the Pew Research Center, 93 percent of Americans use the Internet. Digital products are now more accessible, buildable, and manageable than they have ever been, and the most successful businesses are capitalizing on this huge audience and capability.
Today's project managers are bringing their teams and procedures online to stay ahead of the competition and deliver at a faster rate than ever before. Thanks to online project management, collaboration tools, and cloud file storage systems, work is getting done more effectively and with better outcomes. These digital project managers are the new faces of project management.
What Is Digital Project Management?
What is digital project management, exactly? It's a method for managing online projects from conception to completion while staying on budget and using a set number of resources. It entails planning, delegating, tracking, reviewing, and evaluating outcomes, all of which are typically accomplished using project management software. Every project has a particular goal, but the ultimate goal is to expand the firm and generate a positive return on investment. Events to digital content projects are examples of project types.
Digital projects come in a variety of sizes and shapes. They may include the following:
Websites
Mobile apps
Videos
Games
Events
Content
Ecommerce
Social media
Advertising
Search engine optimization
A successful digital project manager must be able to communicate effectively with both technical and business teams. They must be able to understand both parts' terminology and act as a funnel for essential information to flow between them. It's critical to have a broad perspective and to dive deep.
Development: Maintain software engineers' knowledge and alignment with the company's current business strategy. What are the priorities, and why are they important? Verify that everyone is on the same page.
UX/Design: Collaborate with the user experience and design teams to produce the highest quality output possible, based on the priorities and current company strategy. After all, it's the user experience that keeps customers pleased and loyal.
Quality Assurance: UX and QA go hand in hand. Keep the teams on track and ensure that they are developing in a proactive, progressive, and quality-based manner. Concentrate on the customer's value.
Business Analysis: Ensure that the business is profitable at all times or that it is on its way to becoming profitable. Analyze your project portfolio and concentrate on the projects and clients that are most important to you. A successful firm relies on its ability to create value.
Strategy: On a regular basis, develop and fine-tune your strategy. The top-level foundation on which the rest of the business is built is strategy. Make sure it's healthy and adaptable.
Account Management: Maintain constant contact with crucial clients and contacts. Building relationships between individuals, big and small, is an important component of running a successful organization.
Collaboration: The most critical aspect for a healthy progressing business is a collaborative environment across teams. Maintain the same level of engagement and satisfaction among your employees as you would with your most essential clientele. They will increase the value your customers pay for.
Project Management Skills
Through basic job experience and teamwork, a digital project manager can learn a variety of skills. In practically any role, skills including time management, resource management, project communication management, planning, organizing, and delegating can be improved. However, you can find a variety of digital project management courses, publications, and certificates online to help you stand out from the crowd.
Every digital project manager's skill set is unique and dependent on their experience and background. Make it a point to study new ways to improve your project management skills on a regular basis. However, the following are some skills that may be stated in a job description for a digital project manager:
Collaborative
Strong communication skills
Problem solver
Attention to detail
Strong organizational skills
Ability to multi-task and prioritize
Goal- and results-driven
Processes
Depending on the organization, the team, and the project, each project manager uses a different digital project management approach. As a result, there will be no two projects alike, and each will necessitate its own set of methods and methodologies.
Fortunately, there are a number of options. Waterfall and agile project management methodologies are two of the most prevalent project management techniques. Waterfall approaches follow a more typical project management approach, with scope definition, resource management, and phased execution. This method is popular since it is simple and sequential.
Agile is a more advanced style that is based on flexibility and collaboration. While waterfall approaches require teams to stick to a strict plan, agile approaches allow teams to adjust to changes quickly and effectively. This also allows the customer or stakeholder to come in at various stages to ensure that their expectations are met before proceeding.
Tools
Project managers may fully utilize the power of digital project management using cloud-based project management and collaboration solutions. They operate as a single source of truth, displaying the current state of a project in real-time.
With real-time, up-to-date data, you can communicate with team members, executive stakeholders, external partners, and more. As a result, you can eliminate status update meetings, freeing up time for your team to do what they do best: execute.
Keep all of your documents, images, and information in a cloud-based project management application and/or file storage service so that others can get the files they need when they need them without disturbing you. Everything is in one place, so they can go on without waiting for a response and stay on schedule with their assignments.
Work and feedback are all saved in one location, so you may refer to them whenever you need to. There will be no disagreements over who said what or who is liable for what because everything is clearly documented in a single location that everyone can access.
Using a project management tool can be beneficial since it provides the team and project manager with a central hub that connects the entire team and serves as the central repository for all data and files. It merely takes a click of a button to transfer a job to another team member, and that team member now receives everything they require, including all files, comments, estimates, and so on. If you need an additional hand on a project, you can quickly find one who is available and get things started right away.