The executive management team of New Target, Inc., a leading web development company in the Washington, D.C. market since 1998, has acquired a majority ownership interest in the company, realizing the shared goal of founder Laura Machanic and new CEO, Brian Newsome, to establish the company's future leadership and assure its continued growth.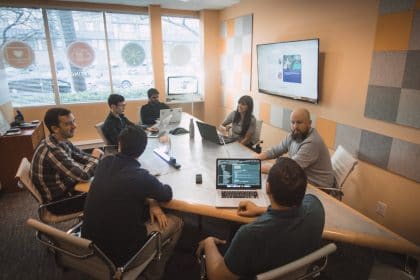 As CEO, Newsome will lead the company into its future as a full-service digital agency. "Currently, we offer a full suite of web services including communications strategy, software development, web design, data integration and online marketing to our clients," said Newsome. "My vision is to create exceptional experiences for our clients' audiences by employing the best strategists, designers and developers to serve the demand of this rapidly growing market."
Newsome has been with the company for six years and has served in a strategic management position for the majority of that time. New Target's clients include nationally recognized corporations in various sectors, associations that are leading their fields in both communication and technology, and U.S. federal government clients looking to streamline and innovate how they communicate with their audiences.
Joining Newsome's senior executive team are new shareholders Carlo Ross, a 10-year leader of New Target's successful sales team, and Pedja Grujic, who throughout his six-year tenure with the company has led New Target's innovative technology team. Ross will serve as Senior Vice President of Business Development and Grujic as Senior Vice President of Technology. Company founder Machanic will now serve as the company's Chief Financial Officer.
Together, the new executive team has more than 45 years of combined management, sales and technology experience, and has devoted a combined 22 years to building New Target's reputation as a preferred place of employment for talented strategy, design and technology professionals as well as the first stop for leading companies, associations and federal government agencies to secure expertise essential to success in a digital world.  
Ongoing notable projects of the company include strategic communication and publishing strategy formulation and implementation services for multiple national associations; the architecting and building of a data model for one of the country's largest national membership associations and its affiliates; user interface design and development for the largest student loan servicer in the world; designing and developing an intranet for a leading government contractor; and designing and developing a grant application management system for a federal agency.
"Brian and I have worked in tandem to move him into the primary leadership role of the company," said Machanic. "He's taken on the many responsibilities of a CEO with exceptional natural ability, and he is perfectly positioned to lead this company into our exciting future."
Since 2001, New Target has been ranked by the Washington Business Journal as one of the top Interactive Design Firms of the metropolitan Washington, DC region.  The company's award-winning designers and developers provide innovative strategies and user experiences, and its technologists provide organizations a complete portfolio of enterprise development and data integration solutions.
Visit www.newtarget.com for more information.