If you had to draw a picture of your organization, what would it look like? What if you could only draw it in one color? What color would it be and why? Now, what if you had to write a book about your company as sort of an extended metaphor, or allegory, if you will. Who or what would represent the people, processes, and products? What genre would the book fit into? Fiction? Mystery? Satire? Websites have become like books now, where the story of your organization comes alive, page-by-page. And, much like a book, a visitor can really buy into your narrative and keep coming back or they can bounce after spending a brief time on the website's homepage. So how do you go about crafting an online story about your company that is thorough, authentic, and reveals your corporate soul?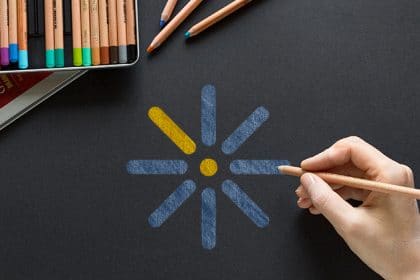 If you aren't a natural storyteller, then studying your organization through a creative lens may be difficult. Looking around you may see metal file cabinets, fluorescent lighting, and a bunch of empty desks where employees are telecommuting. Think of this process as a journey where you, as the story sherpa, set a path to collect and record stories and artifacts for the purpose of developing a comprehensive chronicle. This type of task builds on itself and it involves four major steps: finding a storyteller, brainstorming, storyboarding, and of course, writing.
1. Find a Storyteller: When you begin the task of telling your company's story it's important to identify someone in your organization who will be the designated raconteur. Keep in mind that a good story is a work of art, and a good digital storyteller is like a mixed media artist—they can make the story work in each medium. It may not even have to be a professional writer; you may be able to recruit that guy or gal who is always holding court in the kitchen.
2. Brainstorm: Schedule a casual lunch or happy hour and have the owner(s) and a group of employees from different departments talk about their experiences in the company. Have them prepare some anecdotes about notable moments that happened at the office or maybe at an offsite or charity event. Remember, this isn't a formal exercise for the staff, but rather a volunteer effort where employees are encouraged to contribute organically.
3. Storyboard: Take notes from the brainstorming session and create a simple storyboard. Include timelines, characters, and events like when you won a big contract or launched a new product. Be sure to include testimonials and customer reviews, and add photos, screenshots, and other artwork. Visual references are a great source of inspiration.
4. Write: At this point, you (or the writer) should have all of the background information that is needed to create a compelling story including a: setting (where the story happens), plot (series of events that led to the creation of your company), conflict (the problem you are solving for your customers), and theme (central idea or why your company exists).
As you go through this process with your colleagues you will probably begin to realize that this exercise is all about getting to the core of what and who your company is. Looking back on its history will likely bring up a range of emotions, which is exactly where you need to be to connect with your constituents. Storytelling isn't just a benefit for your web audience it's also an activity that's good for camaraderie, reminds you of lessons learned, and shows how much things have changed for better or for worse.
It's no secret that authentic storytelling is good for business and even better for the corporate soul.