Twenty-twenty has caused a lot of challenges for many fundraising efforts. A recent study suggests that more than 70% of nonprofits will see a decrease in fundraising revenue this year.
For most nonprofits, a strategic plan to efficiently expand their donor universe is going to be key to successfully achieving their donation goals.
Podcast audiences are passionate, informed, and engaged. They trust the hosts of their favorite shows and the majority (63%) of them have made a purchase based on something they heard through a podcast ad.
It's a trusted voice in a welcoming environment.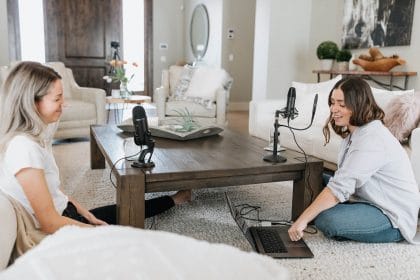 Imagine if your favorite actress did a regular podcast about the acting industry. Well you don't have to imagine it most likely, everyone and their brother has a podcast. But if each week she brought in industry insiders, and they all gave you valuable information to help you achieve success as an actor, would you be more likely to purchase her advertised $49 insider secrets book?
Having established trust and expertise already, the actress podcaster is 90% of the way toward a successful sale.
10 WAYS TO BE SUCCESSFUL WITH YOUR PODCAST
Talk about something that interests you or something you're passionate about. This will keep your enthusiasm high and will prevent you from pod-fading.
Ideally create a show on a niche topic. The deeper knowledge you have on that topic or the greater access to guests you have in that space will help to determine your podcast success.
Make sure your content provides value, is informative, and/or is entertaining.
2. More is better
The more episodes you can produce the better. Each episode you produce creates new possibilities of reaching a new audience. But don't water down your content just to increase your publishing frequency. Always make sure your content is engaging.
3. Be consistent
Consistency pays off. Make sure to publish new episodes on the same day each week or same time each month. Your audience is depending on you and will expect new episodes to drop on those days. This builds trust with your listening audience.
Find the right length for your show and stick to this. Don't publish one episode that's 15 minutes in length and another that's over an hour. Your listeners have set aside the right amount of time and don't want any surprises.
4. Book guests
Having popular guests on the show is a great way to increase exposure. Be sure to have the guest promote the episode to their social media following.
If your podcast is an interview-type show, do research on your guest, dig into their background, and ask relatable questions. Doing research on your guest will please them as they will be excited to answer questions they've never been asked before. This is what creates great content.
5. Have quality sound
Of course, your audio quality should be good. Check your sound levels and use a professional microphone that will give you optimal results. You can find pro grade microphones on the market these days for less than $100.
6. Mention keywords or guest names first in episode titles
Try tweaking your keywords in your podcast title. Make sure to use specific keywords or phrases you want to capture in iTunes. These keywords or phrases shouldn't be too broad or too specific; ideally somewhere right in the middle. You could use a keyword planner tool like Google's that will tell you how many monthly impressions a specific keyword or phrase has.
Another trick here is to see what other related keywords iTunes suggests you search for at the bottom of the search query and use them in your episode titles too. Or a pro trick is to create content in new episodes that captures these new suggested keywords.
7. Add your podcast to Google Play
It takes just a few minutes to sign-up and it's becoming more important as Google is now indexing episodes right in search results. So, when you have your podcast added to Google Play, your episodes will appear in search results.
Write great episode titles and headlines that will attract new listeners.
Mention your podcast name and website link in the signature area of your emails and posts.
Publish your episodes to all major podcast platforms including iTunes, Spotify, Google Play, and Stitcher.
8. Repurpose your audio on your YouTube channel
The goal is to get your content everywhere.
While Google is currently implementing ways to make podcasts easier to find on search, it's important to note that video is still favored over audio content when a user types in a certain keyword phrase. So, unless the user types "podcast" in their search query, your podcast might not show up as a search result. One way to make the most of Google's video preference: Turn your podcasts into videos and upload to YouTube.
9. Mention other businesses in your episodes
Sometimes you can get a free shout-out from notable people in your niche by talking about them or their brand on your podcast. You can send them a link on their social media accounts to tell them exactly how you used them as an example for your podcast. If they like what you said, they might just share the episode to their network.
10. Create simple landing pages
Focus more on connecting with fans than pushing the organization's message. They cut through the clutter, allowing potential donors to discover more about the organization, but highlight the trustworthy factor (awards, recognitions, etc.) and providing clear calls-to-action that match the message in the show.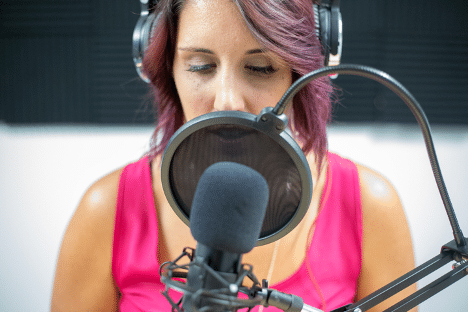 IS PODCAST RIGHT FOR YOUR NONPROFIT DIGITAL MARKETING?
There is no silver bullet, no magic bean, or genie in a bottle that is guaranteed to bring in more donations. Providing an authentic message with a clear ask to passionate people is key.
Podcast is a great way to have a trusted voice share that message.