Has your company been on the decline? Are you losing clients to your competitors? Are sales and revenue experiencing a sudden dip? If this is the case and you're looking for the root of these problems, get ready to conduct a brand audit.
The harsh reality of today's corporate environment is that competition is fierce.
You can only survive and distinguish yourself from your competition through "differentiation." And what sets your company apart from the competition? Branding!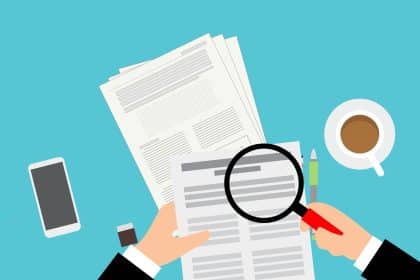 What is a Brand Audit?
A brand audit is a method for determining where your brand is right now in the market. The brand audit enables you to identify your company's advantages over competitors as well as its weaknesses. The process will essentially give your company a health check, giving you a list of practical insights you can use to improve the overall performance of your business.
You can learn a large amount of valuable information by doing a brand audit that can help create a more successful brand strategy.
A brand audit typically has the following objectives:
Establish your market position and establish plans for improvement.

Examine your client's expectations and adjust your product or service as necessary.

Examine your social media presence to determine which platforms are best for your activity.

Check the health of your brand.

Discover your company's strengths and weaknesses by conducting a SWOT analysis.

Analyze the attitudes that your brand is inspiring in its intended audience.
Although it is wise to use a digital agency like New Target to help with your brand audit, here are seven steps to completing a successful brand audit.
7 Steps for a Successful Brand Audit
1. Create a Framework
Spend time creating the framework you'll use to evaluate your brand before even starting the audit.
Start by going over your brand's platform, which includes its position, promise, essence, values, and value proposition. Throughout the audit, keep those in the forefront of your thoughts.
This will enable you to assess the degree to which your brand strategy and vision are still being reflected in your marketing messages and touchpoints.
If there is no formal brand platform in place, you can start by analyzing your company's vision and goals, buyer personas, and the competitive landscape.
With the help of these tools, you will be able to establish objective benchmarks for evaluating whether or not your marketing and brand communications deliver the right messages to the right audiences at the right time, enabling you to accomplish your goals and set your business apart from rivals.
2. Set Goals
Reviewing your brand in relation to your business and marketing goals is a crucial step in the brand audit process, but these goals must first be clear.
You can determine your top marketing priorities and goals by asking yourself the following questions:
Who are your target audiences? What are their needs? What are their challenges?

What is your target audience's level of brand awareness?

What is the current perception of your brand? Does it differ from how you want to be viewed?

What is your market share at the moment? Are there opportunities to grow? What are the key challenges to doing that?
Now, get more precise and ask these questions:
Do you need to increase visibility with your target markets?

Is your brand perception out-of-date, contradictory, or just wrong?

Is there a chance to get a bigger slice of the pie?

Do you want to expand into new markets or draw in new customers?
Finally, prioritize your objectives:
What can realistically be done in the upcoming year or two?

Which of the objectives that can be completed quickly will provide the best return on investment?
Now that you have a broad idea of where your brand is and what you want to accomplish, you can move forward to the next step.
3. Talk to Your Audience
In order to detect any discrepancies between your existing and ideal brand impression, it is essential to take a deep dive into the mindset of your key stakeholders. Brands are shaped by the perceptions and experiences of their audiences.
Stakeholder feedback will assist in validating what your business perceives to be its key differentiators, revealing gaps between what you believe to be relevant to your audiences and what your audiences value most about your business.
The internal (leadership, advisory board, staff) and external (customers, partners, and influencers) audiences are the two main audience groups you want to involve in the information study and interview process.
Depending on the data you get, you may need to make changes to your brand strategy, brand platform, and/or any marketing messages.
4. Check Out Your Competitors
Now you will want to assess how your brand compares to your competitors.
These questions can help:
What position does your business hold in the industry?

What are the positions of your competitors?

Be sure to take into account rival businesses in your niche markets (such as those in your industry, region, etc.), as well as those who appear in the same search results as your business or are viewed favorably by your target audience.

What makes you unique in the first place? What distinguishes your business?

Do you need to adjust your brand strategy and position to capitalize on what sets you apart from the competition more effectively?
5. Look at Current Communications
The success of your marketing communications should then be evaluated in comparison to your brand audit architecture.
Consider the total effect of your discussions with the public. Do they strike a balance between technical information and presentational and emotional content?

Are you letting your target markets know the concrete benefits your business may provide?

Are you delivering your message in a way that connects with, and is pertinent to, your audiences?

Do your communications appear and sound precisely like those of your competitors, or do they immediately convey the benefits of choosing your business?

Are your design and message's tone and style unified and true to your brand?

Do your communications speak to each target audience's specific needs, desires, and difficulties in a clear and straightforward manner?

How frequently do you interact with your target markets? Is this enough to keep it in their thoughts?

Are you reaching out to your audiences on the platforms they prefer?

Does every one of your communications have a call to action that is crystal clear and outlines the specific action you want your audiences to take?
6. Draw Conclusions
You now have the knowledge you need to decide whether your brand is on track, needs to be refreshed, or will need a more substantial makeover.
You can decide exactly what needs to happen next and the level of adjustments you want to take by using these final questions:
Does your brand lack relevance?

Does it no longer reflect your internal culture?

Does it struggle to adapt to the shifting attitudes and demography of its customers?

Is your messaging and design stale or inconsistent?

Is your brand (together with its components, expressions, and assets) too dated to adapt naturally to channels and client touchpoints?

Do you need new tools and resources to promote your business more successfully?
Then ask:
Are you being outpaced by your competitors?

Do you think you're pursuing more ideas than you should?

Is the cost usually a factor when you miss an opportunity?

Can you explain how your business is better or different?

Are you having trouble attracting and keeping talent?

Are you preparing to grow regionally, introduce new service offerings, or enter a new market?

Do you intend to expand?

Has the way you lead changed?

Have you merged with or acquired another business?
In particular, if you never had a solid brand strategy in the first place, it's time to think about evaluating your brand or even considering a complete rebrand to manage change proactively.
7. Act on Findings
A brand audit is done to determine what steps your business has to take to strengthen its brand. To be effective, your primary findings should be accompanied by a thorough action plan.
Additionally, you need to specify the precise outcomes you hope to attain. Finally, keep track of your progress to see how near you are to your objectives by the time of the next audit.
Keep in mind that observing your development continuously does not mean you should skip the next brand audit. After all, a year is a long time in history, so these internal and external shifts might necessitate more analysis and adjusting.
If you don't set aside time to regularly and continuously evaluate your brand within the larger and wider context, you might end up accomplishing your goals from the previous year only to find that the goalposts have substantially changed.
We help organizations in showing their value in today's chaotic digital world with research-based strategies that are creatively designed. Your brand will be able to engage with consumers in meaningful ways across channels thanks to our digital-first approach to branding services. Contact us today!