Web marketing followed on the heels of the commercial adoption of the Internet and has grown substantially in every way. Since that time, the fibers of the advertised web have woven themselves into modern day marketing strategies. Web advertising in particular has become so specialized that it is commonplace for brands to enlist the help of experts to shoulder the responsibility of optimizing tactics and keeping current on changes across the board. If you've only been testing the waters of web advertising and don't have a comprehensive plan in place; now is the time. Social insecurity and search engine failure aren't good looks for brands on the rise. Here are few lessons from the New Target staff.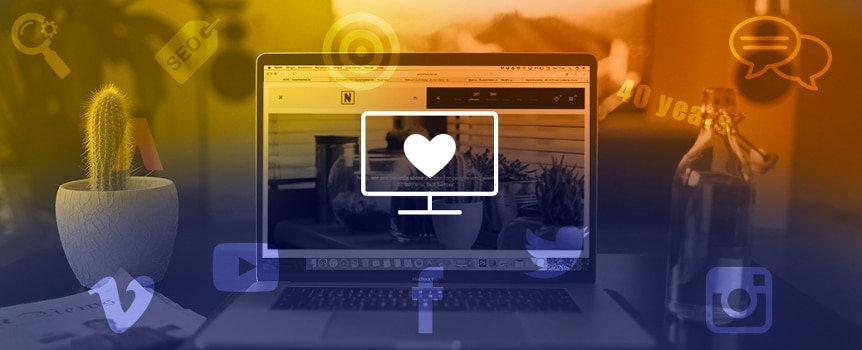 LESSON ONE: IT'S ALL ABOUT SEARCH
Search engine marketing has become multi-faceted with the base layer being your website. Optimizing your site for higher search engine rankings through SEO no longer means stuffing it with keywords to appease the search gods. It now entails strategically placing those keywords in the right areas on your site (e.g., in titles, headers, URLs and by using breadcrumbs and alt text). It also means providing valuable content (i.e., news, stories, or case studies that provide relevant takeaways) through blogs, videos, and social media and also by linking to other sites that provide content that is equally important and engaging. Outside of the design and functionality, solid SEO is the best investment that you can make in your site.
You can gain additional exposure through search by placing a variety of paid ads on Google or Bing. Anyone can create an ad campaign with, for example, Google AdWords by setting up an account, creating the text, selecting relevant keywords and audiences, and then setting a budget and schedule. AdWords works on a pay-per-click model with more popular keywords costing more. It also uses a "quality score" measurement that ranks the quality of the ad and gives better placement to ads that score higher. Services like Google AdWords can be a bit confusing for new users, so it's best to hire a consulting firm like New Target that can help you to get the most from your ad buy.
LESSON TWO: SOCIAL MEDIA ISN'T GOING ANYWHERE
"Rumors of my death have been …" well, you know the rest. If you're among the naysayers or dropouts who ignore social media waiting for its demise then you're missing a huge opportunity to increase your brand's reach. Social media is, without a doubt, the best and dare we say the easiest way to reach a very large audience for free. Granted, building an engaged community requires a focused and sustained effort but the payoff is well worth it. While you are building your community or even after it's been established, you can enhance your presence through paid ads on Twitter, Facebook, LinkedIn, and Instagram. Facebook, for example, gives advertisers a variety of targeted ad types to choose from including carousel, video, and canvas ads for mobile for the specific purposes of brand awareness, app download, conversions, reach, engagement, and more. The key to good paid social ads is precise targeting, compelling content, quality visuals, and a strong call to action.
LESSON THREE: EVERYTHING OLD IS NEW AGAIN
Believe it or not, a lot of tactics that were used in the 1970s are being used with great success today with the help of technology, data, and automation. Our ability to target and track has added a new dimension to web marketing. Word-of-mouth marketing is most commonly done through online shares now and is considered the gold standard in consumer engagement, while email marketing (yes, it started almost 40 years ago) has exploded through platforms such as Constant Contact. Whereas businesses once took calls from potential customers with no or poor attribution, they can now rely on data to tell them which online ads elicited calls.
When it comes to web marketing, advertisers have a lot of choices which is never a bad thing. We can choose to implement free tactics like SEO, organic social posts, and email marketing and/or we can enhance our efforts through paid search and social and through email platforms that automate the process for us. And, the best part is that most everything can be analyzed and optimized in real time. Suffice it to say that there has never really been a better time for marketing, so make it work for you through these three lessons.