With the 10th anniversary of the iPhone upon us and given the many native apps in your life – the majority of which you don't use – it's now more important than ever to understand the distinction between a web app and a native app. There is a good chance that at one time or another over the last 10 years, your organization has toyed with the idea of building a native app. After all, most of us use native apps on our phone every day and counts show that the Apple App store houses over 2 million. When you really started to take the idea seriously there may have been internal discussions around what it would look like, what type of functionality it would have, and who would use it. And when you started talking about the time and resources that go into developing the native app, interest may have waned a bit and the project was probably sent to the proverbial parking lot to be revisited at a time when the staff wasn't quite as busy. When organizations fantasize about building an app, they are most likely talking about developing a native app like Houzz or Uber. They are envisioning an app that is native to a platform like Android or Apple and not necessarily a web-based app which, by the way, can be a very good alternative that holds many, many advantages.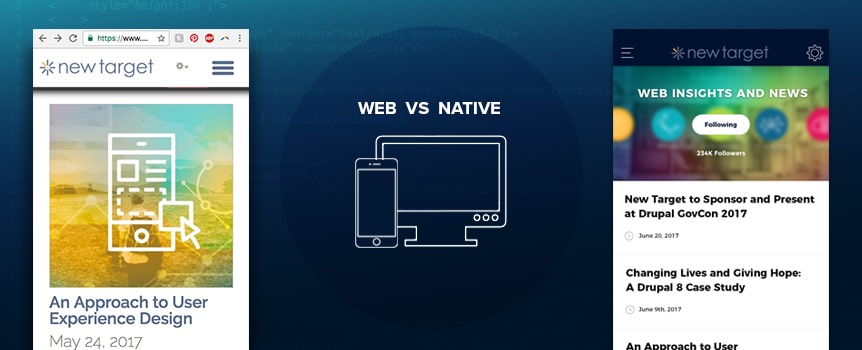 Web-based apps hold sort of a hybrid space in the digital realm. A web app isn't downloaded in the Apple Store or on Google Play, but rather it loads in your web browser and doesn't use much storage on your device. That means that the content of the app is being pulled from your website, CRM, or other central database which means everyone, regardless of device, can access the app and more importantly, the insightful experience that your data delivers.
The web-based app has appealing features for the IT team in that only one code base has to be maintained and updates can happen in real time. For the marketing team (and for the organization's bottom line) web apps are relatively inexpensive to build in comparison to a native app, and they can be monetized through existing advertising that is present on a website or other web properties. The differences in the two apps are most apparent in the user experience. Given that native apps are stored locally (on your device) they provide much more functionality because they are tightly integrated with the hardware and allow for functionality like taking photos with the camera or paying for purchases using NFC, they are faster, and the OS app stores have some built-in marketing. That being said, if you don't need the experience that comes with phone or tablet hardware and are looking to amp up your web presence cost effectively over time, this may be the way to go.