Even if your original website was developed perfectly to do your bidding, the world around it is changing constantly and what was a business tool for your organization, is now letting you down a bit. Is it your website? Or the content on it? Does it matter? Aren't they one in the same? Well, yes, it does matter and while they may be one in the same, servicing one without the other is not going to get you to your goals.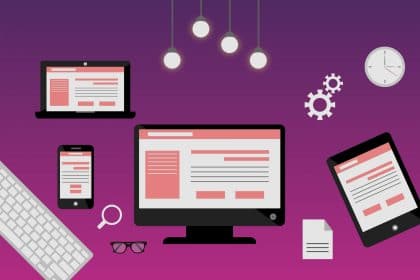 Ongoing website maintenance in the code sense is essential from time to time but, there is an equally important need that is often conflated with website maintenance needs (e.g,. security patches). In the next two posts we'll be providing 11 distinct ways your website needs to be maintained and updated.
Here are four ways that your website needs to be updated regularly which will get you right back into the game.
1. YOU AREN'T RANKING HIGH ON GOOGLE
To quote the great Ricky Bobby, "If you ain't first, you're last." Your search position will be one of the most obvious symptoms that your website needs content updates and more contextual relevance.
According to Google's own search quality ratings, when it indexes the main content of each page, it checks factors like:
Purpose of the page.
Content quality and amount
Website info and info about the content creator
Website reputation and content creator reputation
User interaction with the page (time on page, bounce rates)
Expertise, authority, and trustworthiness
Site speed
Even if you're doing well in all these areas, it's possible that others in your field are doing better and that's dropping you down.
Based on the rating guidelines above, Google shows searchers the most relevant, high-quality results related to what they're looking for. The most relevant are shown first, with the rest shown over successive pages. So, it's important to note who you're competing with because doing all the right things doesn't guarantee others are not doing them at greater scale. Do you have the resources in time and treasure to compete?
Addressing the things that Google is interested in, one by one, is the quickest way to success, but how you define success sincerely matters.
2. YOUR PAGES AREN'T LOADING FAST ENOUGH
One of the reasons your traffic might be down or people land on your homepage but quickly bounce away is the speed of your website loading. Perhaps your hero image is too large or there are too many unoptimized Images. As an agency, we've optimized images, provided guidance, and limited file size upload as tactics many times over to prevent the intern from uploading an 80MB 3,000 DPI image. But, where there is a will those interns will always find a way.
A large volume of unoptimized images is usually the most common reason behind website slowness. High-resolution images can consume lots of bandwidth while loading.
The image format is another important factor to consider. For example, JPEG images are much smaller in size compared to other image formats like PNG or GIF.
The availability of JavaScript/jQuery plugins has made it really convenient to add dynamic content to websites. However, if implemented incorrectly, JavaScript can hold back your website's page load speed. We know everyone likes movement and interaction, but is it really needed at the level you're requesting it? Trust your design team.
Caching is known to improve the performance of websites by leaps and bounds. If you're not caching, you're missing out. Did Ricky Bobby say that? He should have. It's a technique that lets you store frequently used data points in the "cached memory." Any subsequent requests for the same content gets served from the cached memory, thus speeding up the whole data retrieval process.
Another common culprit for website slowness is unclean coding. Excessive white spaces, inline stylings, empty new lines, and unnecessary comments can make the website stylesheet grow larger in size. Yes, your editors can introduce these things within minutes of being delivered a website. Say it with me, "I will use the Paste from Word feature in the WYSIWYG."
By removing these unnecessary elements, and not introducing them into your website (keep the interns away), you can compress the code, reduce the file size, and improve the overall page load time, and if you're tracking rankings you'll probably see a boost in your SEO performance too.
Display advertisements are great for monetizing high-traffic websites, but that shouldn't come at the cost of compromised performance or user experience. Don't let too many ads be another reason why your website is slow.
3. YOUR VISITORS AREN'T SPENDING MUCH TIME THERE
If you feel good about your content, and you're seeing a lot of traffic but visitors are quickly leaving, you might have some confusing navigation. Or your content is not as good as it's making you feel.
It's easy to make a confusing website. It's hard to make a simple website. It's really hard. Yet humans love simplicity. Simplicity is the most important consideration in a design.
Consider these ideas to simplify your website:
No ads
Unless you're running a website whose primary purpose and large need is ad revenue, then consider ditching the ads completely.
Limit your menu to seven items
The short-term memory can hold only seven items. To make your website as simple as possible, limit your menu to seven items or fewer, and if you invest in ongoing refinements to your website's search, menus can't possibly surface that 1983 article for the research paper you're writing for your professional certification.
Use lots of white space
White space, or negative space, is the area of your website that doesn't have stuff—no menus, no content, no images, etc.
Make the structure intuitive and shallow
Site structure has a lot to do with simplicity, too. Make the navigation easy to understand for a user who knows nothing about your business. Don't require that a user click menu after menu. Give them all the information they need in one or two clicks.
Avoid dropdown menus
Dropdown menus seem like a good idea. They save on space. They allow you to add more information. But many times, dropdown menus can produce added complexity to a website.
Reduce choices
Hick's Law states that the more choices a person has, the longer it takes them to make a decision. In other words, too many choices is a bad thing. Reduce the number of choices on your website, and you'll improve your simplicity and conversions. This is what we mean when we say choice architecture is an important part of our digital marketing and design services.
Test your website
Finally, test your website. Every target audience is going to respond differently to color, design, imagery, layout, and functionality. Test your website early and often, and make sure that you're adapting to what users need and want.
4. SHOPPING CARTS ARE BEING ABANDONED
Your customers love frictionless shopping. Throw an obstacle in their way, and they'll just keep on driving to the next shop.
To make sure your prospects become buyers, avoid the six most common friction points ecommerce sites contain.
Avoid unexpected costs at checkout
Don't require customers to sign-in to complete their purchase
Offer multiple ways to pay
Have an obvious search bar
Speed up your pages
Improve your navigation
For a website tweak that could make all the difference in your impact, we have all the expertise you need to help you get your website roaring along the information superhighway. Get in touch. We can help. And for the record we love interns, in moderation.
In the next blog, we'll look at four more areas in which your website might need some ongoing love.