Your website is not only the foundation of all your marketing efforts but also it's your business as a whole.
It's where your current and potential customers go to discover more about your products or services and your company as a whole.
Your website is where potential partners can learn more about your company and where customers can schedule a demo or seek additional information about your products or services. It's also the location of your landing pages, which are the pages that visitors arrive at after clicking on one of your ads.
Your business's website is fundamental to your marketing performance and the overall success of your company, which is why website management should be a daily concern.
In this post, we'll look at what website management entails and how it can help you boost your ROI.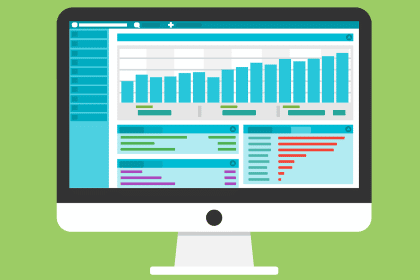 What is Website Management?
Website management combines the several services needed to run your website effectively. Website management typically involves:
Website security
Website support
Content management
Outsourcing website maintenance services to a web design agency or a digital marketing agency that offers website maintenance services is essential for effective website administration, especially if you're running a small business. Larger companies may have dedicated in-house teams in charge of their website's upkeep.
Suppose you've previously had a website designed or upgraded by a designer or an agency. In that scenario, they may include continuous website administration services in their service portfolio, which you can take advantage of.
Website Management for Boosting ROI
A secure website performs well in search engines, attracts more visitors, and reduces website downtime.
Hackers and cybercriminals are always trying to break into websites. These attacks can crash your website, infect the device that your users are using, phish for potentially sensitive information, and much more.
As you might expect, any attack on your website can have severe consequences for your organization, especially if sensitive data is compromised or your website is down for an extended period of time. In the event of an attack, you may encounter difficulties such as:
Loss of traffic, leads, and customers
Loss of trust in your brand
Poor UX and slow load times
Legal issues if confidential information is compromised
Passive management, such as setting up strong firewalls to block prospective hackers, and active management, such as regular virus scans and keeping your website architecture up to date, are both important aspects of ongoing website security.
You may rest easy knowing that your website users are safe when they browse, use, and purchase from your site since it is secure.
Uploading Content Optimized for SEO and Optimizing Existing Content Boosts Your Traffic
You should never treat your website as a static object. The continuous addition of new content and the optimization of existing content are two of the most important aspects of any website's success.
You'll want to make sure every new content you publish is optimized for SEO for the sake of your website; some best practices include:
Use keyword research for your topic
Use keywords strategically but naturally in your content
Optimize title tags and meta descriptions
Optimize your content for length; research suggests long-form content is a reliable way to push your website up in the SERPs
Here are some best practices for your existing content on your website:
Ensure information in the piece of content is up-to-date
Make sure your outbound and inbound links are still active
Make sure each page on your website has a meta-description, optimized URL, and alt image text
The person in charge of your website management will usually take care of optimizing your existing content, but this also could be under the responsibility of an in-house content team.
Ongoing Website Support Keeps Your Website Functioning
Website support is a catch-all term that encompasses a wide range of issues that include but is not limited to website security and content management. Website support can also include:
Website navigation edits
Analytics management
Plugin updates and improvements
Serve updates
Site and data backup
Landing page maintenance
Tons more!
These tasks, like web security, must be completed on a regular basis to ensure that your website's functionality and performance are maintained. In addition, keeping up with plugin, theme, and server/hosting upgrades will guarantee that your website's loading times remain ideal and that all plugins you're utilizing continue to work properly.
The metrics of your website, such as organic traffic, time on page, bounce rate, and conversion rate, should be monitored and analyzed.
These metrics will show you whether your site is attracting and keeping visitors on the site, as well as whether you need to make any adjustments to improve these numbers.
If you want to keep attracting visitors to your website and converting those visits into leads and customers, you must keep your website up to date and well maintained.
As a fully integrated digital agency, New Target is here for all your creative, technology, and marketing challenges- and yes, this includes website management! Contact us today to get started.