Nowadays, the need for automation for business processes is continuously increasing. Customer demands are getting more specific, so it is nearly impossible for a company to provide personalized services to their customers without a customer relationship management (CRM). Organizations need to utilize CRM platforms like Salesforce to deliver the type of service consumers crave.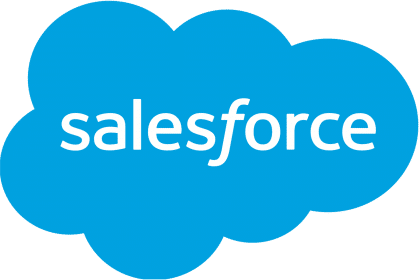 Salesforce is a cloud-based computing service as a software (SaaS) company. It specializes in CRM to help businesses gain more information about and connect with their consumer base. Salesforce mainly focuses on assisting companies in keeping their customers happy and loyal and seeking out customer acquisition. At New Target, we are a Salesforce agency, so keep reading to find out more about Salesforce and how we can use it to help you!
BUT FIRST, WHAT IS A CRM?
Customer relationship management is a technology for managing a company's relationships and interactions with existing and potential customers. The goal of a CRM is to improve business relations by helping companies stay connected to their customers, streamline processes, and increase profits.
Major companies like Amazon, Adidas, American Express, and others use Salesforce software to understand and connect with their customers on various levels. Companies are able to track analytics, customer complaints, customer success, and other CRM functions. With everything stored in the cloud, customers love the ease of accessing this information wherever the users are. The Salesforce website says that customer using their software see an average of a 27% increase in sales revenue and a 34% increase in customer satisfaction.
Companies also utilize Salesforce to track sales, spending performance, analyze performance, and assist with marketing. The wide variety of clouds enable users to analyze data, communicate with customers, implement advertising strategies, and more.
Since Salesforce is an SaaS, it uses a cloud computing, software distribution model. The software hosts different applications and makes them available online. The various cloud platforms Salesforce hosts, allows companies to play with different data and provide their customers with service in varying capacities.
1. Ease of Use
It makes sense that Salesforce is the leading CRM software seeing that it is easy to use. Sales representatives have excellent visibility into their contacts, accounts, opportunities, and tasks all in one place. They can see their customer completely, which helps make better business decisions and make better deals.
2. Functionality
Salesforce offers a wide variety of features designed to fulfill most organizational needs. Salesforce allows an admin to make point-and-click alterations to configure solutions for your business process.
3. Customizable
Salesforce is highly customizable compared to its competitors. Most requirements can be figured out through configuration, but sometimes you have to add or extend existing functionalities to reflect your business needs. Salesforce offers custom fields, objects, the ability to integrate apps, third-party Salesforce extensions, and more. The high level of customization provides you with a complete solution. However, customization requires expertise in Apex Code and Visualforce pages—lucky for you, here at New Target, we are Salesforce experts.
4. Scalable
When choosing a CRM, you need to think about the future. The CRM solution you choose should be scalable enough to fulfill your business' needs for the next three years. Salesforce's customizability allows you to modify and adapt as time goes on, making it highly scalable.
5. AppExchange
Salesforce is very in tune with their customer needs and realizes that many other applications can be used with Salesforce to enhance customer engagement. So, Salesforce introduced AppExchange, a Salesforce marketplace. It is a business app store that has over 2,800 apps including Salesforce integrations with Xero, Mailchimp, QuickBooks, DocuSign, and more for big and small businesses in an all-in-one easy to navigate platform.
Those are just some of the many benefits of using Salesforce, the world's largest cloud platform. They offer so many options to help you build the best relationships with your customers and increase your profits. Since we are a Salesforce agency, contact us at New Target, and our Salesforce experts will help you help your customers!