Affiliate marketing is a powerful tool for businesses to increase their reach and drive sales. It allows companies to partner with influencers and content creators interested in promoting their products or services in exchange for a commission. By leveraging the relationships of these influencers and content creators, businesses can tap into new markets, engage potential customers, and boost sales. Let's take a look at what affiliate marketing is and how you can use it to drive results for your own business.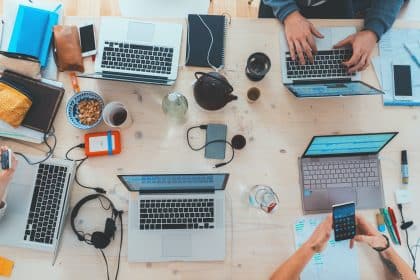 What Is Affiliate Marketing?
At its core, affiliate marketing is a type of performance-based marketing where an online business pays one or more influencers or content creators (affiliates) for each sale they generate through their promotional efforts.
The affiliates' job is to promote the business's products or services via online channels such as blogs, social media platforms, websites, etc., while the business pays them a commission when they make a sale. This means that businesses only have to pay out when they make money—which makes sense from both an economic and financial perspective.
How Does Affiliate Marketing Work?
Affiliate marketing works by having the business recruit partners who are willing to promote their products on their website or blog post in exchange for a commission if someone purchases the product through their link.
The business will provide its partners with unique links that they can place on their website or blog posts, which will direct people to the business's website when clicked on. When someone uses these links to make a purchase, the partner will receive a percentage of the sale as payment for promoting the business.
Once you have recruited your partners, you can track how many times people click on each link using an analytics program like
Google Analytics
. This allows you to see which partners are performing well and which ones are not so that you can adjust accordingly. You can also use this data to analyze which affiliates are bringing in more sales than others so that you can reward them with higher commissions or exclusive offers.
Benefits of Affiliate Marketing
One of the biggest advantages of affiliate marketing is that it's relatively low cost compared to other forms of online advertising, such as pay-per-click (PPC) campaigns or banner ads. Additionally, because affiliates do not need to purchase inventory, there is no risk involved with working with them—if they don't make any sales, then they won't earn any money either! Furthermore, because affiliates have already built up trust with their audiences, it makes it easier for them to promote your product more effectively than if you were doing all of the promotion yourself.
Affiliate marketing is a great way to increase your sales and reach a larger audience. It's an effective way to generate more leads, convert them into customers, and boost your overall revenue. But with so many different approaches and strategies out there, it can be difficult to know where to start. Here are five tips that will help you get started on the right foot with affiliate marketing.
Affiliate Marketing Tips
Set Goals
Before you even get started, take some time to think about what you want to accomplish with affiliate marketing. Are you looking for new customers? Do you want to drive more sales? Or do you just want to improve brand awareness? Once you've identified your goals, make sure they are specific, measurable, achievable, relevant, and timely (SMART). This will help keep you focused as you move forward with your affiliate marketing efforts.
Choose the Right Partners
Affiliate marketing is all about partnerships – so make sure you choose partners who are aligned with your brand values and objectives. If possible, try to find partners who have similar target audiences or complementary products or services. This will ensure that both parties are getting something out of the partnership and that the collaboration is mutually beneficial.
Create Quality Content
Content
is key when it comes to successful affiliate marketing. Your content should be engaging and informative while also focusing on keywords related to your product or service. Quality content can help drive more traffic to your website while also improving SEO rankings – which means even more potential customers! Consider creating blog posts or videos related to topics that are relevant to your business or industry, as well as any special promotions or discounts related to affiliate partnerships.
Monitor Your Performance
Taking the time to track your performance is essential when it comes to successful affiliate marketing campaigns. You need to have a clear understanding of how well – or how poorly – each campaign is performing so that you can adjust accordingly if needed. Keep an eye on metrics such as impressions, clicks, conversions, cost per click (CPC), cost per acquisition (CPA), etc., so that you can make adjustments if needed in order to optimize performance going forward.
Focus on Customer Service
At the end of the day, customer service should be at the forefront of everything you do in terms of your affiliate marketing efforts – from choosing partners carefully and crafting quality content all the way to monitoring performance metrics regularly. Your goal should always be focused on providing value for customers by delivering helpful content that educates them while also helping them solve their problems quickly and efficiently – all while driving sales!
Conclusion
Affiliate marketing is an effective way for businesses to increase sales without having to spend big bucks on expensive advertising campaigns and banner ads. By leveraging the reach of other websites and blogs through partnerships with affiliates, businesses can get more exposure and potentially earn more revenue from additional sales without taking on extra risk or investing too much upfront capital into advertising campaigns that may not be successful. With careful selection and monitoring of affiliates, businesses can ensure that they get maximum return on investment when utilizing affiliate marketing strategies.