A full-service hospital doesn't make you leave and go down the street to a small clinic to get your x-ray and to another place to get your blood drawn. If Doctor Rosen is busy, Doctors Rosenaur, Rosenbach, or Rosenbaum are available. No waiting. If you have your choice between a hospital with one doctor or one with a hundred doctors spanning a wide variety of specialities, that's not much of a dilemma.
And experience. You'll want experience: "Hmmm, we've never seen that before," is not a phrase you want to hear when meeting with your medical team.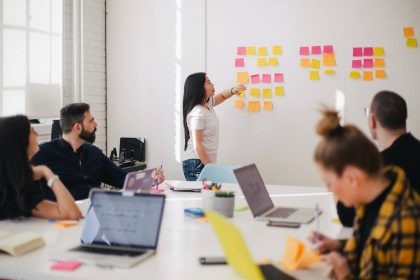 When you need help in developing a digital marketing plan, you can cobble together a collection of web designers, social media experts, and SEO services, but soon your "one look, one voice" vision is muddied in a sea of competing opinions and levels of expertise.
Your goals might not be achieved and there is the risk of potential damage if you end up with a scattered marketing plan that lacks cohesion.
When you are interviewing your next marketing agency, how can you determine if they are really as full-service as they report to be? If you are going to commit to this potentially long-term relationship, what should you be on the lookout for?
A full-service agency should be able to handle all your digital marketing, website development, content creation, and advertising in-house. This usually includes planning, branding, video, content, web development, app development, and inbound marketing services (attracting customers by creating valuable content tailored to them).
THEIR NUMBER OF YEARS IN BUSINESS
Institutional memory is hugely valuable because when inevitably you hit a road bump in your project, there is someone nearby who has seen that problem solved for another client. The insights that they have gleaned from a host of clients can be used to help you grow your business.
THE AMOUNT OF TIME EACH DEPARTMENT HAS WORKED TOGETHER AS A TEAM
Nothing speeds up the process faster than experts who can turn to each other for the right answer quickly. They can collectively craft an ideal digital marketing strategy for your company.
You'll want the entire team to regularly discuss current projects and priorities with daily strategy check-ins as the norm.
WHAT, IF ANYTHING, IS OUTSOURCED AND WHY?
There could be a good answer to this question like the agency is trying to fill an opening. But the less outsourcing, the better it is for this project and the next one.
DO THEY HAVE EXPERIENCE IN ALL THE DISCIPLINES?
Strategy: Market analysis, brand positioning, testing, and media strategy.
Creative: Experience with brand engineering, copywriting, graphic design, and video work.
Data: The ability to perform data strategy and analysis.
Communications: Experience with print, social and mobile media, direct mail, and email.
Interactive: Website design and application development, email marketing, A/B testing, paid search services.
Production: Digital printing, mail piece personalization, web development and hosting.
Analytics: Simple or comprehensive reporting, dynamic business intelligence.
They have a few developers that are really solely website builders and they advertise them as being able to develop anything.
They have out-of-home or direct mail marketing experts who are sold as digital marketing experts.
They don't have hosting, DevOps, or other engineers on staff.
They don't have writers on staff.
They think that their great graphic designer who has laid out reports and magazines can design a website too.
They think about marketing and the web independently.
When you work with a full-service agency, you're in a relationship, possibly long-term. Your marketing partners will get to know your business intimately and, in this collaboration, they will be able to grasp the full scope of your business needs both today and into the future.
A full-service marketing agency means that there is an expert who can cover each area of the marketing strategy and all of the teams are interconnected in working on your project.
The development team needs to be closely connected with the marketing team because changes can be made on-the-fly. Sometimes the marketing team needs creative input on the spot, and when you have a collection of freelancers rather than a team, those things can't happen instantly when they need to.
A true full-service team has the historical technical knowledge of your entire campaign from a digital marketing standpoint to a website to your hosting and all the above content. Having that knowledge cohesively known throughout the entire team is incredibly valuable because then everyone understands the end game.