Welcome to the New Target weekly roundup of industry headlines where we share with you all the latest news that has piqued our interest. This week, we're serving you a buffet of topics from content, CRMs, branding, design and a very interesting historic read on AI. So grab your pen and paper and take notes because we're covering a range of topics that will be of use this year to help you business kick things up a notch.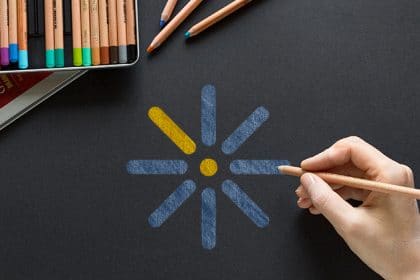 HOW TO COME UP WITH STORY IDEAS PEOPLE ACTUALLY WANT TO READ
With all the content circulating the internet and the new articles that are published everyday, it can be really tough to stand out and gain loyal readers that continue to come back to your website for more content. It can be tricky to write engaging content from a new perspective, especially if you're not a professional writer, but there are ways you can write to help your content be more relatable to your audience. This article will give you some tips on how to create content that people will want to read.
LET'S GET GROWING: GMAIL CRMS ARE 'IN' FOR 2021
It's important to have customer relationship management (CRM) software when running a business. It helps business owners build relationships with their customers and helps nurture and retain those customers. So why not take it a step further and integrate your CRM with Gmail. Platforms like HubSpot or Zoho are solutions that can be integrated with Gmail to save your business more time to focus on company growth.
HOW BRANDING SUPPORTS SEARCH ENGINE MARKETING SUCCESS & ROI
Many people think of marketing as one general job and then there are others that think of marketing as an umbrella of multiple jobs from SEO to strategy. While both may be true to some extent, but when it comes to SEO in particular, you need to pay attention to other elements of marketing to determine how it will impact your rankings. You can't just focus on one particular aspect of marketing and expect your efforts to work. For example, if you're looking to improve SEO, branding actually plays a role on the impact of your results.
THE RULES OF WEB TYPOGRAPHY
When the internet first started, it was standard for people to use a sans serif font. But as technology, screen resolutions and web design evolved, so did the use of fonts. Web typography seems pretty simple: you pick a font, you use it, right? Well, there's more to picking a font than you may think. This guide will walk you through the rules of web typography from font selection, to formatting. It'll help you make sure that your next project will incorporate a font that fits within your style while incorporating best practices for easy readability as well as accessibility.
IF THEN: HOW THE SIMULMATICS CORPORATION INVENTED THE FUTURE
This book uncovers the history of Simulmatic Corp, which was a mysterious U.S. data science firm in the 60s. They had a top-secret computer that they named the "People Machine" which used data to predict the future. That's when people got excited and saw this machine as the solution to politics. But why did this company only last 10 years? Well you'll have to read the book to find out. Full of research, stories, interesting characters, this book paints a great picture of how salespeople were selling AI through overexaggerated myths.
New Target Inc. has been a leader in the digital space for over 20 years. Our services range from dynamic web strategy, design, and development, to hosting and digital marketing. Our team is made up of passionate professionals that are experienced in the digital landscape and dedicated to providing clients with quality service.