You've had to wait for the next version of quite a few things in your life; it might be the next Harry Potter book, the latest album from Drake or Star Wars MCXXIII: The Search For an Ending to this Series. But nothing to date has been more exciting than the next version of Drupal.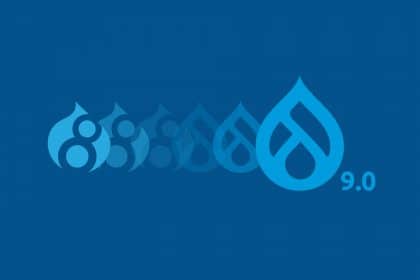 Number 9. The Beatles even referenced it 50 years ago on The White Album. How odd is that?
Is it a Revolution like they predicted? On June 3, 2020, the world found out.
Anybody who upgraded from Drupal 7 to Drupal 8 recalls the giant chasm between the two systems. Almost 200 new features were launched including an entirely new page editor, a new theme engine, a new text editor, and new field types.
This gap doesn't exist between Drupal 8 and Drupal 9. In fact, on the surface, there is no difference: Drupal 9 has the same code, functions, and feature set as Drupal 8.9.
Well, there are some differences.
What's the Same?
The standout feature of Drupal 9 is its ability to provide an easy upgrade from Drupal 8.
Drupal 9.0 has the same features as Drupal 8.9 (other than those provided by updated dependencies). Similar to Drupal 8, Drupal 9.1, 9.2, etc. will add new backwards-compatible features to Drupal 9 every six months after Drupal 9.0. This means all of your Drupal 8 components will still work with this new version.
Modules from Drupal 8 will remain compatible with Drupal 9 (as long as they do not use deprecated APIs). This was a major flaw in the update from Drupal 7 to Drupal 8 and programmers listened to the complaints when creating the updates for Drupal 9.
Another benefit of Drupal 9 over Drupal 8 is the platform will be supported with security fixes after November 2021.
Is Drupal 9 Better?
Jettisoning all this deprecated code will result in a much faster, cleaner, and better-operating version of Drupal. However, if you have legacy programs with modules that use some of that deprecated code, you could find yourself with some broken processes.
Cleaner and Smoother
Drupal 9 is a cleaner, smoother version of Drupal 8. One major innovation in Drupal 8 was the way that updates were rolled out, smaller updates every six months, as opposed to major overhauls. However, this has left the software with a long string of deprecated code. With the Drupal 9 update, unnecessary deprecated code from Drupal 8 will no longer be supported, leaving you with a system that is more fluid and feels lighter. To ensure a smooth transition from Drupal 8 to Drupal 9, it is recommended that you remove unnecessary code.
Visuals
Visually, Drupal 9 got a major facelift. The default theme Bartik, which has been used for over 10 years, has been replaced with a new default theme – Olivero. Olivero is more visually simplistic and modern; it removes all unnecessary clutter while still providing ample options to choose from. The color scheme also received a much-needed makeover.
Symfony and Twig
Ready to say goodbye to Symfony 3? It will get replaced with Symfony 4 or 5 after November 2021. Also, expect an upgrade to Twig 2.0. These upgrades can only translate into higher performance, improved developer experience, and enhanced security.
Should an Existing Drupal 7 Site Be Upgraded to Drupal 8 or 9?
One of the major reasons that more than 700,000 Drupal 7 sites still haven't migrated to Drupal 8, is due to the known challenges in the migration process. And with the majority of people on Drupal 7, it is quite likely that most of them did not want to upgrade their CMS twice in the span of one year.
Since Drupal 8 and Drupal 9 are similar except for deprecated codes removed and third-party updates in Drupal 9, it would be a feasible option for enterprises to migrate to 9 instead of 8 to save them from constantly going through the same process and investing time, money, and efforts unnecessarily.
In general, upgrading to Drupal 9 is not an onerous process, it can literally be done via a single command. What will take more time is monitoring and auditing code bases to ensure that none of your functionality is dependent upon deprecated code.
Fortunately, Drupal is well prepared for this and has indicated that the Drupal 8 branch of the Upgrade Status module can be used to identify and report on any deprecated code:
"This module scans the code of the contributed and custom projects you have installed, and reports on any deprecated code that must be replaced before the next major version. Available project updates are also suggested to keep your site up to date as project will resolve deprecation errors over time."
In addition, when downloading or updating modules, Drupal will likely advise whether there are compatibility issues due to bad functions. However, that notification system isn't currently in place (if it indeed happens at all), so your best bet is to work with your development partner, that can audit your code to identify any trouble spots.
Conclusion
So, the short answer to the what's new in Drupal 9 question is that there is a lot to be excited about and little to fear. The upgrade should run fairly smoothly for those already in Drupal 8, so there will be none of the pain of the Drupal 7 to 8 upgrade, with tons of features from which to benefit.
In general, upgrading to Drupal 9 should not be a complex or lengthy process. By cleaning out the clutter and performing some common dependencies, Drupal is practicing good development hygiene and providing its customers with a more streamlined system that is faster, but still familiar.
It's a major Drupal release that's being designed to be as minimally disruptive as possible.
If you need help in your transition to D9, give us a shout. We've been working with Drupal since Star Wars MXXII came out.