"This little dog we found on the street is skinny and sad and needs a home." Without a picture, this content will have little meaningful impact. But placed with a picture of a sad little dog and the animal shelter will get interest, donations, and the sad little dog will get a home.
We are visual creatures and all day long we peer into the world and navigate it based on millions of little clues that our brain sorts for us. Reading requires a translation of symbols into meaning and pictures, but with pictures themselves, we're one step closer to the message. And in the millisecond with may have our prospective customer's attention, that one step can make all the difference.
Visual content can tell a story about our brands without the need for any words. Whether it is through brand-created or organic, user-generated-content, those stories can be key to creating a long-lasting relationship with consumers.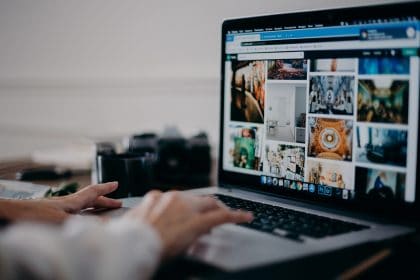 Why Is Visual Content So Important in Content Marketing?
Blog posts are the bread and butter of your content marketing strategy. And while your words are responsible for building the narrative, visual elements play a considerable role in making blog posts the compelling and engaging content your audience is eager to see.
In the age of shrinking attention spans, we have to create the type of content that's easily digestible and skimmable.
Visuals help break up the text and highlight important takeaways so readers can scan through content and still understand the message.
Interestingly enough, we're finding that longer blog posts (2,000-3,000 words) often outperform shorter articles in every possible way—search rankings, traffic, engagement, you name it and longer is usually better.
How are you supposed to publish such high-performing behemoths without boring your readers with chunks of text? You guessed it: Spice up the copy with some visual storytelling.
Visuals Significantly Boost Engagement
Data consistently proves that visuals significantly boost engagement, which is an important consideration when you're ready to promote your blog content on your social media platforms.
From a big-picture level, visual content can enhance your brand's storytelling efforts by creating a consistent and recognizable aesthetic for your company.
What Types of Visual Content Will Complement Your Blog Posts?
If blog writing is on your to-do list, visual content creation should be as well.
Generally speaking, you'll want to embed a visual every 400 words or so. Visual content can stop people as they scroll, and they're likely to read a few lines before and after visuals.
With all that in mind, create an easy cadence of visuals and skimmable headlines that keep readers scrolling through the entire post. For longer blogs especially, mix up the kind of visuals you use throughout the post.
Key Visual Elements
Images
As long as you choose high quality images that are relevant to the surrounding copy, they can only do great things for your blog's performance.
Screenshots
Give readers a transparent look at the content from your perspective with screenshots. They're especially useful if you're describing a process on an online software or application. Annotate the images with arrows, boxes, circles, and text to better explain your point.
Infographics
When your blog posts cover complex processes or highlight important statistics, infographics are the supreme data visualizations to embed within the copy. Plus, creating an infographic means you can own an original visual that your readers haven't seen anywhere else. Such original graphics tend to have the highest levels of performance and engagement on your site.
An infographic that is aesthetically pleasing with relevant data—that happens to be user friendly—will undoubtedly help increase awareness of your brand.
It also offers potential for several platforms beyond your blog. They can be shared on Pinterest and uploaded to SlideShare. If the infographic has multiple components, crop parts of it to create snackable visual content for Facebook, Twitter, LinkedIn, and even Instagram.
Custom Illustrations
When stock photos just won't do and infographics aren't quite right for the content, consider creating your own custom illustrations. While any good illustrator can replicate what another started, it helps to have one in-house designer dedicated to all of your blog and website graphics. That way, the aesthetics stay consistent and you can ensure you have the resources to create custom illustrations for as many blog posts as you need.
Pull Quotes
If you have powerful quotes from an employee, executive, influencer, or industry expert in the copy, considering bringing extra attention to them by creating a graphic. It can be as simple as the text on a background, but you can also add images or illustrations as you see fit.
Influencer marketing is a great strategy for extending your content marketing reach in a valuable way. Creating an image with the influencer and their quote, you create a memorable image.
Social Posts
When relevant, you can embed social media posts in your copy to drive home a point. All you need is the embed link directly from the post.
You can show off your own social content, which may even have the added bonus of increasing engagement on those particular posts. Alternatively, you can share posts from other companies or influencers that may feature an opinion, quote, or discussion that's relevant to your blog content.
GIFs and Memes
If your tone calls for it, feel free to give your blog posts a casual touch of humor with relevant GIFs and memes. They are also easy visuals to consume, making them helpful elements when you're trying to convey a specific emotion or feeling. Memes can set you apart from your competition. Even if your industry is a bit tedious, your articles shouldn't be boring. Just craft some funny images and help people relax a little bit.
Videos
Video is among the most engaging forms on visual content, and it has a reputation for boosting blog performance by considerable measures.
On average, consumers retain 95% of the information when it's displayed to them through video, whereas only 10% when reading it.
Videos are also versatile, and the possibilities are pretty much endless. You can cover interviews, behind-the-scenes clips, live streams, socials, and 360° product videos. For industries with a creative and visual-centric foundation, it's the perfect medium.
CTAs
A custom call-to-action button is another way to break up the text with a visual, but these do more than look good. They take interested viewers to other pages on your site that can further boost engagement, click-through rates, and conversions.
Now that we've established how well words and visuals work together, make room for visual content creation in your editorial calendar. Not only will your blogs be better off for it, but your audience will begin to see your brand as a consistent source of highly engaging and reputable content.