"One neck to ring." That's how one of our clients recently described what they wanted from us and exactly what we can give them. They said they wanted us to handle everything in their digital ecosystem from design, development, hosting maintenance, marketing, etc. So they only have one call to make to get what they need; or one neck to ring if they don't. Don't worry, we deliver, so no necks were wrung. As a fully integrated digital agency, this is exactly how we operate. However, many businesses don't understand everything that a team of integrated multidisciplinary professionals has to offer. Here's what you need to know.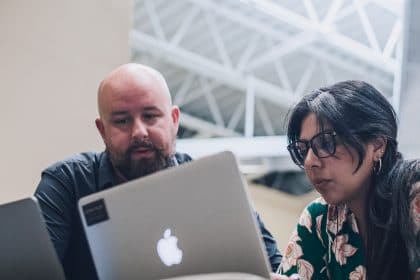 If you're working with many agencies – say, a web design agency, a social media agency, and a marketing agency – you've got a big task on your hands making sure everyone is briefed on the new campaign, their part, and how their piece should fit in with the rest. If the social media agency suggests a change, the digital and website agencies must alter their work to be consistent, but they won't know how unless you're playing a really good middleman.
What Is an Integrated Digital Agency?
An integrated agency can handle all aspects of a client's marketing needs from branding to creative design to strategy to digital and web development to communication.
Integrated agencies can manage most digital needs your business requires from start to end. Departments or teams specializing in essential services such as SEM/PPC, social media, inbound marketing, web development, web design, and more are parts of integrated digital firms. It's essentially a collection of specialty agencies all gathered under one roof. And the best part? You don't have to play the middleman. Instead, the entire team ebbs and flows in tandem to keep the campaign tightly integrated. Compared to a specialized agency, an integrated agency can quickly evaluate, recommend, and execute a larger variety of approaches based on a client's unique needs.
Why Do They Matter?
For a moment, put yourself in your customer's shoes. They may have stumbled across one of your social media profiles and became intrigued. As a result, they go to your website. However, they are perplexed because your website does not resemble your social media presence. Is it possible that they went to the wrong location? Is this a legitimate business? This produces a jumbled online and offline experience for your potential customer, which may drive them to choose another product in its place. Cognitive dissonance anyone?
Understanding the Customer Journey
Marketing and web design are no longer single channels. Today's consumers digest content across several platforms, frequently at the same time. These touchpoints are crucial in the customer journey since they help to explain your brand's many benefits and persuade clients that your product is the best option.
Individual organizations may only be concerned with one part or process in the client journey, while integrated agencies are more aware of it. If your company doesn't have an integrated marketing and web design strategy in place, you're missing out on possibilities to engage and convert potential customers.
Consistency
It is possible to manage a multi-platform, integrated marketing campaign without the help of an integrated agency, but this presents unnecessary hurdles. It becomes increasingly difficult when collaboration and consistency are required among internal stakeholders and several specialized agencies or teams. This, like a telephone game, creates the possibility of jumbled messaging or miscommunication regarding the right look and feel of a website page, social media post, email blast, etc. When adjustments or adaptations are required, it also adds time. And as we all know, time is money.
360-Degree View of Customers
Perhaps the most important aspect of a good digital strategy is understanding your audience. An integrated agency can give you a complete picture of your customer, from what they buy to where they're from and how they connect with your brand and your website.
This means that an integrated firm can understand who is most likely to convert and where based on their demographics, wants, or past interactions.
While the customer journey aids in the development of an efficient content marketing strategy, a 360-degree view of prospects throughout the web helps identify a buyer's intent.
If you can identify who is looking for what you are selling and provide them with the right messages and experiences at the right time, you can increase conversions by 80%.
An integrated firm allows you to identify these users and market directly to them to maximize efficiency.
Maximize Great Ideas
Great ideas are often destroyed by a lack of time. A new advertising idea can pop up out of nowhere, only to be trashed just as quickly due to a lack of capacity or resources. This is particularly true for businesses that manage some of their functions in-house (such as social or web development). When you work with an integrated agency, you don't have to use all of their services all of the time.
Knowing that your agency can execute an idea from start to finish, regardless of medium, means you can use them for ideation and execution (two brains – or four, or five – are better than one). When you have additional experience and capacity when you need it, you can assure that no great ideas are overlooked.
Better Use of Data and Insights
Data-driven marketing can significantly increase progress and success, but not every marketer is up to the task.
An integrated agency will have access to and use all of your data to make smarter judgments that have been shown to result in a successful campaign. This means you won't need to hire a data scientist to experience all these benefits – they are right there!
Unparalleled Support
Running a good marketing campaign or keeping up with a complex website involves a lot of effort. You can feel overwhelmed if you're working on your integrated marketing campaign or trying to update your website design and content all by yourself.
An integrated digital agency will be there, whether it's a security issue, marketing campaign, website update, or redesign. They have the knowledge and experience necessary to assist you in whatever task you are having trouble with or simply don't have time for.
New Target Is a Fully Integrated Digital AGency
At New Target, we are a full-service digital agency. We specialize in:
Digital Strategy
We work closely with our clients to develop realistic digital strategies and then provide the right array of web services to implement them by defining defined goals and an organization's capacity to achieve them. The online solutions we provide serve our client's goals, whether it's establishing a website, a communication platform, or an omnichannel publication strategy.
Interactive Design
We create online experiences that captivate the interest of first-time visitors and convert them to repeat customers, subscribers, members, and information consumers by integrating sophisticated interactive web design techniques with a client's unique content.
Our flexible and collaborative design process ensures that we succeed with our clients by giving them a fantastic experience.
Web Development
As a firm, we understand the importance and impact of communicating and functioning (big or small) online and remain 100 percent engaged and committed to our client's success throughout the lifecycle of the web project and beyond launch.
We learn about our client's online web communication and operating demands through in-depth discussions and an agile, iterative development approach. We then architect, develop, and integrate the proper website technology solutions to satisfy them.
Data Integration
Our web application developers link our clients' fragmented specialty online apps using web services or APIs to the utmost extent possible. When true data integration isn't possible, we've created single sign-on and new web style sheets for proprietary third-party products to ensure a consistent user experience.
Application Hosting
We provide reliability and convenience by not only delivering cutting-edge web design and development, but also hosting the way it should be done – as transparently as possible to our clients. We have state-of-the-art monitoring systems, including performance monitoring, that accompany our bare metal, cloud, and shared hosting options. These systems alert us in advance of a potential problem that, in most situations, we can repair before they affect your site.
Web Marketing
We develop web marketing strategies that leverage innovation, sophistication, and a thorough understanding of web marketing principles and technologies. From search engine marketing strategies to social influencer marketing, campaign creation, and martech automation, we can do it all.
From product conceptualization to development and launch, we focus on post-launch web marketing to deliver results that matter.
We do this through:
Click Funnel Email Marketing
Search Engine Marketing (SEM)
Content Marketing
Code & Performance Optimization

Pay-per-Click Ad Creation
Social Media & Social Influencer Campaigns
Banner & Remarketing Advertising
Web Analytics Consulting
Our team is always working together to make sure our client's projects are developed, delivered, and maintained the best they can be. So if you are looking for a fully integrated digital agency that can help you with all your digital needs, contact us today!