Your website is one of your top marketing tools that can provide numerous advantages if your marketing and web design teams are working together effectively.
A well-designed website can help a company in a variety of ways, including increased sales and leads. In fact, an excellent website is, on its own, a marketing campaign constantly supporting the brand. Furthermore, a website is easily trackable in comparison to other marketing endeavors, allowing firms to better understand consumer behavior and provide insight into what is and isn't working. Marketing and web design go hand in hand, so in this post, we will go over some of our best practices and how website design is an integral component of a brand's marketing strategy.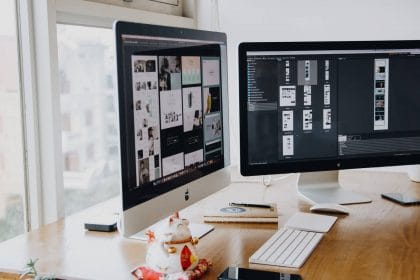 Marketing and Web Design User Experience
A well-designed website takes the user on a journey through the brand, allowing them to discover, engage, and interact with it.
Users expect an authentic and intuitive website that clearly reflects the business's vision, perspective, and service level, so user experience has become a crucial investment for a brand. You can ensure the best possible user experience by implementing strategic initiatives such as user testing and A/B testing, which are important to a website's success.
Differentiation
It's always important to set yourself apart from the competition. And when a website is old and clunky, it is more than likely to have significantly higher bounce-back rates. Designing a website using a template and then plugging in your company's information may appear simple, but it isn't that easy.
A unique website with a storytelling perspective and aligned images leaves an indelible impression on both the market and the consumer.
Conversions
The rate at which users visit your website and perform the desired goals is referred to as conversion rate optimization (CRO). These objectives are usually part of a marketing campaign and include things like purchasing a product, signing up for emails, or contacting the website for information about services.
Unfortunately, poor design and user experience often complicate this.
When it comes to website design, finding the right balance is crucial. Simplicity in design eliminates confusion and allows you to focus on the call to action of your marketing initiatives.
The design should be kept simple while still providing a high level of usefulness. If you make the design complex to achieve high functionality, the website will end up loading slowly. On the other hand, if you keep it too simple, people will not find it intriguing, and you will eventually lose consumers.
It is crucial that you strike a balance between utility and simplicity. When it comes to your website's conversion rate, you need to make sure your design is basic enough for UX but sophisticated enough for CRO.
When examining the metrics of how your website is working, it's important to keep track of conversion rates to provide the best possible client experience (CX). Since a conversion rate is directly tied to how a user interacts with a website, it is a critical metric for a business to consider when making marketing decisions.
Analytics
A website has to be reviewed on a regular basis. Unfortunately, there isn't such a thing as one ideal website that will last forever. For a website to perform the way you want it to all the time, it will need to adapt, alter, and be optimized regularly.
Good web design ensures that your website is set up in such a way that you can collect the data you need. Thanks to Google Analytics' capabilities, a website built with such an infrastructure can successfully record the essential data. You will however need to customize your tracking and use some advanced strategies to ensure that you get the results you want.
You can easily monitor the success of your new website and overall digital marketing plan with analytics.
Branding
A brand's impact grows as it nurtures a constant relationship with customers and users, which leads to brand loyalty. When a customer shows loyalty to your brand rather than just the items, brand loyalty and trust develop.
Many factors influence this, and digital marketing rapidly facilitates these interactions through a digital ecosystem.
This is why your website must evoke good emotions from visitors who regard it as a reliable source of information that adds value to your branding efforts.
When users visit your website, they form an impression of your brand and image. Therefore, make sure your website is consistent with your brand. If your site design fails to engage users, it will leave a negative impression and impact your brand.
Conclusion
With a solid digital foundation that fully integrates marketing and web design, a company can effectively leverage a good brand image to grow sales, establish PR, generate a robust social media presence, and create a top-down marketing campaign across all media. Being a fully integrated digital agency, New Target combines creative, technology, and marketing solutions to fulfill all of our client's needs.